Posts by Kelly Vo
Nov 3, 2017 by
Kelly Vo

In an interview with the Financial Times, five EMBA students and alumni spoke about the most important lessons they learned during their time in school. They covered a variety of topics including how the alumni network has helped them, the advice they would give to a new EMBA student, and what they learned from their classmates. In this article, we'll provide a brief overview of a few of the most valuable tips.
Cultivate Your Global Network
For Idara Umoh Nickelson, an '17 EMBA graduate at Northwestern's Kellogg School of Management, the main opportunity she seized was to cultivate the global network that she was exposed to. This network, which spanned five campuses and four countries (United States, Canada, Germany, and Hong Kong), provided her with a range of valuable advice including "don't feel guilty about the time you will spend on yourself." This advice helped her learn to take advantage of every opportunity during her schooling, which helped her land a job in healthcare—her passion.
Use Your EMBA to Your Advantage
Casey Worthington, an '19 EMBA student at Cornell Johnson, had a busy role in IT as a consulting-based project and program manager. It was a challenging position, but he wanted more; in particular, he wanted to move into a business leadership role. The EMBA allowed him to head in that direction while still balancing his family life and work. Post-enrollment, he accepted a dream job, and to Worthington, it was the EMBA that gave him the advantage.
Tailor Your Journey
There's a lot of different advice that Blair Wood, an '18 EMBA student at the London Business School, would give to aspiring students, but his main advice is to tailor your EMBA to your journey. "Be guided but not overly influenced by others  . . .  there is a relatively narrow window to maximize a valuable and rare chance for personal growth," he told the Financial Times. "You need to explore the vast array of opportunities, find the blend that suits you and do things at your pace."
Learn About Other Perspectives
For Krystal Bojan, an '18 EMBA student at Columbia Business School, London Business School, and the University of Hong Kong, her experience has been about learning from a variety of different cultures and nationalities. Having an immersive educational experience around the world, Bojan has had to learn how different locations have different styles of communicating, problem-solving, and influencing. For example, she told the Financial Times: "Working for western multinationals where the culture was non-hierarchical, I was accustomed to approaching people directly to get things done. In Asia, it is strongly driven by carefully cultivated relationships and networks of influence, or 'guanxi'." 
To read additional advice from each EMBA student or alumni and to see what an EMBA alumni from Melbourne Business School had to say, read the full article in the Financial Times.
Nov 2, 2017 by
Kelly Vo
On October 19th, UCLA Anderson School of Management broke ground on a new state-of-the-art building on campus: Marion Anderson Hall. The hall was made possible thanks to an unprecedented $100 million gift from benefactress Marion Anderson in May 2015—$40 million of which was earmarked for the building. The groundbreaking ceremony was attended by Dean Judy Olian, Senior Associate Dean Al Osborne Jr., UCLA Chancellor Gene Block, and Marion Anderson Hall donors: Sam Tang (MBA '87), Donald and Sherie Morrison, Bob Wilson (BS '53), Luis (MBA '02) and Lindsey Serrano, and Heather Hasso. Continue reading…
Oct 27, 2017 by
Kelly Vo

As an Executive MBA (EMBA) student, you don't have to choose between your career and your studies, which was exactly the case for Roland Friedrich, who worked as a senior political affairs officer for the United Nations while pursuing his EMBA at Cambridge Judge Business School. Friedrich graduated with his EMBA in 2016, but through his studies he was involved in the rebuilding of Libya as part of the United Nations Support Mission in Libya (UNSMIL). This mission, established in 2011, supports the country's transitional authorities and institutions after the overthrow of Colonel Gaddafi.
Of his role, Friedrich said in a Cambridge Judge blog: "42 years of authoritarian rule left behind weak institutions, multiple factions, and militias vying for influence and an abundance of weapons. Six years after the 2011 revolution, the country faces a prolonged political, security and—more recently—economic crisis. The challenges range from terrorism and organized crime and deteriorating living conditions to political polarization and fragmenting institutions."
As for how he got involved in Libya, it started with a career in the German armed forces where he focused on conflict management, security sector reform, and Middle Eastern affairs. From there, Friedrich spent eight years at the Geneva Centre for the Democratic Control of Armed Forces as a security sector reform advisor. After that, he joined the UN to work directly with Libya.
Over the course of his work, Friedrich has been involved in some incredible initiatives, including ceasefire negotiations between the 'Libya Dawn' and 'Dignity' militias, negotiating the Libyan Political Agreement, and advising the Special Representative of the UN Secretary-General for Libya on the mission's policies in the region.
"[This work] requires a thorough understanding of the local players and their motivations, a clear vision of what you want to achieve, and lots of creativity and flexibility when facilitating a deal," he wrote. "There are quite some shared aspects here with strategy development and negotiations in the business world."
And it was these "shared aspects" that made an EMBA at Cambridge Judge such a good idea. In his work, particularly dealing with the balance of power between nations, Friedrich found that understanding the latest management approaches was a great way to enhance his work in mediation and strategy.
"Cooperation between the UN and the private sector is picking up sharply, not only in the humanitarian and development fields but also in peace and security," Friedrich explained. "The EMBA helps me get on top of the latest management concepts and practices. It also helps me develop a thorough understanding of strategic management and organizational behavior—issues that have always fascinated me and that are of direct relevance to my work."
For a full account Roland Friedrich's experience as a UN officer and EMBA student, check out the blog on the school website.
Oct 25, 2017 by
Kelly Vo
Earlier this month, Emory University's Goizueta Business School and the Delta Air Lines Foundation launched the new Delta Leadership Hub on campus. The hub is a state-of-the-art classroom and event space that will serve as a focal point for various leadership initiatives and business school events.
Creation of the hub was made possible thanks to a $3.5 million gift to the business school from the Delta Air Lines Foundation. That gift will also support a "three-pronged leadership development program focused on academic, experiential, and reflecting learning for Delta Leadership Coaching Fellows," explains a press release. The program helps second-year MBA students practice and improve their leadership, team-building, and feedback skills while also providing mentorship opportunities for first-year MBA students. The entirety of the gift will help the business school serve more students by expanding its coaching and training opportunities.
The hub welcomes students with a dramatic glass entrance featuring the Delta Leadership Hub logo. Inside the classroom, students and instructors will find an open space with tiered seating, large screens, and the ability to connect their devices wirelessly via Mersive Solstice technology. In the foyer, students will notice "jetways" with clean lines and multiple display monitors.
"We are proud to open this premiere space for leadership learning with Goizueta," Tad Hutcheson, Senior Vice President of the Delta Air Lines Foundation, said in a statement. "Giving back to the communities where we live, work, and serve is core to Delta, starting with our hometown of Atlanta."
The Delta Air Lines Foundation is a nonprofit corporation that focuses on giving to education, health, and wellness areas. Its contributions are unrestricted, allowing recipients to use their funds as needed.
Oct 20, 2017 by
Kelly Vo

Building on the success of Saïd Business School's Oxford Launchpad and Skoll Centre for Social Entrepreneurship, Oxford University has launched a new entrepreneurial hub: the Oxford Foundry. Saïd Dean Peter Tufano and Apple CEO Tim Cook helped kick things off at an October 11 launch event.
The new student-led and student-centric hub will be open to all 23,000 Oxford students and is part of an effort to inspire campus-wide innovation. Its focus will be to help students develop their entrepreneurial skills as well as create and scale ventures.
The Oxford Foundry will welcome students from all academic disciplines, from engineering and medicine to history and business. The goal is to take these students from all different backgrounds and bring them together to learn from one another, generate new ideas, and tackle business and societal issues.
In particular, the new hub will support students in the three following ways:
Community Building: The Oxford Foundry will draw inspirational and leading figures in the entrepreneurial world to speak to students and exchange ideas. It will also have a student advisory board and will partner with societies across the university including the 10,000-strong Oxford Entrepreneurs.
Experiential Learning: The Oxford Foundry will host problem-solving competitions and workshops to help students put various skills and ideas to work.
Start-Up Support: Each year, a select number of ventures will receive support including dedicated workspace, access to networks, and industry expertise to scale and start their ventures.
Oxford has a strong history of entrepreneurship and has produced more founders of "unicorn" businesses (worth $1 billion or more) than any other school in Europe. The new Oxford Foundry promises to only further strengthen this entrepreneurial community.
"Entrepreneurship is of increasing importance to students. As a generation, millennials desire to be more socially responsible, innovative and to make an impact," Oxford Foundry Director Ana Bakshi said in a university press release. "Whether starting their own ventures or aspiring to lead in organizations, the Oxford Foundry will develop students' entrepreneurial skills, understanding, and self-efficacy. The aim is to create future leaders whatever career they pursue."
The Oxford Foundry spans two floors in a renovated Victorian ice factory. It offers co-working space, presentation areas, a café, and incubator space for accelerating new ventures.
To learn more about the Oxford Foundry, visit the school website.
Oct 19, 2017 by
Kelly Vo

What do Colin Powell, an Indiana dairy farm, the DC Department of Public Works, and a triathalon have in common? They are all part of the fabric that comprises life outside of the classroom for MBA students at Georgetown University's McDonough School of Business. Sure, it makes sense to judge a business school on what takes place inside the classroom. But in skimming three seemingly unrelated recent news briefs from the school, we realized that taken together they help paint a picture of what life outside the classroom can look like.
Former Secretary of State Colin Powell Speaks
In September, the former U.S. Secretary of State and Chairman of the Joint Chiefs of Staff Colin Powell visited Georgetown McDonough to speak on the subject of leadership. He discussed his former military and government experience, as well as a turning point in his career: earning his MBA. The event was part of the Stanton Distinguished Leaders Series and was hosted by the McDonough Military Association, an MBA student club for military veterans.
Faculty, staff, alumni, and students were all invited to observe the conversation, which began with Powell touching on his MBA education. He shared with attendees about how his MBA—which he earned from George Washington University in 1971—enabled him to focus "on the more human elements of leadership," explained the McDonough press release. He also talked about how he improved his management and leadership skills by gaining a better understanding of basic human psychology.
Powell then went on to speak about his career. He shared his experience of being pulled in a variety of different directions, including public service positions, telling audience members: "You serve where you are needed. This is what service is all about."
Then, he went on to highlight what he views as essential components of effective leadership, namely helping others, stressing the human element of an organization, and building trust. He explained that he never tried to be an authority but to influence others, stating "leadership and followership are completely enmeshed."
Finally, he touched on the importance of diversity. "We are a vibrant economy because of immigration," he said. "We shouldn't demonize anyone." He talked about how diversity is important for leadership and for building a stronger America. The event ended with questions from audience members and drew praise from many in attendance.
As Prashant Malaviya, an Associate Professor of Marketing at McDonough, said on Twitter: "Honor and privilege to welcome Colin Powel to Georgetown McDonough. Amazing talk! Thank you!"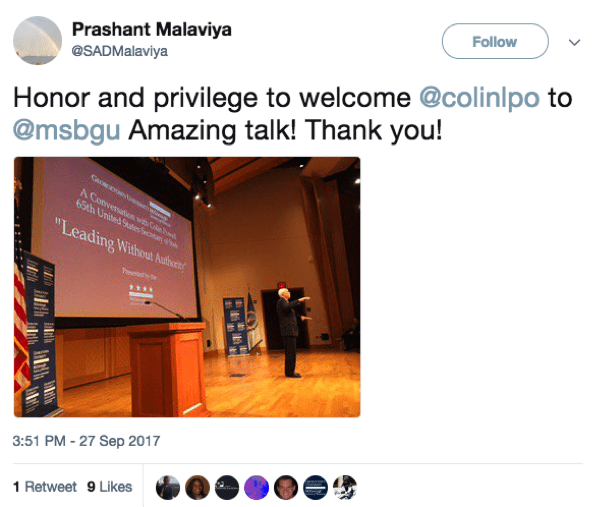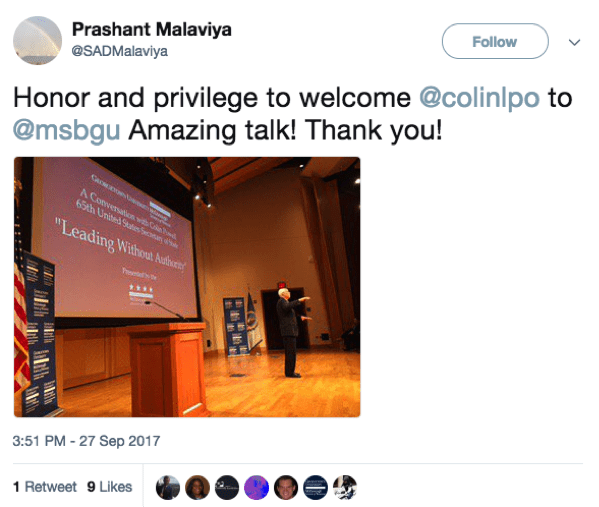 Hands-On Experience
Outside of learning from presentations and speakers, MBA students at McDonough also learn through hands-on opportunities such as a recent visit to Fair Oaks Farms, a sustainable dairy farm in Indiana, as well as a summer internship with the DC Department of Public Works (DPW).
The farm visit, which included 18 MBA students, was part of the course "Principled Leadership in Business and Society" taught by Associate Professor Ed Soule.
The trip was designed to help students learn more about sustainable business by seeing it in practice. Fair Oaks Farm is the sixth largest dairy cooperative in the nation and an agri-tourism destination owned by Sue and Mike McCloskey. While visiting, MBA students were able to see how the farm employed various practices and technologies to minimize its environmental footprint while maximizing the comfort level of the cows.
"It's one thing to read a case about a sustainable business, but seeing it and meeting the people adds another dimension," Soule said in a news release about the trip. "The other objective of the trip was for them to interface casually with the McCloskeys, to pose questions, and get a more nuanced understanding of the business."
Second-year MBA student Emma Loughman called the farm an "epicenter of innovation" and said she enjoyed learning about the difference between organic and sustainable farming.
As for the internship with the DC DPW, two students—Paul LaCorte (MBA '18) and Leo Dzidziguri (MBA '18)—participated in the trial program between the department and Georgetown McDonough. Over the course of the hands-on, three-month experience, the students responded to a request by the city administrator to evaluate two critical areas: light vehicle repair turnaround and citywide compliance and preventative maintenance.
The internship required data collection, analysis, visualization, process mapping, site visits, and audits. "We were involved in projects that required knowledge from multiple fields," Dzidziguri said in a news release. "For example, I performed statistical analysis on several years of data to identify reasons why the Fleet Management division could not meet its key performance indicators, while at the same time studying the operations and recommending a new map for more efficient processes."
Extracurricular Fun and Fitness
Finally, no MBA program is complete without a bit of friendly competition. Early in September, three Georgetown MBA students participated in the 12th Annual Nation's Triathlon. Hall Wang (MBA '19), Taylor DeVoe (Evening MBA '20), and James Hesburgh (MBA '19) signed up for a 1,500-meter swim, 26.2-mile bike ride, and 10k run relay—respectively. This was an opportunity for the MBA students to meet outside the classroom and campus to explore their common interests.
In a short news brief on the school website, Wang described the triathlon as a relationship-building experience. "I like to think we showed what the Georgetown MBA experience is all about," he said. "Regardless of cohort or program, we build relationships and partake in our community, one fun adventure at a time. Ours just started with a really early alarm clock and ended with some sore body parts, but now we have an exciting story to tell."