Georgetown Advances to Venture Capital Investment Competition Finals

The Georgetown Venture Capital Investment Competition (VCIC) team won the South Region VCIC in Houston on Friday, Feb. 10. This win advances the McDonough School of Business team to the competition's Global Finals in April.The team was made of of four MBA students and one law student (seen below): Chris Cottrell (MBA '17), Shreya Adiraju (MBA '17), Sofocles Papas (MBA '17), Chris Ahern (MBA '17) and Elaine Chen (LAW '18). The team will travel to Chapel Hill, North Carolina, to compete against 11 other global finalists.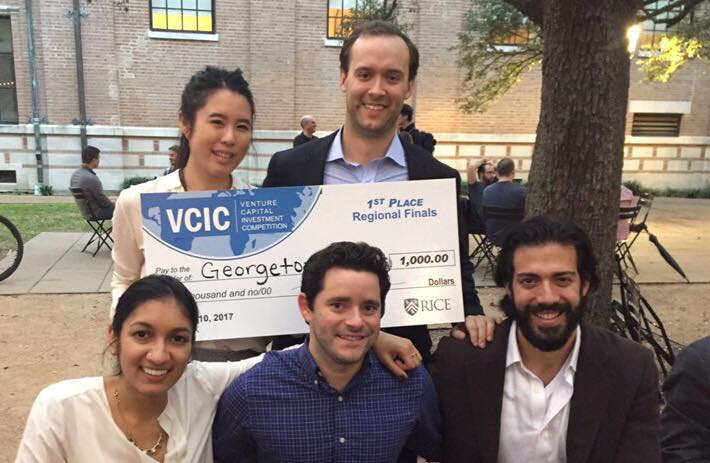 According to the Venture Capital Investment Competition, VCIC is the world's largest venture capital competition. Each year, around 70 universities compete against each other with students playing the role of venture capitalists who have around $100 million to invest in one of the startups also presenting. Actual VC judges grade the team on their investing and pitching.
The Georgetown McDonough team has rigorously trained for the the regional and global competitions. They prepared with alumna Sara Zulkosky (MBA '14), a venture capitalist and Georgetown Entrepreneur in Residence whose team won the VCIC Global Championship in 2013. In order to prepare, students participated in a three-day VC boot camp in January and individual coaching sessions with Zulkosky.
Georgetown is looking for it's third championship title, following wins in 2013 and 2015.
About the Author