Return on Investment: Getting Your Money's Worth in Washington DC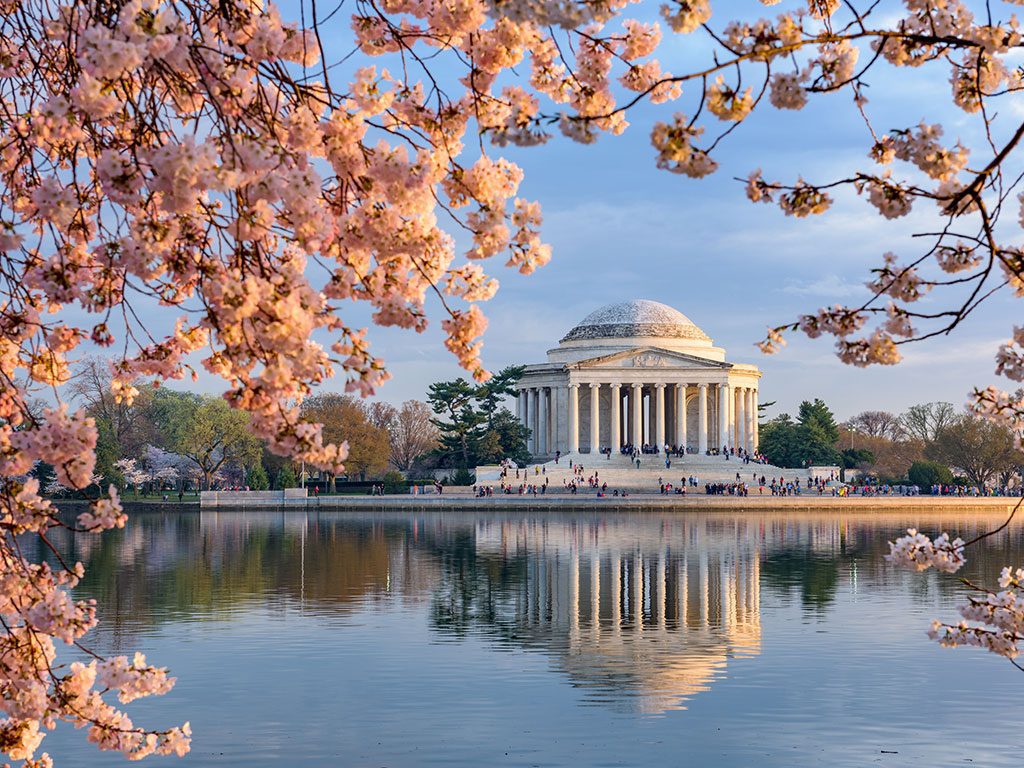 Earning an MBA is a big commitment in terms of both time and financial resources. Attending school in Washington, D.C. will open students up to a wealth of job and internship opportunities. However, with the cost of living and education in the financial capitals of the US rising at an alarming rate, choosing a school that will leave you with the smallest debt for the best job prospects is paramount to not being saddled with debt for the next 30 years of your life.
Though a price can't be put on the value of the stellar education and business acumen you're sure to get in business school, we can certainly try. Below, we've worked out the schools that guarantee the best return on investment in Washington DC metro.
Washington DC MBAs That Offer the Best Return on Investment
University of Maryland R.H. Smith School of Business
At the University of Maryland's R.H. Smith School of Business, students can earn their degree just eight miles from the White House. Tuition at UMD Smith comes to about $47,004 for in-state residents per year and $56,184 for those from out-of-state. Though the business school's MBA program may not be considered "cheap," the average starting salary for MBA's from the class of 2016 was $95,600—nearly double the annual tuition cost for both in and out-of-state students. This incredibly high average starting salary makes Smith well worth the price. In the past, Smith alumni have landed internships and full-time positions at companies like Amazon, Marriott, and Google. Thus far, majority of Smith MBA grads have gone on to pursue careers in marketing or consulting.
According to the recently released Forbes list of the best MBA programs in the U.S., UMD Smith (46th overall) MBA grads now expect a net-gain of $45,000 five years after graduation, when taking into account the average salary increase, cost of the program, and more.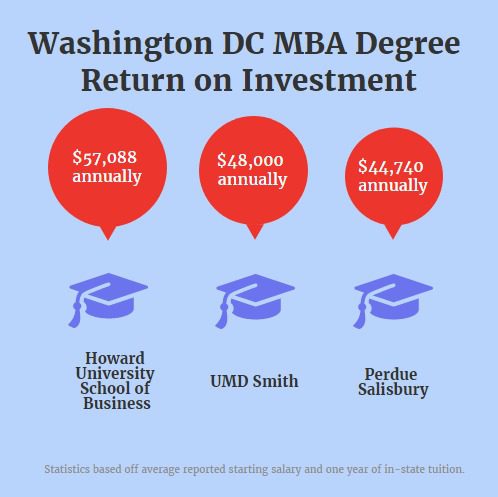 Perdue School of Business—Salisbury University
Though it is closer to Baltimore than DC, Perdue School of Business MBA students are sure to see a significant return on investment for their education. The tuition is only about about $11,760 for in-state residents and $23,850 for out-of-state applicants. Not to mention the average alumni salary is $56,500, which essentially means the average alum sees a significant return on investment in less than a year. The year-long program is delivered in a hybrid format, so students only need to meet on campus one night per week. Students looking for even greater flexibility can also choose to take 100 percent of courses online. Additionally, students who wish to move at a slower pace can take classes part time and choose their own schedules.
Howard University School of Business
The Howard University School of Business MBA program was the first DC university to earn AACSB International accreditation. Annual tuition for the full-time MBA program per year is a reported $33,996. The total for the two-year program comes to around $70,968. Considering U.S. News puts the average MBA starting salary at $91,084, the return on investment is undeniable. Howard also offers a variety of dual degree programs, including JD/MBA, MD/MBA, BSE/MBA, and more. One unique feature of Howard is its Global Trilateral MBA (GTMBA), which gives students international consulting experience in places like China and South Africa.
About the Author