What Are the Fastest MBAs You Can Earn in Houston?

Even if you've just started the process of choosing an MBA program, you're probably already aware at the extreme variety in programs throughout the country. Just within one school, you might find MBAs that can be pursued full-time, part-time, online, on the weekends, in the evenings, and maybe even more.
What's clear is that business schools understand the diversity of their students, and know that their program is a stepping stone to future career growth and success. And if students are willing to put in the work, schools are willing to cater to their goals and get that degree in hand as quickly as possible.
In Houston, Texas—as in metros across the country—it's possible to earn a quality business education much faster than the typical, two-year full-time degree.
Finding the Fastest Houston MBA
Rice University – Jones Graduate School of Business
If you are an experienced professional who has already spent several years in the workforce, Executive MBAs—designed for professionals at the executive level—tend to be quicker degrees to earn than most. At the the Rice University Jones School of Business, the EMBA can be earned in just 22 months on alternating weekends. This also includes four week-long executive forums and a mandatory international forum. Given the low commitment during the week, this degree is perfect for working professionals who want to keep their jobs while still earning their degree quickly overall.
The Jones EMBA focuses on three main skills: leadership, strategy, and decision-making. Focusing on these three skills as crucial to executive success, the degree will build from a solid foundation of business knowledge and place all learning in a global context. EMBA students also have access to the Career Development Office at Jones, with works alongside students and alumni to meet their professional development goals.
Cameron School of Business – University of St. Thomas Houston
The MBA at St. Thomas Houston's Cameron School of Business offers students the unique opportunity to design their own MBA program from the ground up, including how long they wish to be enrolled. While availability of various courses may ultimately determine how long a program takes, students with the drive can complete their degree in as little as one year (a fall, spring, and summer semester). To get an idea of how the required courses would break down for each semester, students can explore using Cameron's interactive MBABuilder tool.
Overall, the Cameron MBA will require 36 hours of graduate level courses, which breaks down to 27 hours of core business classes, and nine hours of electives. Cameron offers nine concentrations for students to choose from if they decide to focus their degree, including one in Health Care Administration as a partnership through Texas Woman's University. Find out more about the Cameron MBA here.
Mays Business School – Texas A&M University
The Texas A&M Mays Business School full-time MBA program takes just 18 months to complete, beginning each year in August. Since the program is just three semesters (fall and spring in year one, no required classes during summer, and a third and final semester the following fall), students can complete their degree in a year-and-a-half, with an open summer to pursue internships or other professional development opportunities. Students who wish to continue their program also have the option of a fourth semester in spring of year two, but this is entirely optional.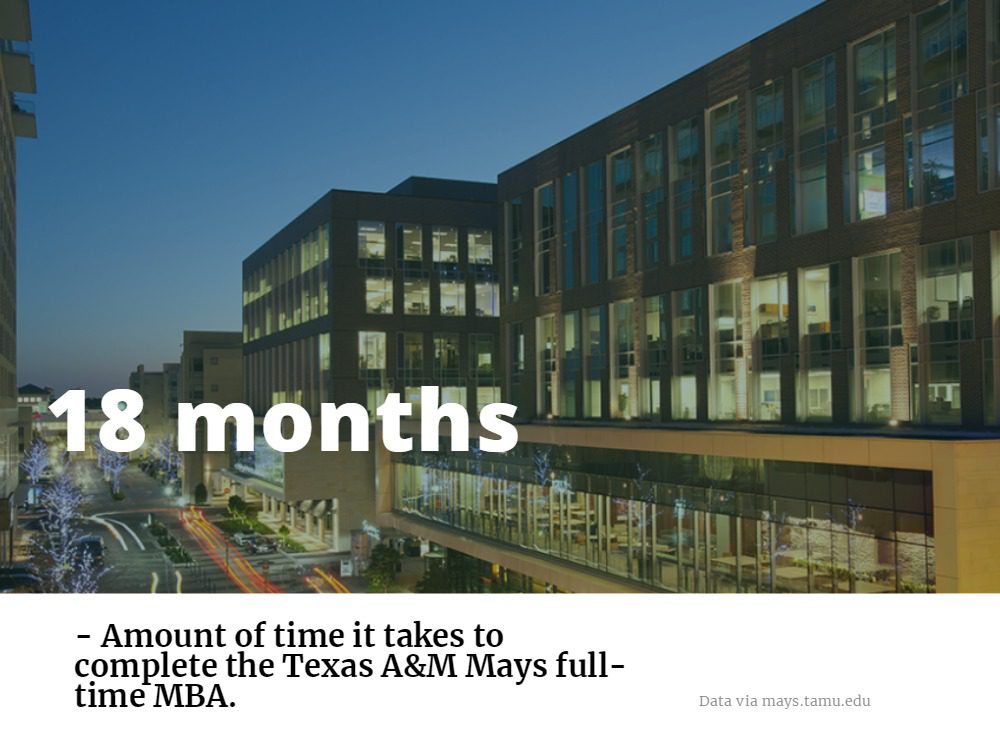 The full-time MBA at Mays is a rigorous program that offers students a unique and demanding educational environment, providing small cohorts and individualized attention for students, both from faculty and the school's Career Management Center. The MBA program places an emphasis on preparing students for the workforce through experiential learning, offering students the chance to customize their degree through special certifications, electives, and study abroad opportunities.
University of Houston – Downtown
The Marilyn Davies College of Business at the University of Houston-Downtown offers students the chance to complete their degree in one, two, or three years. The focus of the Marilyn Davies MBA is for students to not put their professional careers on hold while earning their degree, and this is aided in UHD's One Year program by allowing students to pursue the degree in a hybrid structure, both online and face-to-face. Students will complete their degree in one calendar year, taking classes three nights a week in this blended structure. Depending on the concentration, students may be required to complete 34-39 semester hours for their degree.
Students choose the UHD MBA for a number of reasons, including one of the lowest tuition rates in Texas, the flexibility of evening classes, and a modern and corporate driven curriculum. The school also offers a number of diverse concentrations for the degree, such as project management & process improvement, supply chain management, and investment management, among others.
About the Author