Pick Your City: Should You Get an MBA in Charlotte or Washington DC?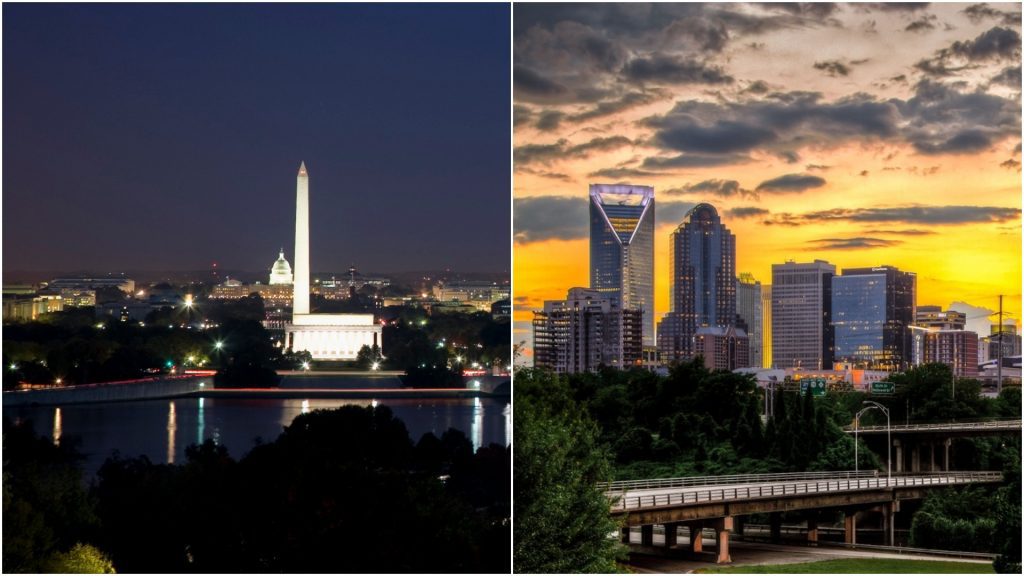 If you're looking to live on the east coast, you have your pick of cities. You could choose to live in the Northeast in New York City or down in the south in Savannah, GA. But what if you're looking for a location in between those two? For that, you have Charlotte, North Carolina and Washington DC.
Both Charlotte and Washington DC are great places to live. To help you "pick your city," our latest series breaks down two similar locations to help you make the best decision for you when it comes to cost of living, culture, job opportunities, and MBA programs.
Washington DC v Charlotte: Cost of Living
According to BestPlaces, for affordability, you should choose Charlotte,. It should be no surprise to learn that Washington DC is 63 percent more expensive with housing that costs a whopping 169.7 percent more than Charlotte. Basically, a home in Charlotte costs just $218,400 while that same home in Washington DC costs $597,900.
Let's take a look at how some of the other cost of living statistics break down:
Median income: $58,202 in Charlotte vs. $77,649 in Washington D.C.
Unemployment rate: 7 percent in Charlotte vs. 5.6 percent in Washington D.C.
Future job growth: 2 percent in Charlotte vs. 33.7 percent in Washington D.C.
Average Rent: $1,406 in Charlotte vs. $2,626 in Washington D.C.
According to the Numbeo 2018 cost of living index it would cost you $6,400 to live in Washington D.C. and maintain the same standard of life as Charlotte, NC for just $4,722.08.
Washington DC v Charlotte: Culture
What about the culture of each city, which one best fits your lifestyle?
Charlotte is the most populous city in North Carolina, which means you get to enjoy all the amenities of a big metro area. It's known for sports, many annual festivals, a subtropical climate, and lots of shopping, dining, and fun activities.
Washington DC is the capital of the United States and that affects every aspect of the city. It's a popular tourist destination with many incredible national landmarks, museums, great performing arts, and a large media presence. It's also an incredibly diverse city composed of many different cultures and communities.
The Charlotte Lifestyle
Charlotte is a major center for the U.S. motorsports industry. It houses multiple NASCAR offices and is home to the Charlotte Motor Speedway. In fact, 75 percent of the NASCAR industry's race teams, employees, and drivers are based here. In addition, the city is home to the Carolina Panthers of the NFL and the Charlotte Hornets of the NBA.
Charlotte is also home to many annual festivals and events. Charlotte Pride draws 150,000 revelers each year. The annual CIAA Basketball Tournament draws in over 100,00 alumni and fans. And the Yiasou Greek Festival is an award-winning event that's been around since 1978.
Charlotte offers a little bit of something for everyone. Downtown is filled with antique shops, eccentric restaurants, beautiful parks, museums, and lots of activities. There's also a serious love of art and must in the city with gallery crawls, live concerts, and more.
The Washington DC Lifestyle
More than 20 million tourists visit Washington D.C. every year, making the city incredibly busy. It's already the 20th most populous city in the U.S. And considering how tightly packed the city is, that makes for a lot of congestion, particularly since national landmarks are spread out around the city.
From the National Mall to the National Archives, the Smithsonian Institution, National Gallery of Art, and Dupont Circle, there's a ton to do and experience in DC. The city is a national center for arts. U Street Corridor is known as "Washington's Black Broadway." Washington also has it's own native music genre called go-go and was one of the foundational metros during the early era of the American punk scene.
DC is also a prominent center for national and international media. It's home to the oldest and most-read local daily newspaper in the country, The Washington Post. It's also a large television media market with headquarters for C-Span, BET, Radio One, the National Geographic Channel, PBS, Discovery Communications, and more.
Washington DC v Charlotte: Job Opportunities
Charlotte is a major U.S. financial center, with the second-most banking assets in the U.S. after New York City. In fact, the nation's second-largest financial institution, Bank of America, calls the city home. Charlotte is also the regional headquarters of Wells Fargo, Microsoft's East Coast headquarters, and it's a home for Honeywell. And in 2017, Forbes ranked Charlotte 2nd overall on the list of "The Cities Creating the Most Tech Jobs."
Other top employers for the Charlotte area, include:
Duke Energy
Lowe's Inc
Sonic Automotive
Nucor
Sealed Air
Coca-Cola Bottling C.
SPX
Domtar
LendingTree
Washington DC is located between Maryland and Virginia, making it a great epicenter for business. It has the sixth-largest metropolitan economy in the U.S. with an annual gross product estimated at $529 billion. Many organizations have their headquarters in or near Washington DC including law firms, nonprofit organizations, defense contractors, lobby firms, trade unions, and professional associations. And in 2017, 15 D.C.-area companies made it onto Forbes "top" list.
Top employers in Washington D.C., include:
Lockheed Martin
Danaher
General Dynamics
Northrop Grumman
Marriott International
Capital One Financial
AvalonBay Communities
Hilton Worldwide
Washington DC v Charlotte: MBA Programs
Both Charlotte and Washington DC are home to some well-known business schools with quality MBA programs. We'll take a quick look at the top three programs in each location.
Charlotte MBA Programs
University of North Carolina Kenan-Flagler Business School: Though technically located in Chapel Hill (2.5 hours away), Kenan-Flagler is a top-rated business school with a campus in Charlotte. It's full-time MBA program is ranked in the top 30 in the world by The Economist, Forbes, Bloomberg, and U.S. News & World Report. And students can choose between the full-time MBA, Executive MBA, and online MBA.
Queen's University of Charlotte McColl School of Business: The McColl School offers a flexible MBA program that's a hybrid of on-campus and online courses. Students can graduate in as few as two years or stretch it out longer to fit their schedule.
University of South Carolina Darla Moore School of Business: Located in Columbia, SC, just two hours outside of Charlotte, the Darla Moore School offers a full-time and professional MBA. Students can choose between the one-year MBA and the two-year international MBA, which is ranked as the best international business school program in the United States by U.S. News & World Report.
Washington DC MBA Programs
University of Virginia Darden School of Business: Darden ranks as one of the top 12 business schools in the U.S. and top 20 in the world. It offers both a full-time MBA and an Executive MBA program, and it stands out for its 18 international exchange program destinations.
Georgetown University's McDonough School of Business: The McDonough School ranks in the top 50 business schools in the world and top 25 in the U.S. Offering a full-time MBA, Flex MBA, Executive MBA, and Global EMBA program, students can choose what works best for them. No matter what students decide, the school stands out as a global business leader.
University of Maryland R.H. Smith School of Business: UMD Smith is consistently ranked as one of the 100 best business schools in the world and the U.S. Students can choose between the full-time MBA, part-time MBA, and Executive MBA programs. Throughout the curriculum students explore the intersection of technology, entrepreneurship, and globalization.
About the Author