5 Questions with MBA Admissions at George Mason University's School of Business

In our latest installment of the MetroMBA "5 Questions" series, we speak with Pallab Sanyal, an associate professor of information systems and director of MBA Programs at George Mason University's School of Business. Sanyal talks about the culture of the university, the type of students who fit best, advice for admission, and the accessibility of professors.
1. How would you describe the culture of George Mason University?
As a top-tier R1 public research institute, we are constantly pushing for innovative business with purposeful impact. Businesses today are no longer only looking at the bottom line, they are tackling society's challenges with business solutions. With support centers like the Center for Innovation & Entrepreneurship and Center for Government Contracting, we create spaces for changemakers, creativity, and cross-disciplinary collaboration.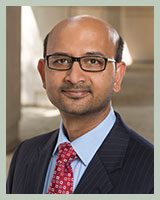 We pride ourselves on empowering innovation, which is often enriched by our diversity. Last year, in addition to being ranked as Virginia's most diverse and most innovative university (among national institutions), George Mason University was also ranked as one of the most diverse and innovative universities in the nation (U.S. News & World Report). Our students carry this spirit into our program life, organizing events such as the annual MBA Industry Summit, hosted by the School of Business MBA Student Association, and Power Dinners. Business leaders from companies such as Salesforce, UiPath, and the National Security Agency attend as panelists or guest speakers, sharing their expertise, discussing the latest industry trends, and networking with program students.
2. What type of student is the best fit for either the on-campus or online MBA programs?
Both programs are great for anyone with a curious mind and the willingness to work hard, but whether you'd prefer our on-campus or online program depends on what type of flexibility you're looking for and how you learn best.
The on-campus program, ranked No. 32 Best Part-Time MBA Program (U.S. News & World Reports) as of 2019, is tailored for working professionals, offering evening classes in two metro-accessible locations. In fact, most of our on-campus MBA students are full-time working professionals. Our on-campus MBA also offers the flexibility to complete in as few as 20 months, or as long as 5 years.
If you are looking for more flexibility in terms of location and class time, the online program is a great option. Our online program offers the same academic curriculum, including the option for a global residency course and experience, however, it is intended to be completed in 33 months.
3. If there were just one piece of advice you could give to an MBA applicant considering George Mason University, what would it be?
The first piece of advice would be to be yourself in your essay and admissions process because we want to get to know you! We also encourage you to share how your education and experiences would not only enable you to succeed in the program, but also enable you to contribute in the classroom. Collaborative communication and leadership are two of the learning goals for this program. We believe they are critical to develop as you embark on your life-long career journey.
Think about how your unique perspective can enrich the program setting, whether that is in class, during program events, or during the global residency. Talk to current students, alumni, faculty, and staff to understand how our community can benefit you, and how you see yourself engaging with us.
4. How accessible are George Mason University professors? Do they frequently serve as mentors?
We keep our class sizes small, providing our students with more personal interaction time with professors. Instructors have office hours available for our on-campus and online students. The quant-heavy courses include free tutoring as well.
For the online MBA, aside from asynchronous communication, professors also host synchronous sessions dedicated to Q&A time with students.
5. Where's the best coffee shop for studying and hanging out on or off-campus?
We have plenty of study lounges across the Arlington campus: on the 4th floor, in the library, and in or near Founder's Hall. That said, Clarendon is one metro stop away and within walking distance. You can find a multitude of cafes in Clarendon! Some favorites are Northside Social, Uptown Café (where students get a discount), Detour, Coffee + Juice.
In addition, our Fairfax campus has two Starbucks locations, Panera Bread, Einstein Bros. Bagels, Dunkin' Donuts, Au Bon Pain, and plenty of other spaces to gather, study, or eat.
About the Author