Feb 11, 2019
University of North Carolina Kenan-Flagler Business School Admissions
Jan 21, 2019

Where is the best online MBA program in the country? Who tops the charts when it comes to student engagement, student excellence, academic faculty, and more? The U.S. News & World Report just released its 2019 ranking for the "Best Online MBA Programs" in the US. The Online MBA programs at Indiana University's Kelley School of Business and UNC Chapel Hill's Kenan-Flagler Business School each came in tied at first place. Continue reading…
Nov 8, 2018

Navigating the maze of scholarships available to MBA students (really, students in general) can become a bit overwhelming. And for students hoping to earn a degree online, the search can seem never-ending.  To help, we've broken down a handful of the most intriguing Online MBA scholarships.
Sep 12, 2018

The release of the Harvard Business School (HBS) Class of 2020 profile statistics last week revealed that the Boston school—like many of its U.S. peers—saw a decrease in overall application volume, but median GMAT score and GPA remained unchanged from the prior year at 730 and 3.71 respectively. The admit rate, 11 percent, was also unchanged year over year. So though he was working from a smaller pool of 9,886 applicants (down from 10,351 last year), Managing Director of Admissions and Financial Aid Chad Losee did not sacrifice on quality.
Harvard Business School Application Slips for Class of 2020
HBS is one of many leading U.S. business schools to see application volume drop off in this most recent application cycle. A strong economy paired with concerns among international applicants about potential student and work visa challenges made for even more dramatic declines at schools like UNC Kenan-Flagler and Georgetown's McDonough School, which reported double-digit drops of 18.3 and 16.2 percent respectively. Yield at HBS–which is to say the percentage of admitted students who chose to enroll–slipped from 91 to 90 percent. Still, HBS remains far and away the leader in this statistic.
At HBS, the 4.5 percent application volume decline was spread between both international and domestic applicants. International students make up slightly more of the HBS class this year, 37 percent compared to 35 percent last year. They hail from 69 countries as compared to 70 for the Class of 2019.
Another interesting development is the increase in GRE takers among admitted students. A record-setting 15 percent of the incoming class got there on the strength of their GRE scores, up from 12 percent last year. It's only in the past couple of years that schools have begun to disclose the percentages of students who submit GRE scores in lieu of GMAT scores, which used to be the gold standard. But at HBS and elsewhere, a growing number of applicants seem to be taking schools at their word that they are indeed test agnostic.
There were not a lot of major shifts elsewhere in the statistics for the newest HBS class. The percentage of women is down by one point, slipping from 42 to 41 percent. U.S. ethnic minorities remained constant year over year at 26 percent of the class. The average age also remains unchanged at 27.
Applicants from Private Equity, Tech, Increase
In terms of prior work experience, there were again few shifts from the prior year. Slightly more students came in from private equity/venture capital (16 percent, compared to 15 percent last year), tech (also 16 percent, up from 15), and government/non-profit (7 to 8 percent). These upticks correlate with small declines in students from industrial/heavy manufacturing and other services. Military veterans make up 5 percent of the Class of 2020, on par with the Class of 2019.
And in terms of what students in this year's entering class studied as undergraduates, again HBS showed little fluctuation. Economics/business majors make up the largest portion—46 percent, up from 45 percent last year. STEM undergrads also increased one percentage point, from 36 to 37 percent. Humanities/social science undergraduates made up just 17 percent of the class, down from 19 percent last year.
To view HBS's complete Class of 2020 profile, click here.
---
This article has been edited and republished with permissions from our sister site, Clear Admit.
Feb 20, 2018

Earning an MBA holds tons of value in the business world—an advanced business degree can open doors that may otherwise have been closed, and boasts a high return on investment thanks to the top-level salaries that MBAs command.
Graduate school—and all of the coursework that comes with it—can be an intimidating challenge, but paying for it doesn't have to be. Aside from scholarship, grant and fellowship opportunities at business schools across the country, more and more companies are placing a higher importance on tuition reimbursement programs, and expanding opportunities for paid MBA tuition reimbursement.
How can you get your employer to pay for your MBA studies? Let's take a closer look.
Getting Your Employer to Pay For Your MBA
First thing's first: You need to find out if your current employer offers tuition reimbursement to its employees. The terms of reimbursement vary depending on the company, with some corporations not offering any sort of program at all. Those that do offer some sort of compensation may do so on a course-by-course basis, or as a lump-sum reimbursement package for coursework in relevant degree plans.
"Organizations typically support MBA pursuits for two reasons," J. Todd Rhoad, managing director of Atlanta's BT Consulting, told USA Today. "Employee development and succession planning. In the first case, companies support the cost of MBA programs as part of their commitment to employee training and development."
If you want to convince your employer that your education is worth investing in, you'll need to show that earning an MBA will further your business acumen and understanding of your industry, and ultimately help your company reap those benefits.
"Usually, an employee has to already been delivering great results within the company," Roderick Lewis, international relations director at the ISCTE Business School, University Institute of Lisbon, told Business Insider.
"If you haven't already convinced your company, then asking them to [sponsor your education] becomes really difficult," Lewis says.
USA Today also outlined a few checkboxes to hit when determining how valuable earning an MBA would be for your organization:
Do current members of middle or upper management hold advanced business degrees?
Does your company have the available revenue to invest in employee education?
Would someone with the type of advanced training you seek bring clear advantages to the company?
If those point hold true in your situation, then start researching which programs specialize in providing the skills that your company needs. Keep in mind: You do not have to limit yourself to business schools in your metro thanks to popularity of Online MBA programs. There may have once been a stigma against online programs, but the of the matter fact is that many of the top online MBAs on U.S. News & World Report's annual rankings also rank highly on the publication's top campus-based graduate business programs list.
Some of these schools include:
Once you've found the right program, you'll want to craft a brief proposal for your employer. In it, you'll want to mention how you fit the company's tuition reimbursement policy, and list the advantages that continuing your education can bring you and your company. Don't shy away from providing data on how much assistance you may need and how this investment will pay off for everyone, while also ensuring your employer that you'll remain committed to the company during your degree program, or won't jump ship after earning your degree.
"A proposal should address the benefit to the company," Rhoad says, "(including) areas where the company could improve and how you will help them, a review of the courses to be taken and how they will provide knowledge that can help improve the company's performance."
Companies That Provide MBA Tuition Reimbursement
Investopedia recently compiled a list of companies have stated that they place a high value on their tuition assistance benefits, and provide tuition reimbursement for the educational costs of an MBA.
According to Investopedia, consulting companies lead the market in tuition reimbursement programs for MBA courses. These firms also pay the highest salaries for MBA alumni. Deloitte has the most robust tuition reimbursement plan, providing employees with up to $10,000 per year in MBA reimbursements. The firm requires two years of work with the company and a commitment to work for the company after graduation in order to receive the tuition assistance benefit.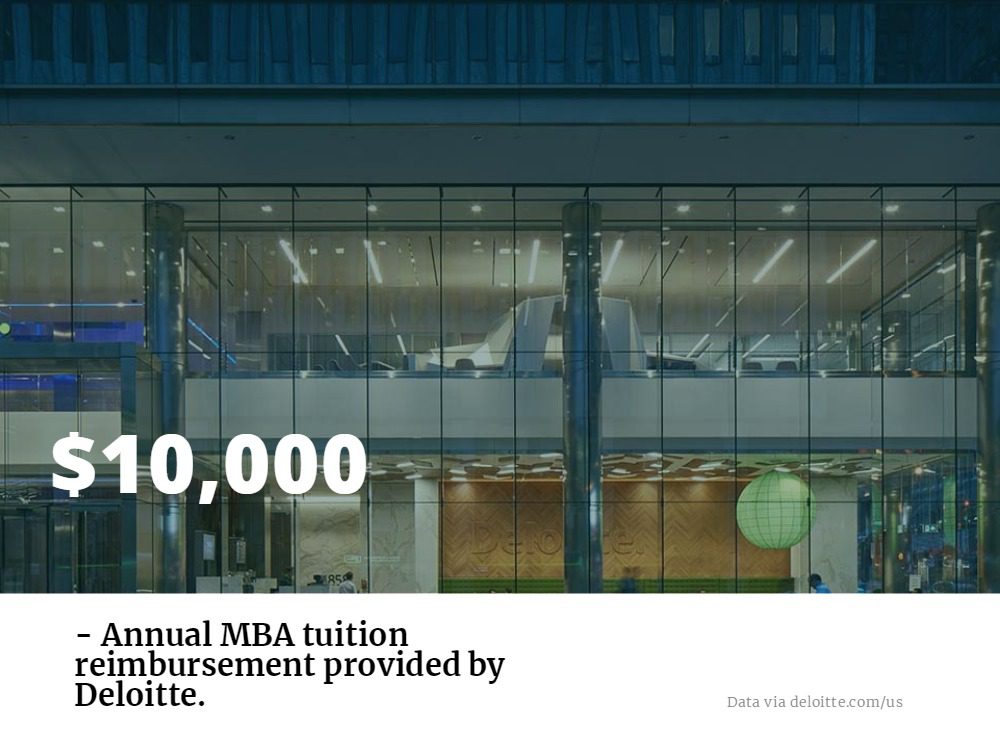 Financial institutions and banks also place a high value on employees with MBAs, and provide tuition assistance. One example is Bank of America, which provides employees with annual tuition assistance of up to $5,250 for advanced degree coursework. Wells Fargo also has a track record of paying for MBAs, doling out up to $5,000 annually for tuition expenses.
The booming tech sector is also hiring MBAs left and right, with some firms developing their MBA talent in house by offering to pay MBA tuition expenses. Apple tops the list of tech companies offering tuition assistance, providing reimbursement of up to $5,000 annually. MBA degrees are even more coveted in the the specialty defense technology sector, as Raytheon, one of the top defense technology companies in the world, offering to pay up to 100 percent of employees' college tuition for graduate school.
Other leading companies offering tuition reimbursement to employees include:
Chevron: A market leader in the energy sector, Chevron offers offers tuition reimbursement of up to 75 percent for its employees.
Ford: Ford's education tuition assistance program provides employees with tuition reimbursement of up to $5,000 annually for an MBA.
Procter & Gamble: This firm has one of the leading tuition reimbursement benefits in the consumer goods industry, providing reimbursement for up to 80 percent of educational costs with a limit at $40,000.
AT&T: This telecom giant provides employees with up to $5,250 annually for tuition assistance, for a maximum reimbursement of up to $25,000 for graduate school courses.
Jan 23, 2018

---
The Temple University Fox School of Business Online MBA program has been named the best in the United States for the fourth consecutive year by U.S. News & World Report. We recently spoke with Darin Kapanjie—Fox Temple associate professor, Academic Director of the Online BBA, Online MBA, and part-time MBA programs, and the Managing Director of Online and Digital Learning—about the school's miraculous online supremacy and what the future holds.
Staying at the top of any MBA ranking, not just in one region, but across the entire U.S. for four years, is unprecedented. For Kapanjie, it's been long enough for him and the rest of the Temple Fox team to start guessing when, if ever, another school will take over.
"We keep waiting for someone else to claim the top spot," he says. "To be honest, the end of the day we built a program that we believe to be the best in land. We don't tailor our program to the rankings, it just so happens that the program we built does well in the rankings."
Unlike many new online MBA programs, which are designed for applicants with less experience, the Fox School of Business Online MBA caters to a more "mature" demographic, he notes.
"The design of our program speaks to a more mature business professional. [Students] average over 12 years of work experience, which is unusual for an online program. That mature population helps with some of the ranking criteria. We've also invested heavily in the product we are delivering, we have a team of instructional designers, instructional technologist, technical support specialists, and web developers. We have built our program, marketing, recruiting, and instructional design teams from within, nothing is outsourced. As a result, this team is dedicated to the success of this program. There is a sense of pride and community around the Fox Online MBA.
Despite the Online MBA's miraculous rise to prominent among business schools, Kapanjie acknowledges that Fox and other schools like it are still competing against traditional MBA programs. However, there are plenty of reasons to prefer the digital format.
"This is more of a personal preference or pressure from a busy travel schedule from work, than a more attractive alternative," he explains. "We at Fox understand the market is changing and that online/hybrid learning is the now and will continue into the future. Personally, I believe that in a few years the hybrid and online MBA's will dominate the market. Online education is being accepted more and more, it's no longer viewed as a cheaper and easier solution. It's schools like us and Carnegie Melon, UNC, Indiana, University of Florida, etc. that are dedicated to delivering quality online opportunities that are helping change that perception. Personally, I believe our online program stacks up well against most of the top ranked traditional MBA's."
Even with a rich tradition of forward-thinking business school programs located in and around Philadelphia, Fox manages to stand out—particularly among schools offering an online degree.
"We have made a significant investment in online education here at Fox," he says. "Our entire operation is run in-house and is built for the future. We put a great deal of effort around the entire student experience, from inquiry to alumni. I can't speak for other schools in the region, I can only say that we believe there is a vast market in need of a high-quality online MBA program and we are listening to that market."
But to keep Fox's top spot, Kapanjie acknowledges that the program cannot remain stagnant.
We are building more and more concentrations (mini-major within our MBA) and integrating several dual degree opportunities to widen our net," he explains. "I personally believe that the dual degrees, MBA/MS, will become more popular in the next few years."
For more information on the Online MBA at the Temple University Fox School of Business and other MBA offerings, check out our profile on the business school and head over to the official Fox Temple site.