Direct from the Dean: Carroll's Jeffrey Ringuest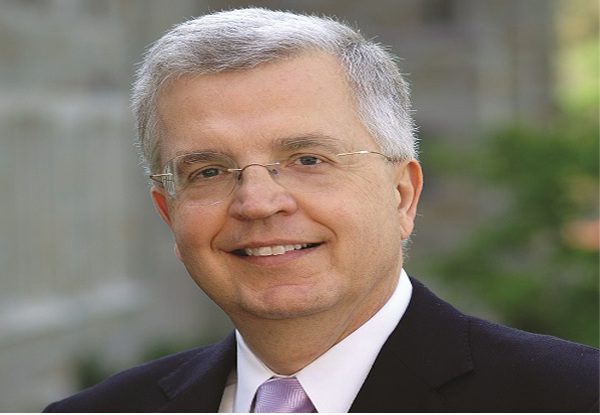 Continuing our conversations with top officials at business schools throughout the MetroMBA network, we spoke recently with Jeffrey Ringuest, associate dean of Graduate Programs at Boston College's Carroll School of Management. Jeff has been Carroll's associate dean for the past seven years, and before that he served as director of graduate curriculum. He also taught business courses in the operations department as a professor and department chair. In all, he has been at Boston College for more than 25 years–by now he knows the place pretty well.
Jeff actually took time out of his vacation to answer our questions (!!), and for that we are very grateful. Read on to learn about Carroll's growing strength in the areas of marketing and data analytics, the unique benefits of its small class size (just 100 students), what it means to be part of a network of Jesuit schools, and more.
MetroMBA: What is the one area of your MBA program that you wish prospective applicants knew more about?
Jeff Ringuest: I think the reputation of our program over the years has always been about finance and accounting, and we do tend to get ranked highly in those areas. We continue to be strong in finance and accounting, and that will always be one of our areas of emphasis given the strength of finance in the Boston metro area.
But what people don't know is that over the years we have developed a real strength in other areas like marketing, for example. Last year we put as many students in jobs in marketing as in finance. I should note that it's not just traditional CPG marketing. We have a real strength in data analytics – that is an area that we are equally strong in. While the employers seem to recognize it, I don't think the industry or students or applicants do. I also think we do a pretty good job as a general management MBA as well. We have strategically hired faculty so that we have a strong emphasis in finance, marketing and general management.
MetroMBA: In the Boston Metro area, what sets Boston College's graduate management education offerings apart from those of other schools? Basically, if someone is looking to go to business school in Boston, why should they look here?
JR: If you think of the top rated programs in the Boston metro, we are probably the smallest. We offer a real sense of community. We have an entering class of 100 students that we divide into two sections of 50 students each. Everyone takes the same core classes. Everyone has a career advisor, an academic advisor and a specialty advisor. This is not a place you can go and hide. Every faculty member knows your name. We do work with each student as an individual. We have a very tight-knit community and a very strong sense of values. We have a set of core values and a code of professional conduct developed by the students themselves.
MetroMBA: What is the greatest single advantage to going to business school in Boston? How does the Carroll School prepare students specifically for careers in Boston?
JR: Boston is just a phenomenal place to be an academic because there are so many schools and so much interaction among the schools. The same thing is true for the students. They socialize, meet with, network with all the other MBAs from the other schools. It is just such a hub of academics, which makes it a great place to get an MBA. We see lots of multiple student families. So one person will be studying medicine at Harvard while another is studying business at Boston College, for example. It is just a great place to go to school.
In terms of how we prepare students for careers in the Boston metro area, we stay in touch with the local community. We have alumni at every major organization in town. The CEO of MFS Investments is a graduate, the CEO of Delta Dental is an MBA grad. Also, here at Boston College we run an internationally acclaimed speaker series, CEO Club of Boston Luncheon Series, where we bring the top CEOs in the world to Boston to speak, and all the executives of the companies in the region typically attend this. I typically attend and bring a group of students with me so they get an opportunity to network.
MetroMBA: The Massive Open Online Course (MOOC) movement seems to be gaining momentum at many business schools. What role does online education play in today's MBA offerings at the Carroll School? How do you see that changing over the next five years?
JR: Our strategy is that we want to be a fast follower. In all honesty, I wouldn't say we are on the cutting edge of online courses, but there is a university-wide initiative to this end. Boston College is looking to make a move online at a centralized level, rather than by having each individual school in the college going its own direction. So we are participating in the university-level offerings and will offer some online courses.
One other related thing I will add – because Boston College is a Jesuit school it is part of something called the Jesuit Business School Network (JEBNET). Through the JEBNET we sometimes exchange MBA students with other Jesuit schools. Say, for example, a student starts in the MBA program at Boston College, doing an evening program while working, and then gets transferred to a job in Chicago. In that case, the student can attend Loyola in Chicago, another Jesuit school, and take courses there that we will count toward the degree. I think a logical next step is for the JEBNET to get involved in these MOOCs so that we can share those classes between partner schools the way we share actual classroom type courses. We do a little bit of that now if we have other Jesuit schools that are offering online courses, and I could see expanding that in the future. For example, we have a number of students that are military due to our proximity to a military base, and often they'll go on active duty and get transferred somewhere else. In those cases, we do connect them with our Jesuit partner schools to take online courses if it will help them continue their studies.
MetroMBA: When you became associate dean, what was the Carroll School known for? At the conclusion of your tenure, what would you like it to be best known for?
JR: As we discussed earlier, I think it was known for finance, and toward the end of my tenure I'd like it to be still known for finance but also for marketing and analytics. Those are the growing areas and the areas where we have particular strengths – specifically at the intersection of marketing and IT. We have world-class faculty in that area who are young and developing. As they get tenured and gain greater national and international stature, we will be a true powerhouse there.
MetroMBA: What is the one upcoming development or change at the Carroll School that you are most excited about and why?
JR: Our model has not been these big disruptive changes over time. I jokingly – but really not so jokingly – say to students that we haven't offered the same curriculum two years in a row, and that's pretty true. We change the course content, the structure of the program, on an annual basis. So I can't think of a big monumental change that is about to take place.
I do think MBA education itself is going through some dramatic changes. Every school will have to respond to some of these shifts, MOOCs and for-profit schools, for example. But one of the things about being small and having one faculty member who teaches marketing, one who teaches finance, etc. is that we can make changes on a dime. What we strive for here is to remain up to date through continuous improvement.
MetroMBA: Is there anything else you'd like to add? Any final thoughts?
JR: When we are talking about the highlights of our program, we talk in terms of three characteristics: breadth, depth and wealth. We try to make sure all of our students have a broad training in the fundamentals of management. We also give them the opportunity to develop some depth in particular areas. To this end, we offer many dual programs. In fact, I would love to see us add an MBA/MS in marketing and an MBA/MS in data analytics. I want to see us give students the opportunity to get the breadth of an MBA and the depth of an MS as part of a two-year program. And thirdly, we have lots of experiential learning opportunities. So students can do consulting under the direction of a management consultant, write business plans with an entrepreneur. Our program is really based on breadth, depth and true hands-on experience.
About the Author