Should MBA Applicants Make a Campus Visit?

Making a campus visit to your target business school lets you kill two birds with one stone. You're showing the Admissions Committee (adcom) your commitment to and interest in their particular program, which could score you points in the application process, and you're doing yourself a priceless favor by seeing the institution firsthand. These visits can take place within several months of the deadline or the week of the deadline; but, ideally, apply having already made the visit rather than intending to make the visit. What you learn in the process could shape and inform your application more than you think.
Campus Visit Tips
If you're based in the country and particularly the same region as the program you hope to attend, consider visiting the campus as just another requirement in the application process. Before the visit, there are a few things to take care of:
Register the visit online if the program uses an online registry system, and drop the admissions office an email, inquiring about resources for visiting students
You should be able to sign up for a class visit—make doing so a priority. You'll likely have to attend whatever course is open to visitors that day, regardless of whether it piques your interest
Tap into your personal network: do you know any current students in the business college or another college within the university you'll be visiting? If so, get in touch with that person or those people. You never know how valuable a connection could prove, even in terms of necessities like finding housing
Firm up travel plans and hotel reservations, and create an itinerary that allows you explore the MBA program in full and the city or town outside of the university gates.
For the applicant interested in full-time MBA programs, the value of a campus visit cannot be overstated. You will be uprooting geographically and personally, and fully joining this community. Although you can research a school's culture until you're blue in the face, there are some aspects of a program culture that can't be put into words. You want to know the type of people—students, professors, and local residents—with whom you'll spend the next one to two years.
As you make these introductions, ask yourself whether these people form both the professional and personal network you're seeking. Get a sense of how professors interact with students and how students interact with each another. Connect with the other candidates visiting and exchange thoughts about the experience.
Places to Visit on Tour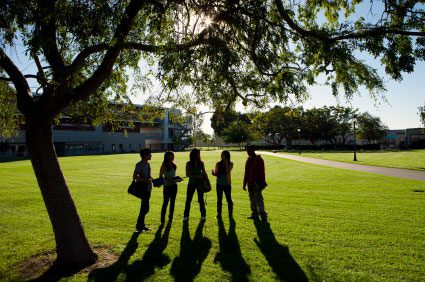 There are two stops you should make without fail during your visit. First, stop by the institutes, centers, open lectures, and so on that constitute the program's resources within your focus area. You'll have seen all of these offerings featured on the website. Here's your chance to see them in action and gauge their value. Second, look closely at the career placement resources available and the students' use of those resources. Those unique offerings together justify a good deal of the large investment you'll be making in this degree.
For international applicants or applicants who simply can't take time away from a grueling work schedule, there are alternatives to a campus visit. Top MBA programs host networking and informational events in major cities around the world at regular intervals.
These events serve as a microcosm of the campus visit experience. Applicants often meet both current and former students and network with other professionals interested in the same program. At these events, come ready to ask the program representatives questions about the program. Some insight will be gleaned, and applications often include sections in which applicants can indicate which of these events they attended and to whom they spoke.
It's important to remember to enjoy yourself. Shake some hands, and share some stories—this visit could launch your MBA career.
——
For more advice on MBA admissions process and how to best prepare, make sure to check out the following articles:
Preparing for MBA Recruitment Before You Apply
3 Questions To Ask Yourself Before Applying for an MBA
About the Author