Foster Ranks 1st in MBA Job Placement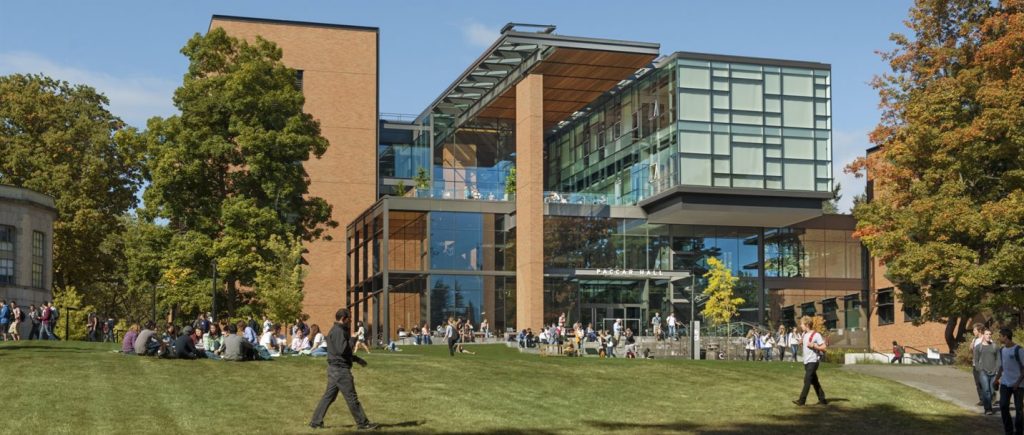 How do you choose an MBA program? You might look at faculty, research, course work and alumni just to name a few. But what about job placement? Why attend an MBA program and spend all that time and money if you can't improve your job situation afterward? Well, there's great news for MBAs at University of Washington's Foster School of Business. BusinessWeek recently named Foster as the number one school in job placement for the 'Top 20 Full-Time MBAs in the U.S.'
And there's no doubt that Foster deserves its placement. Around 98 percent of MBA alumni from Foster secured a job within three months of graduation, and 99 percent received offers. That's an incredible percentage. The average for 87 full-time MBA programs was only 89.1 percent job placement post-MBA.
"Foster currently ranks first in job placement among the top 20 MBA programs in BusinessWeek," Naomi Sanchez, assistant dean for MBA Career Management said in a blog. "That's the result of our strong relationships with recruiters and high internship participation, which allows Foster MBA students to demonstrate their value."
And the good news keeps coming. Foster was also ranked highly in employer satisfaction, coming in at 12th overall. Recruiters ranked the school in a survey and emphasized the effectiveness of Foster MBA graduates compared to their peers from other schools. As for where these MBA graduates are getting jobs, that's another win for Foster.
Foster calls Seattle home, which means many of its grads get jobs at such prestigious companies as Amazon, Microsoft, Accenture, Deloitte Consulting, Nordstrom, etc. And at those companies, Foster grads are earning high salaries. The average Foster MBA graduate earns $111,847 and 75 percent of them also receive a signing bonus of around $28,713. And the good news is that salary also comes little debt.
Foster MBA alumni carry the lightest debt of the top 20 ranked schools, according to BusinessWeek. In fact, most Foster graduates only have $45,000 in debt compared to $120,000 in debt at some of the other top MBA programs, explained a recent Foster blog.
In the end, it's a combination of all of these factors that make the Foster MBA so attractive.
"Foster students pursue an MBA degree for many different reasons," said Dan Poston, the Assistant Dean for Master's Programs. "Some seek a deeply immersive learning experience in a chosen field and some want to explore entirely new career options. [But] nearly all our students share one common objective: to come out of the MBA program with a more meaningful, more rewarding career. Foster succeeds by never losing sight of that common endgame."
About the Author