MBA Battle: BU Questrom v. BC Carroll


Boston College and Boston University are two of the metro's most popular and recognizable schools. But for two schools with a lot in common, BU and BC don't seem to like each other much. 
The regional rivarly is fun to read up on, but you won't need to go undercover to see how Boston University's Questrom School of Business MBA offerings stack up against Boston College's Carroll School of Management, and vice versa: We've got you covered right here.
Boston University vs. Boston College
Location & History
Boston University's School of Management was founded in 1913, with the MBA program launching a little more than a decade after in 1925. The school was renamed the Questrom School of Business in honor of a $50 million endowment gift from alumnus Allen Questrom and his family in March 2015. The school is located next to Kenmore Square, which is only two miles from downtown and less than six miles away from Logan International Airport.
Meanwhile, the Carroll School of Management began offering graduate studies in 1957 and is located in Chestnut Hill, Massachusetts, just six miles from downtown Boston. The Carroll School, specifically, can be founded in BC's "Middle Campus," which is the oldest part of the college. It only takes about 20 minutes to get to Logan International Airport from Carroll, and is easy to access with multiple public transportation options.
Degree Offerings
Both Questrom and Carroll are fully accredited by AACSB International and feature multiple MBA options and offerings.
Questrom many different MBA programs. Along with the traditional full-time MBA, part-time MBA, and executive MBA, students can seek out joint degrees in Digital Innovation, International Relations, Economics, the Health Sector, Manufacturing, and the Juris Degree.
The Carroll School offers a full-time MBA program and part-time MBA programs, in addition to its undergrad business degree, Master of Science degrees in accounting and finance, and several doctoral programs. The school reports that approximately 9 percent of students are enrolled in one of their dual degree programs, such as the MBA/MSF.
The Full-Time MBA
Let's take a look at how both school's full-time programs stack up against each other.
Questrom's full-time MBA program consists of 64 credits in total, including 34 credits of required core courses. If a prospective MBA holds a professional certifications, such as a CPA, or pass an examination, some of these core courses can be waived. Following a one-credit Pre-Core course, students divide into 50-to 55-member cohorts for all core coursework. Questrom MBAs are encouraged to apply for a concentration during their second semester to help shape their elective schedule and take advantage of various y activities and programs sponsored by the respective departments. Concentration options include: Energy and Environmental Sustainability, Entrepreneurship, Finance, Leadership & Organizational Transformation, Marketing, Operations Technology, and Management and Strategy & Innovation.
The first year of the two year program is all about completing these core courses. During their second years, students complete the required Ethical Leadership in a Global Economy, Professional Skills, and the Global Engagement Experience, before finishing out their remaining credits through electives.
MBAs also can travel abroad through an International Field Seminar, which allows for students to spend about two weeks traveling and exploring key economic, business, and policy topics. Past seminars have included trips to Brazil, India, Europe, or Southeast Asia.
Tuition for Boston University full-time MBA students is $51,916 and $886 for fees. As for other expenses, the BU Questrom School of Business estimated room and board at $13,375, books and supplies at $1,574 and other incidentals at $4,396.
Carroll's full-time MBA is also a two year program, and puts emphasis on applied or experiential learning. Students have opportunities to learn from industry leaders and real-world business problems, such as International Consulting Projects and trips to Omaha to visit Warren Buffett. Students are also required to perform 20 hours of community service as part of their degree as well.
Class begins following a one-week orientation in late August. The first year is then split into two semesters that can be further divided into seven-week quarters. Students also complete a Management Practice course in their first year, in which they work with live companies facing real business challenges, and deliver recommended solutions.
Second-year students focus on the functional discipline of their choice by taking semester-long elective courses. All full-time MBAs also have the option to complete a series of elective courses aligned with one of the school's 10 specializations, which include asset management, business analytics, and product and brand management.
Current annual tuition rates for the Carroll MBA is $49,230, which breaks down to $24,615 per semester. Full-time students should also budget $14,805 for room and board (per academic year), $2,775 for health insurance and $3,255 for personal expenses. The school recommends budgeting $6,020 for summer expenses.
Boston University v. Boston College MBA Tuition
| Cost | BU Carroll MBA | BC Questrom MBA |
| --- | --- | --- |
| Tuition | $49,230 | $51,916 |
| Room & Board | $14,805 | $13,375 |
Employment Stats
Perhaps the most important question is what kind of a job will a degree at either one of these schools get you.
Within three months of graduation, 92 percent of the the most recent Questrom full-time class accepted a job offer. The students reported a median base salary of $100,820 with an average total signing bonus or other compensation for domestic students of $18,900. The most popular industries were consulting and healthcare, both with a combined total of 47 percent of the graduating class. Technology and science jobs made up another 15 percent of employed graduates, with other students also finding jobs in the media, non-profit, government, and manufacturing industries, among others.
Meanwhile, more than 90 percent of graduates from the most recent Carroll graduating class earned job placement within three months of graduation. The average total compensation for these new jobs was $108,969, and the most popular industry chosen by graduates was financial services at 37 percent. About 18 percent of students entered consumer products, 5 percent pursued jobs in the technology sector, and 9 percent joined consulting firms. Carroll MBA grads earned careers with notable employers, such as: EY, Amazon, Bain & Company, Bank of America, KPMG, and much more.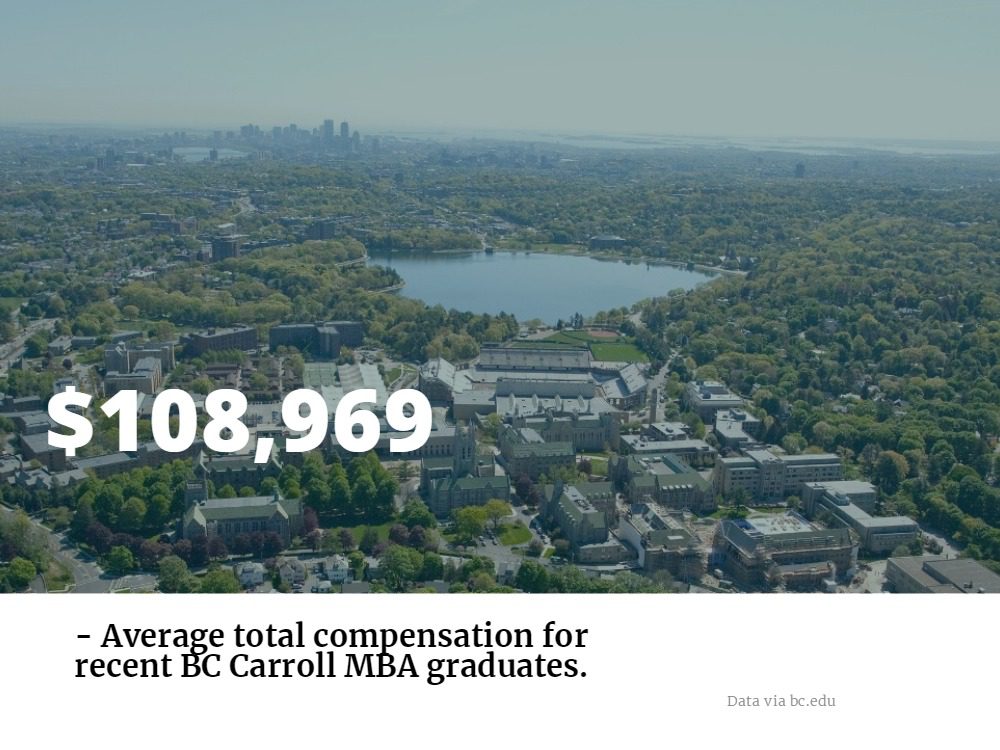 You Decide
If you're a prospective MBA eyeing studies in the Boston metro, you can't really go wrong with either Questrom or Carroll. One things is for sure, though—no matter which school you choose, you'll soon develop natural feelings of rivalry and competition with MBAs at the other school. It's all part of the Boston experience.
About the Author