Babson College Launches New MBA Program in Dubai

According to a recent Babson-sponsored report, Global Entrepreneurship Monitor (GEM), 88 percent of people in the United Arab Emirates (UAE) view entrepreneurs as having a high status in society, and 65 percent are confident in starting their own business. On the flip side, only 35 percent of U.A.E. professionals recognize good entrepreneurial opportunity around them, and 61 percent won't start a business out of fear of failure. In addition, according to KPMG's GCC Family Business Survey, 30 percent of family business leaders in the region are seeking opportunities to become more innovative, and 38 percent want to diversify their offerings.
It's for these reasons and more that Babson College has decided to launch a new campus in Dubai, U.A.E. this year—starting in the fall. Babson College has been a world leader in entrepreneurship education for the last 25 years, with U.S. News & World Report ranking it No. 1 consecutively. Also, the Babson blended format MBA program has been ranked in the top 10 worldwide by the Financial Times.
Babson's Dubai Education Programs
Babson's expansion to Dubai will allow the school to offer graduate and executive education programs, including an MBA degree, to working professionals across the region. The format of those programs will include both in-class learning (face to face) as well as online learning and will launch this fall. Additional programs include a family entrepreneurship program as well as specialized open enrollment programs such as "Approaches to Innovation in the U.A.E." as part of the Academy at DIFC.
Babson students will attend class at the Dubai International Financial Centre (DIFC), a leading financial hub for the Middle East, Africa, and South Asia. The building covers 272 acres and is already home to hundreds of leading financial and non-financial institutions, including several world banks, emerging fintech startups, wealth management firms, retailers, and more.
Some of the companies sharing space with Babson include:
T. Kearney Middle East LLC
Accenture Middle East B.V.
Goldman Sachs International
JPMorgan Chase Bank
McKinsey & Company LME Limited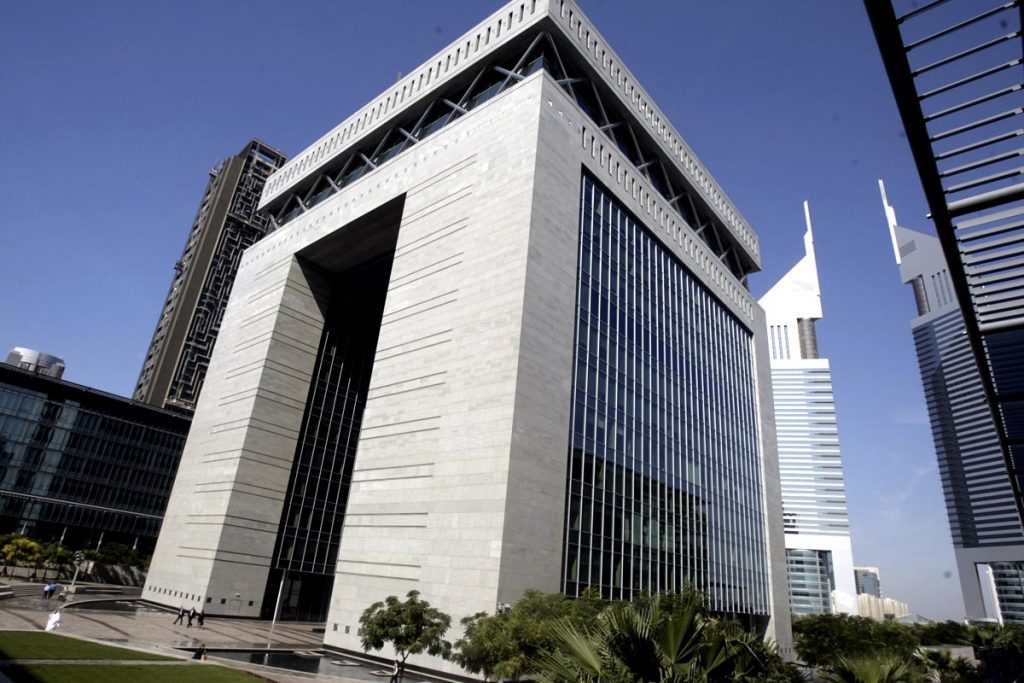 AFP PHOTO /KARIM SAHIB (Getty Images)
Babson Dubai MBA
As for the Babson Dubai MBA, it will take the blended learning format, which means classes will be held online using virtual collaboration as well as in-person sessions at the DIFC. This will allow for great flexibility for professionals all over the region.
When it comes to the coursework, the program has been designed explicitly for locally and regionally based individuals, notably Micro, Small, and Medium Enterprise (MSME) owners. There's also an emphasis on education for family business leaders, corporate professionals, and individuals looking to advance their entrepreneurial learning. The core curriculum will focus on:
Entrepreneurship and Opportunity
International Macroeconomics and Business Environment Analysis
Global Connections Through Technology
There will also be a few select topics specific to Dubai including Family Entrepreneurship, Entrepreneurial Finance, and M&A for Entrepreneurs.
To gain better insight into the new Babson Dubai location, we interviewed Babson College President Kerry Healey. Here's what she had to say about the expansion.
MetroMBA: Why did Babson choose Dubai?
Kerry Healey: Dubai is the heart of the Babson community in the Middle East. It is home to our largest alumni and parent population in the region, and it's an increasingly popular destination for our graduates. We also have a large alumni network throughout the MENASA region and an active Babson Middle East Alumni Club. In 2016, Babson hosted our annual entrepreneurship summit, Babson Connect: Worldwide, in Dubai. We were able to explore emerging entrepreneurship and business trends and the opportunities for entrepreneurship education in the region.
Beyond our Babson connections, research shows that there is a need for Babson's transformative entrepreneurship offerings in the region, particularly among family business leaders. As the global leader in entrepreneurship education, with a unique focus on strengthening entrepreneurial families, Babson in Dubai seemed like a natural fit.
MetroMBA: How does the new location expand Babson's offerings in new and exciting ways?
Kerry Healey: At Babson, our mission is to educate entrepreneurial leaders who create economic and social value—everywhere. We are working hard to make entrepreneurship education accessible to everyone, everywhere, and our presence in Dubai will provide students in the Middle East, Africa, South Asia, and India with more convenient access to a Babson education, and in particular our top-ranked blended learning MBA, which may not otherwise be an option due to visa restrictions.
We also plan to offer specialized open enrollment programs through Babson Executive and Enterprise Education, beginning this fall with "Approaches to Innovation in the U.A.E." And, we hope to work closely with organizations in the region to develop custom programs that address specific business goals and objectives.
MetroMBA: What can Dubai students expect?
Kerry Healey: We are excited to offer programming at the Academy at DIFC, in the region's leading center of finance and enterprise. The Babson MBA-Dubai, which combines online classes and virtual collaboration with face-to-face sessions at the DIFC, will offer a powerful yet flexible learning experience to prepare entrepreneurs of all kinds to fuel future innovation. The program has been designed specifically for locally and regionally based working professionals, and its unique design combines core business and entrepreneurship curriculum with special topics specific to the Dubai program.
Courses will be taught by our renowned Babson faculty, who are accomplished practitioners and researchers dedicated to student success. Perhaps most important, our cohort-based program creates a tight-knit community of students that will continue to collaborate and innovate well beyond the completion of their studies.
To learn more about the new Dubai programs from Babson College, you can read the full press release here.
About the Author