MIT Sloan Celebrates 4th Annual Women's Week in 7 Cities Worldwide

The MIT Sloan School of Management's #MITSloanWomen campaign just celebrated its fourth anniversary. One of the cornerstone events of the campaign, which offers female prospective applicants and current MBA students new ways to interact with the school and build their post-graduation careers, is the annual Women's Week.
Since 2014, Women's Week has brought female MIT Sloan alumnae and the Sloan admissions team to cities across the United States and abroad to interact with women interested in the Sloan MBA. The events are designed specifically for female MBA applicants and offer deep-dives into what it means to be a Sloan woman.
"Women's Week is a great chance to hear stories from MIT Sloan female alumnae who are making an impact," explained Shauna LaFauci Barry, the associate director of admissions at MIT Sloan. "It is a unique opportunity to network with a community of women who are exploring the MBA."
Women's Week took place this past July in seven cities around the world: Washington, DC; Cambridge, MA; San Francisco, Chicago, Seattle, New York City, and London. Women gathered at each location to enjoy a featured TIMTalk (Think. Inspire. Motivate), as well as a panel of local female alumnae from the two-year MBA, Sloan Fellows MBA, and Executive MBA programs.
The events were a resounding success.
"This year's events surpassed 1,000 women registered," explained Barry. "There were 1,600 registrants for over seven events including one live stream. This even included two new cities: Seattle and London."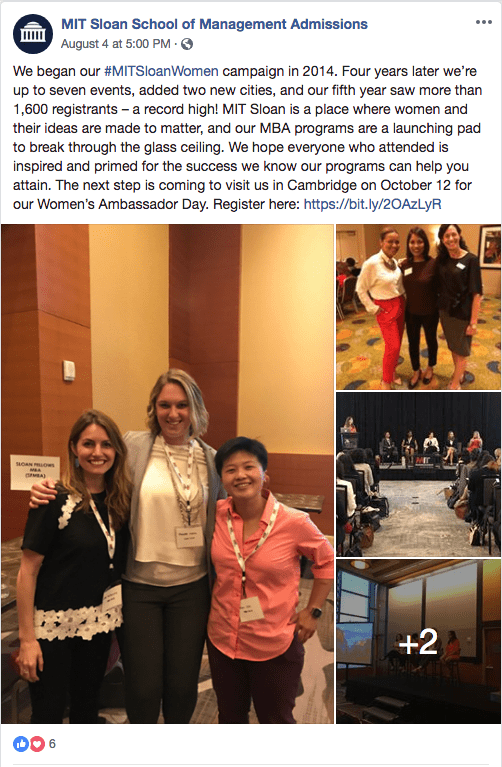 To learn more about the success of Women's Week and what it was like to attend, we reached out to Shauna LaFauci Barry for an in-depth chat.
Women's Week 2018 Theme
The theme of this year's events was "MIT Sloan Women: Creating Ideas Made to Matter," and their focus was on celebrating Sloan women who are making an impact.
According to Barry, all of the alumnae panelists were "incredibly accomplished, articulate, thoughtful, [and] authentic. Each one brought something unique to the event. We were so grateful to have such great MIT Sloan Women Ambassadors."
Meet the San Francisco Women's Week TIMTalk Speaker
Barry was particularly impressed by Sephora Innovation Lab Senior Manager Nelly Mensah (MBA '15), the San Francisco's TIMTalk speaker. In her talk, Mensah discussed the importance of creativity, collaboration, and being value-driven.
"I am still singing her praises in my mind," said Barry. "She was agile and adaptable. When my computer started rebooting right before her slide presentation, she rolled with everything. She brought a great sense of humor to her talk—a vulnerability and honesty on the importance of creating a culture at Sephora Innovation Labs where innovation ripples through."
Mensah tied everything in her talk into the culture of MIT Sloan, her activities while in school (Retail Club, internship in Milan, etc.), and how they contributed to where she is now. There were three key takeaways:
Cross-Cultural Collaboration: At MIT Sloan, Mensah was part of the Hacking Arts. Now, she runs Hackathons at Sephora.
Creating Space and Time for Creativity: There is always an opportunity to be creative; make time for it and make sure you get input from people throughout the organization.
Be Value-Driven: Sephora feels strongly about their value of empowering women, and all of their activities align with this (i.e. Women Who Code).
Women's Week Takeaway
Barry explained what she hoped attendees would take away from not just the San Francisco event, but every Women's Week event. "We want them to be energized about their own ideas and to see how an MBA from MIT Sloan can help them achieve their goals," she said. "We want them to learn something new and come away from the event wanting to explore more."
Why Women's Week?
Here are just a few reasons why a prospective female MBA candidate should attend next year's MIT Sloan Women's Week:
It offers excellent exposure to a variety of stories from MBA women at various stages of their careers.
It showcases how the MIT Sloan MBA has served as a gateway to making women's ideas matter.
It inspires attendees to imagine what might be possible in their future.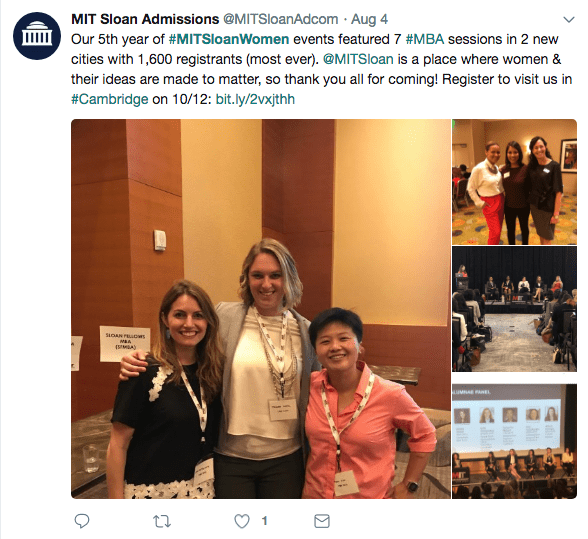 Coming Soon
Fret not if you missed this year's Women's Week. You still have a chance to attend a few female-focused events by registering for one of MIT Sloan's Women's Ambassadors Days this fall. The first event, MBA Women's Visit Day, occurs on October 12 and will feature faculty member Gita Rao discussing finance and action learning at MIT Sloan. You can register here.
Other events include the Women's Ambassadors visits, which allow women to come to class for an on-campus visit, attend a class, and join a member of the Admissions Office for a presentation about the school.
About the Author