HBS Announces 2018 Goldsmith Fellows, and More – Boston News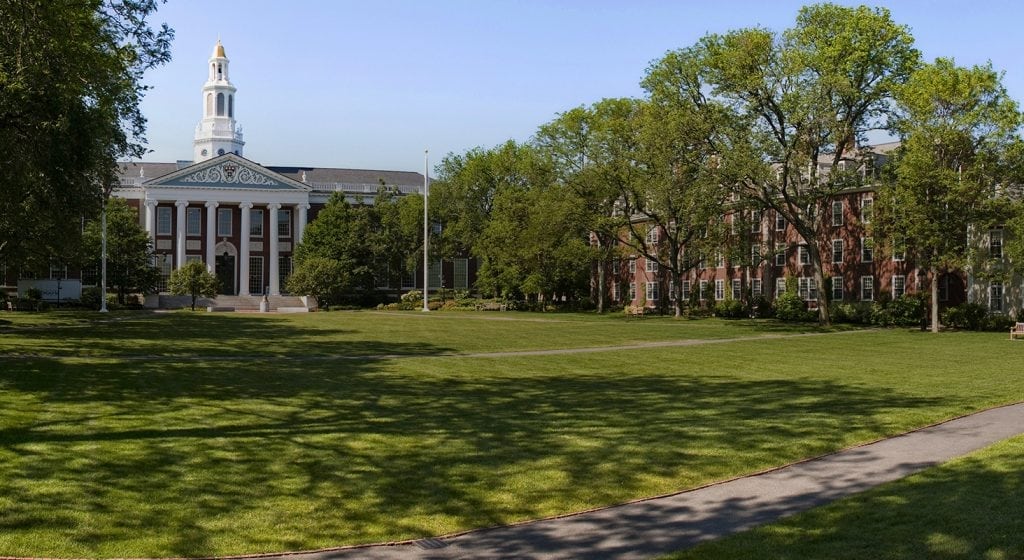 Let's explore some of the most interesting stories that have emerged from Boston business schools this week.
---
The MIT Sloan Podcast "Data Made to Matter" hosted Professor John Sterman who used the platform to discuss the simulator he and his Climate Interactive colleagues put together to benefit both the general public and policymakers.
"We're finding new mechanisms that can lead to potential tipping points and the possibility of runaway climate change. So that's a little discouraging. It's getting worse and worse," Sterman says.
"But on the economic and technology side the news is getting better every day, every day it's getting cheaper to deploy wind, solar, efficiency. Every day we find out that it's getting easier to do these things. Every day we find out more and more people understand that the climate is changing."
You can read the full article here.
HBS unveiled this year's Horace W. Goldsmith Fellowships, which put $10,000 toward the tuition of 7-10 incoming students from the nonprofit and public sectors that "demonstrate a strong commitment to continued career paths in these areas."
Here is a complete list of the 2018 Goldsmith Fellows:
Rishabh Agarwal, a former financial analyst and principal at charter school network Success Academy.
Mollie Breen, a former Applied Research Mathmatician at the NSA.
Kaushal Jain, who "oversaw malaria supply chain planning for multiple countries in Asia, Southern Africa, and Mesoamerica" as part of the Clinton Health Access Initiative
Micah MacFarlane, cofounder of the Clinton Health Access Initiative's global tuberculosis program, Asian Development Bank specialist, and principal at Bill & Melinda Gates Foundation.
Pratik Matai, who previously led "due diligence and capacity building" for Dasra, India's "leading strategic philanthropy foundation."
Peggy Ochola, founder of PACE, which "serves students in under-resourced schools in informal settlements and rural areas in Nairobi."
Sophia Richter, former Assistant VP of Strategy at the NYC Economic Development Corporation.
Emily Schlichting, whose past experience includes the U.S. Department of Health and Human Services; the U.S. Senate Committee on Health, Education, Labor and Pensions; and Blue Cross Blue Shield Nebraska.
Viria Vichit-Vadakan, Chief Strategy Officer at Learn Corporation.
Mandy Zhang, former COO for the Social Innovation Hub, a Beijing social enterprise incubator.
You can read more about the Harvard Goldsmith Fellows here.
D'Amore-McKim recently profiled the 20 cross-disciplinary students that took part in the second annual "Dialogue of Civilizations: Entrepreneurship and Global Consulting in Israel" program, which combined historical sightseeing with "big business and young startup visits [for] students to experience the many facets of Israel."
In a recent D'Amore-McKim Blog entry, DMSB Associate Professor of Marketing and Trip Leader Amir Grinstein says;
"Students got fantastic exposure to the booming Israeli ecosystem of innovation and entrepreneurship, as well as to the Israeli culture, history and social fabric. They made life long experiences and friendships. Especially of value were their ties with Israeli students from Ben-Gurion University of the Negev who partnered with us on this program."
Of the experience, Manting Hong, ('21) writes, "The entrepreneurial spirit in the startup Nation is very unique. How Israelis view entrepreneurship, startup projects, and how they start a project are different. Bravery, perspective, close collaborations, open-mindedness, and crazy, are probably words that I would describe the startup culture there."
Hong adds, "And I do believe these are five factors that increase the possibility of successfully launch a business. The way of looking at each project in an "ecosystem" way is something that enhanced my business mindset the most, and I'm bringing it back to my startup. With all experiences in Israel, I believe it will help me to grow my startup in the following months."
You can read the full article here.
About the Author