School v. School: UNC Kenan-Flagler vs. Duke Fuqua School of Business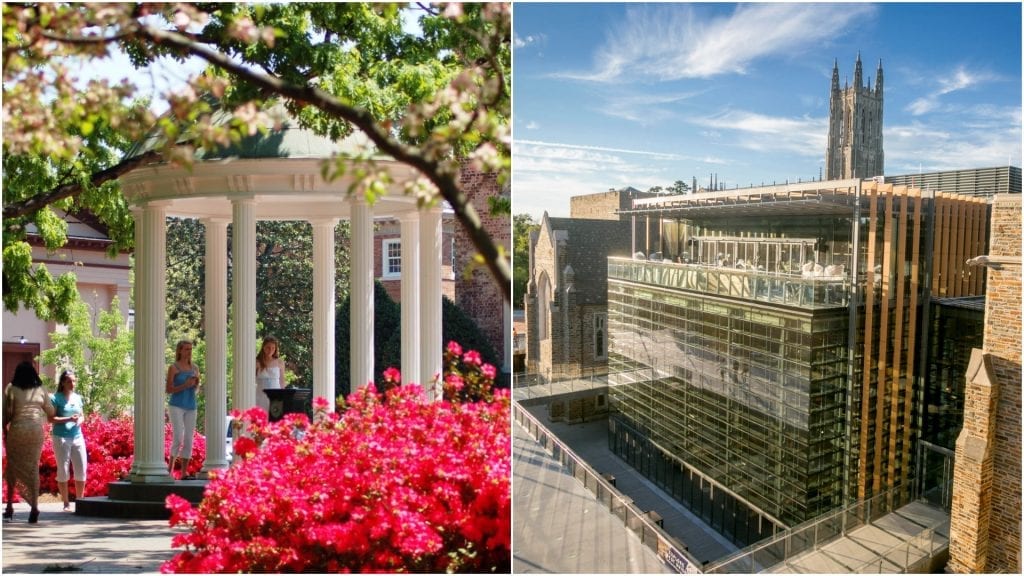 The MBA application process is not for the faint of heart. Elite programs have increasingly required applicants to follow paths unique to their schools, which makes the process of narrowing down the options to find the right fit even more essential. Our School v. School series saves you the headache by offering a point-by-point comparison of two stand-out programs located in North Carolina's Research Triangle: UNC's Kenan-Flagler School of Business and Duke's Fuqua School of Business. Read below to find out how the intense UNC vs Duke rivalry shakes down when it comes to business schools.
UNC Kenan-Flagler School of Business
Located in Chapel Hill, the Kenan-Flagler School of Business enrolls around 550 MBA students. The full-time MBA student body is just over 270, which features 28 percent female students, 14 percent U.S. minority students, and 22 percent international students.
Kenan-Flagler MBA Programs
Ranking 19th overall in U.S. News & World Report, Kenan-Flagler boasts five international campuses and a wide spectrum of options in its business education:
Traditional full-time MBA
Online MBA
Evening and weekend MBAs
Global MBA
Executive MBA
Masters in Accounting
Ph.D. program
Several business certificate and non-degree executive education programs
Why UNC Kenan-Flagler?
Live simulation, business partnerships and real-world business programs are "woven in to the fabric of the UNC Kenan-Flagler culture and curriculum."
OneMBA—Kenan-Flagler's Global MBA—offers the opportunity to attend universities around the world, with the majority of the program's participants based abroad.
MBA Case Competitions, where students "compete to solve 'real world' business problems," are described by the school as "the varsity sport of MBA programs."
With a 94 percent job offer rate, a 92 percent job acceptance rate, and a $120,000 median starting salary, Kenan-Flagler's ROI is fairly obvious.
What's Missing?
The diversity of Kenan-Flagler student body is far outmatched by that of Duke Fuqua.
Students looking for an MBA located in a major city may be disappointed.
UNC Kenan-Flagler vs. Duke Fuqua: Rankings
| Publication | UNC Kenan-Flagler | Duke Fuqua |
| --- | --- | --- |
| U.S. News & World Report | 19 | 11 |
| The Economist (Global) | 30 | 15 |
| Financial Times (Global) | 52 | 19 |
| Forbes | 16 | 14 |
| Bloomberg Businessweek | 26 | 16 |
Duke Fuqua School of Business
Headquartered in Durham, Duke Fuqua School of Business has a total student body of just over 880 with a full-time MBA class size of 440. The class of 2020 features 42 percent female students, 30 percent U.S. minority students, and 38 percent internationals.
Duke Fuqua MBA Programs
Duke Fuqua ranks well above Kenan-Flagler at 11th overall in the U.S. News & World Report "Best Business Schools" ranking, and lands in the top 25 best MBA programs for all five of the major rankings. Fuqua offers a wide array of MBA programs. These include a traditional full-time MBA, two Executive MBAs, several certificate programs and several joint degree paths through Duke Kunshan University.
Why Duke Fuqua?
Duke Fuqua's Daytime MBA offers a high degree of customization, a diverse student body, over 60 student-led clubs, and real-world learning opportunities.
The Career Management Center welcomes over 200 companies to campus each year, and recent MBA graduates consistently rank among the highest base salary recipients.
'Team Fuqua,' the name of the school's active alumni network, helps students engage the "firehose" of opportunities outside the classroom.
What's Missing?
Despite the high average base salary of $122,98, with an 87 percent employment rate at the time of graduation, the short-term ROI of Duke Fuqua's full-time MBA looks slightly less than Kenan-Flagler's.
While Fuqua prioritizes global focus in its curriculum and offerings, it doesn't quite have the international academic presence of Kenan-Flagler.
No Online MBA option.
UNC Kenan-Flagler vs. Duke Fuqua: The Cost
| Full-Time MBA Costs | Kenan-Flagler School of Business | Duke Fuqua School of Business |
| --- | --- | --- |
| Annual Tuition | $58,138 | $66,665 |
| Estimated Total Cost | $110,313 | $158,000 |
Both schools offer a variety of paths to an elite business education. When it comes to rankings and base salary, Duke Fuqua stands taller than UNC Kenan-Flagler. However, the immediate ROI, cost, and global access of Kenan-Flagler set it apart from Duke Fuqua. To dig deeper into the UNC vs Duke MBA battle, be sure to check out course offerings at both Kenan-Flagler and Duke Fuqua.
About the Author