Alumni Spotlight: Sports Agent Drew Rosenhaus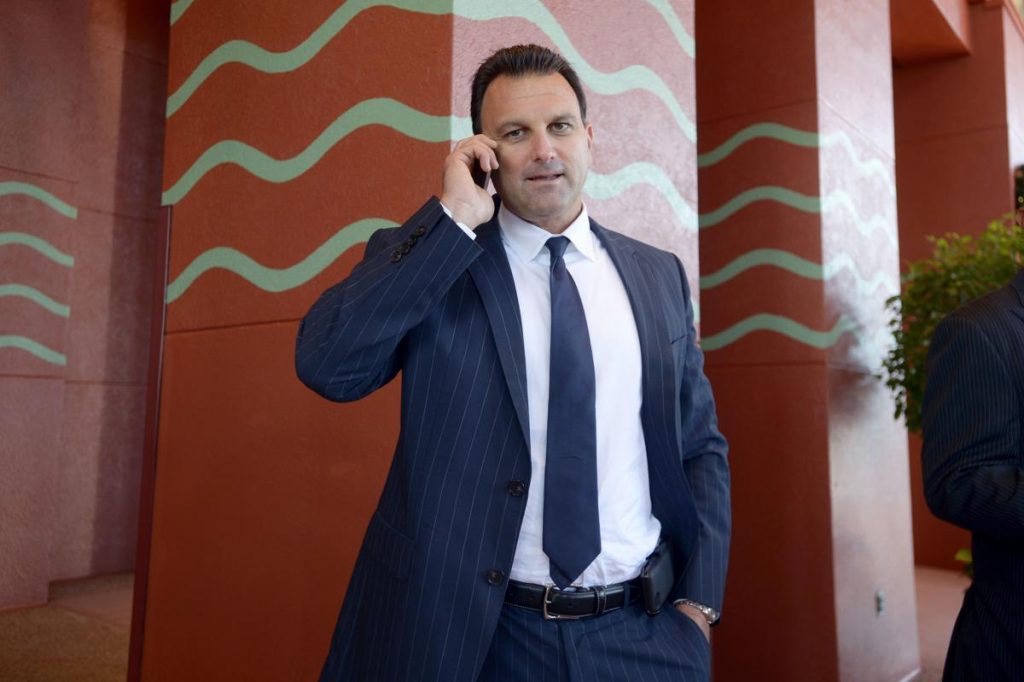 If you are interested in the business of sports, it is highly likely you are familiar with the name of Drew Rosenhaus. Beloved and reviled in equal measure, no one has a neutral opinion of the man. Regardless of people's feelings toward him, Rosenhaus has achieved the remarkable feat of becoming one of the defining figures in the NFL without ever having set foot on the field.
Rosenhaus is a football super agent who is relentless in fighting for his clients' interests. He currently represents over 110 NFL players and has negotiated $1.1 billion in contracts. Rosenhaus's industry presence was mythical enough for Cameron Crowe to base Tom Cruise's character in Jerry Maguire on him.
The Start: University of Miami
Rosenhaus spent his entire youth watching the Miami Dolphins, his local professional football team. He went to games and practices whenever he could, and because his dad knew players through his work as a real estate agent and boat manufacturer, Rosenhaus had the opportunity to talk to players frequently. All of those experiences convinced Rosenhaus that he had to do something with football.
By the time he enrolled at the University of Miami Business School, Rosenhaus knew that he wanted to be a sports agent. However, he did not think that it was a real path until he befriended a classmate of his at Miami—Hall of Fame wide receiver Michael Irvin. Rosenhaus tutored Irvin and other students on the Miami football team. The players liked Rosenhaus's ability to relate to them, and he liked being a part of the football world.
His First Client
After his experiences with Irvin and other football players, Rosenhaus pursued his desire to be an agent by enrolling in Duke Law School after completing his business degree at the University of Miami. In 1989, during his second year, Rosenhaus landed his first client, Robert Massey.
At age 22, Rosenhaus became the youngest sports agent working at that time. After going official, Rosenhaus decided to start his own firm, Rosenhaus Sports Representation. Rather than hire staff immediately, Rosenhaus convinced his brother, Jason, to get a degree in accounting so that they could work together; the plan succeeded. After Jason graduated from the University of Miami in 1991, the Rosenhaus brothers set out to create the largest agency in the NFL.
The Rise of Drew Rosenhaus
Rosenhaus's status as a football agent rose quickly after signing Massey. As he noted in a question-and-answer session with ESPN, Rosenhaus says that he worked his way up to 12 clients within his first couple of years as an agent. The number of clients only increased after that. Rosenhaus believes his success is derived from the relationships he has with his clients.
As he noted in a 2011 60 Minutes interview with Scott Pelley, Rosenhaus works hard to maintain a personal relationship with each of his many clients. He said, "My clients are like my family, like my brothers—literally." Like a brother, Rosenhaus always takes his clients' calls: "If I get a call in the middle of the night, I have to take it. If I'm with a girl I have to take it. If I'm in the shower, I have to take it." Like a brother, Rosenhaus always works to get his client the best deal possible, always watching out for their best interests in a sport that is notorious for its disregard of players.
This deep commitment to his clients and their welfare has made him into an extremely popular agent with players, if not necessarily with teams or other agents, who disapprove of his aggressive style. His clients range from exciting collegiate draft prospects to Pro Bowl veterans. Notable current clients include Antonio Brown, Trent Brown, and Kwon Alexander.
The Future
The story of Drew Rosenhaus and Rosenhaus Sports Representation does not stop at the NFL. While Rosenhaus stays active in the NFL, the firm is branching out into other sports. In the past two years, Rosenhaus's firm has begun to sign baseball and basketball athletes. Although development in these areas is currently limited, Rosenhaus expects there to be growth in both these areas in the coming years.
About the Author