School vs. School: Florida Hough vs. FSU College of Business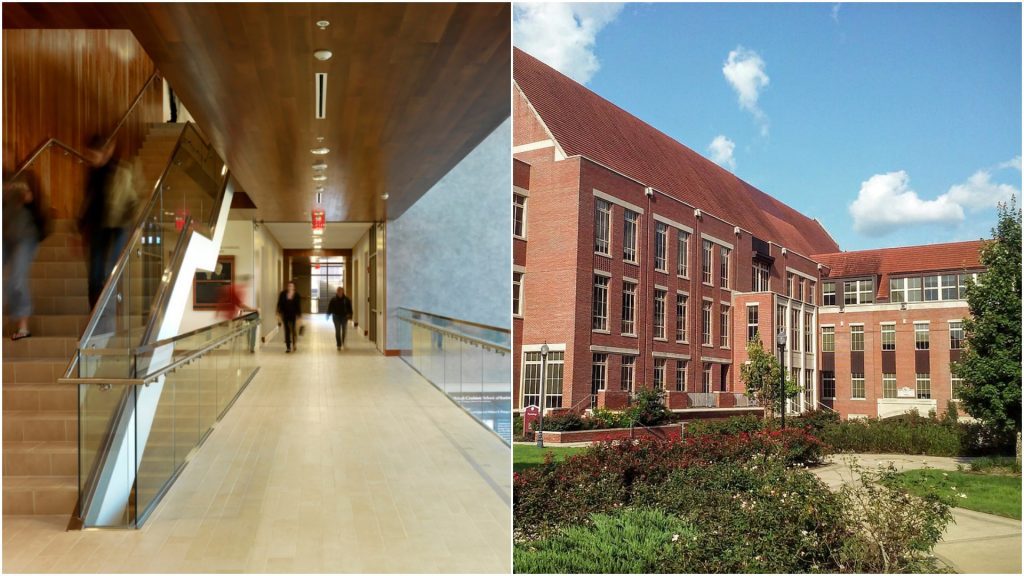 In the Sunshine State, the MBA continues to flourish. Yet, even among the state's ever-expanding number of AACSB-accredited business schools, two giants stand out: The University of Florida and Florida State University. And while the MBA rivalry may not be as stoic as its football rivalry, there is a lot to consider before potentially enrolling in either school.
Below, we break down Florida vs FSU and what you need to know about the business schools.
The University of Florida Hough Graduate School of Business, established in Gainesville as part of the Warrington College of Business, boasts a diverse student body of over 6,800 students and the first fully-accredited online MBA program. It offers a diverse array of degree program possibilities for graduate students:
Traditional full-time or accelerated, one-year full-time MBA programs
One and two-year part-time MBA programs
Traditional Online MBA with or without real estate specialization
Executive MBA
Professional MBA
Why Florida Hough?
What's Missing?
The cost of the Online MBA program is quite expensive (see below), which would mean that to get the most for your money, you would likely have to reside in Gainesville. Additionally, Gainesville is primarily a college town, unlike Tallahassee, where FSU is located.
The Florida State University College of Business, established in 1950 in Tallahassee, features over 6,000 students enrolled, 688 of whom are graduate students. Similar to Hough, FSU's College of Business offers a flexible selection of graduate programs:
MBA programs with full-time and part-time options
Online MBA program, with the possibility of a real estate specialization
Five additional Master's degree programs
Seven Ph.D. in business administration majors
Why FSU?
Several centers/institutes where one can focus on their desired specialization, ranging from risk management to global entrepreneurship
Provides opportunities for students to connect with friends, alumni, specialists, and business leaders through specialized programs like the Professional Mentorship Program, the Local Business Shadowing program, and the Wall Street Prep program
The proposed 2017-2021 Strategic Plan promises industry immersion for students and opportunities for job placement.
Easy acceptance: FSU's admissions standards may be less rigid than UF, with a 60.8 percent acceptance rate into the full-time MBA program, compared to UF's 18.8 percent rate.
Every MBA program offering at the FSU College of Business offers GMAT/GRE waivers. In contrast, only UF's EMBA program offers any sort of entry without GMAT scores.
Among both schools, only FSU offers any sort of MBA degree that can be earned in one year or less.
What's Missing?
Current statistics are sparse, but 34.3 percent of the student population in 2018 were non-white, compared to the 44 percent population of POC within the Hough Graduate School of Business.
U.S. News & World Report also ranks FSU College of Business 79th overall, 54 spots below Florida Hough. However, the school's part-time program earned the 57th spot in the publication ranking.
Florida vs FSU: Degree Program Rankings
| Program | Public Schools | Overall |
| --- | --- | --- |
| Online Graduate Business | 8 | 12 |
| Online MBA | 16 | 21 |
| Online MBA for Veterans | 11 | 13 |
| Part-Time MBA | 25 | 44 |
Florida vs FSU: Cost
Degree Type
Florida Hough
FSU
MBA (Florida resident)
$17,982 (one-year)

$26,473 (two-year)
$18,693
MBA (non-Florida resident)

$41,173 (one-year)

$61,260 (two-year)
$43,318
Online MBA (Florida resident)
$49,205 (one-year hybrid)

$59,808 (two-year)
$30,427
Online MBA (non-Florida resident)
$49,205 (one-year hybrid)

$59,808 (two-year)
$31,599
Evaluating the return on investment for both schools depends primarily on two factors: how much of your degree you are looking to complete online and whether you are a Florida resident or not.
For online degrees, FSU is significantly less expensive—both for residents and non-residents. However, Hough Graduate School's Online MBA program is much more prestigious. The program is the fourth highest ranked in the country, according to U.S. News & World Report.
For Florida residents, then it is potentially in the best interest to move to Gainesville and complete the program at the school itself. This can save applicants a significant amount of money compared to its Online MBA.
About the Author