New Harvard MBA Deadlines Revealed

Hopeful applicants to the next MBA class at Harvard Business School have a new batch of deadlines to keep tabs on.
New Harvard 2019-20 MBA Deadlines
Round One
Application deadline: Sep. 4, 2019
Decision released: Dec. 10, 2019
Round Two
Application deadline: Jan 6, 2020
Decision released: March 31, 2020
---
Learn more about the Harvard Business School full-time MBA program here.
regions: Boston

About the Author

Matthew Korman
Matthew Korman is the Managing Editor of MetroMBA. Since graduating from Rowan University with a degree in journalism and political science, Matthew has worked as a music industry writer and promoter, a data analyst, and with numerous academic institutions. His works have appeared in publications such as NPR and Sports Illustrated.
Related
Find the graduate business management program that fits your needs.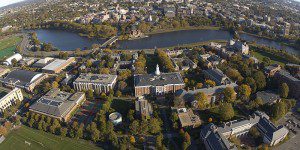 Programs
Full Profile
Admissions Assistance