School v. School: UVA Darden v. Duke Fuqua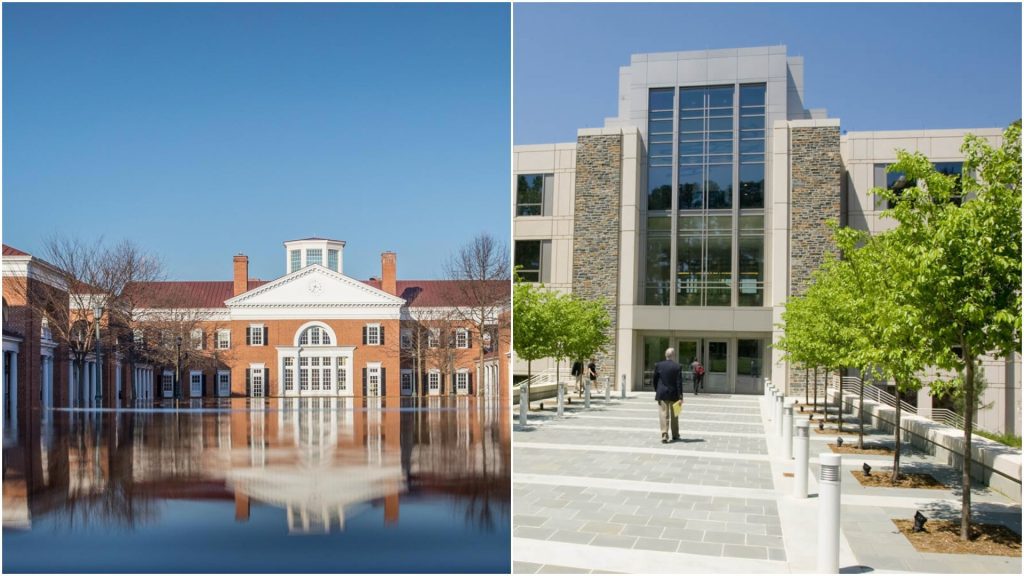 When you have two top MBA programs on your list that seem almost precisely the same at first glance, how do you choose the right program for you? You can't just close your eyes and point to one, hoping for the best. Instead, you need to narrow down each program to the essentials that matter most to you such as location, rankings, cost, employment, and offerings.
Our School v. School series offers a point-by-point comparison of two highly respected MBA programs on the east coast: UVA Darden School of Business and Duke Fuqua School of Business. Read on to find out how these two schools stack up to each other.
Virginia vs Duke: Location
If you're looking for MBA programs in beautiful locations, few can compare to UVA's location in Charlottesville, Virginia and Duke's location in Durham, North Carolina. Each are home to great shopping, restaurants, and events. However, Durham is a more affordable place to live when it comes to the cost of living and housing, through the overall Charlottesville education system is slightly better.
For those looking for that small, hometown-feel, you may want Charlottesville. Steeped in history, Charlottesville is a picturesque setting along the foothills of the Blue Ridge Mountains, making it great for outdoor adventures. On the other hand, Durham is part of the Research Triangle Region known for technology companies, scholarly institutions, and a big city feel. With a long, varied history, the area is known for its local music scene, weekly events, arts, and sports.
Cost of Living: Durham is 14.9 percent less expensive than Charlottesville.
Housing: Durham housing costs are 27.7 percent less expensive than Charlottesville.
Education: Durham spends 33.7 percent less per student and they have a 28.1 percent higher student to teacher ratio than Charlottesville. 
Commute: Residents in Durham commute 4.7 percent longer than residents of Charlottesville—23 versus 18 minutes.
Jobs: Future job growth for both cities is above average for the U.S. with Durham (43.3 percent) just edging out Charlottesville (42.7 percent).
Virginia vs Duke: Rankings
Comparing UVA Darden and Duke Fuqua in the rankings is an almost futile effort. Overall, Darden slightly edges out Fuqua in most rankings except in the Financial Times and U.S. News & World Report. In the end, the schools are so closely ranked—both ranking in the top 20 in almost every publication—that you would be fine choosing either school. Rankings should not be a deciding factor here; they are too evenly matched.
| Publication | UVA Darden | Duke Fuqua |
| --- | --- | --- |
| U.S. News & World Report | 12 | 10 |
| Bloomberg (Global) | 9 | 16 |
| Forbes | 11 | 14 |
| Financial Times (Global) | 23 | 19 |
| The Economist (Global) | 9 | 15 |
Virginia vs Duke: Cost
When it comes to the cost, you may not notice a difference between the two schools. The total costs are within $1,000 of each other for the year. Instead, what will matter is whether you get a scholarship at one school over the other.
UVA Darden offers numerous merit-based scholarships for MBA students, most of which do not require an additional application. Scholarship awards include both full and partial tuition. There are also women, minority, LGTBQ, military, international, and U.S. regional scholarships.
Duke Fuqua, according to the website, does not offer quite as many scholarship opportunities. There are merit-based scholarships, military scholarships, internship assistance, social entrepreneurship scholarships, and a few more.
| Annual Expenses | UVA Darden | Duke Fuqua |
| --- | --- | --- |
| Tuition | $70,500 | $70,000 |
| Full Costs (tuition, books, fees, etc.) | $97,524 | $96,850 |
Virginia vs Duke: Post-Graduation Employment
The job market demand for UVA Darden students is strong. About 94 percent of the Class of 2018 received job offers within three months of graduation. Duke Fuqua's numbers were even stronger, with 96 percent of the Class of 2018 received job offers within same time frame. And for both programs, the compensation you can expect post-MBA is the same—around $150,000 for salary and bonus.
What makes the difference is your industry of interest. Both send 32 percent of their graduates into consulting, but after that, the mixture changes.
Duke Fuqua is better for graduates interested in technology: 28 percent of Fuqua graduates entered tech, compared to 18 percent for UVA Darden.
MBAs interested in financial services should choose Darden: 26 percent of Darden graduates head into finance, compared to 16 percent at Duke Fuqua.
| Compensation | UVA Darden | Duke Fuqua |
| --- | --- | --- |
| Average Annual Salary | $127,767 | $127,874 |
| Average Signing Bonus | $35,430 | $33,202 |
As we outlined above, UVA Darden and Duke Fuqua are incredibly comparable when it comes to the basic facts. Their rankings are almost even, they both cost the same, and graduates can expect to earn the same money upon graduation. So, what actually makes the difference between the two programs? It's the nitty-gritty details.
Both schools offer both a full-time MBA and two executive MBA programs, including a Global Executive MBA.
Virginia vs Duke: Career Concentrations
Both schools offer many different career concentrations with some overlap in entrepreneurship, management, marketing, strategy, and finance. However, when it gets down to specifics, things change.
UVA Darden is more focused on finance with concentrations in things such as asset management and investment banking; there's also a focus on business analytics. On the other hand, Duke Fuqua places more emphasis on a career in energy as well as a concentration in leadership.
| UVA Darden Concentrations | Duke Fuqua Concentrations |
| --- | --- |
| Asset Management / Sales & Trading | Decision Sciences |
| Corporate Finance / Investment Banking | Energy & Environment |
| Entrepreneurship | Energy Finance |
| Management Science | Entrepreneurship & Innovation |
| Marketing | Finance |
| Strategy Consulting | Financial Analysis/Accounting |
| Supply Chain Management | Leadership & Ethics |
| Corporate Innovation | Management |
| Business Development and Growth | Marketing |
| Business Analytics | Operations Management |
| Innovation for Sustainability | Social Entrepreneurship |
| Global Business | Strategy |
UVA Darden also offers unique industry specialty areas. This offers students additional courses, resources, and contacts for several areas outside of the core business curriculum. Those areas include:
Energy
Health care
Media, entertainment, & sports
Real estate
Retail & Luxury Goods
Social Enterprise
Technology
Virginia vs Duke: Teaching Methods
Another difference is the teaching method that each school follows, while similar, there are some distinct differences.
Duke Fuqua uses lectures, case studies, strategic games, simulations, visiting executives, and research to create a dynamic learning experience. Thegoal: to make theory real and to give students a deep and broad understanding of current business topics. As part of this, there are many unique experiential learning opportunities including a Global Academic Travel Experience, consulting practicum, a program for entrepreneurs, and independent study.
UVA Darden follows the four-step case method learning process, which divides the class into small teams to encourage lively discussions and more. Students will study more than 500 real-life business cases during their time at UVA Darden. As for experiential learning opportunities, there are international field experiences, domestic field experiences, leadership courses, consulting projects, and entrepreneurship competitions.
Final Thoughts
There are many small differences between the two programs when you break it down into your interests and wants. We recommend carefully reviewing each school website to find out how the program fits your post-graduation career goals and then making a decision from there.
About the Author