Top MBA Recruiters: New Balance

Founded in 1906, New Balance is one of the world's most well-known sports footwear and apparel manufacturers. It's an American multinational corporation based in Boston, Massachusetts that has a manufacturing presence in the U.S. as well as the United Kingdom. The company is known for its more expensive products that come in a great variety of sizes and with unique technical features. In 2018, the company made approximately $4.5 billion in revenue across 5,497 employees worldwide.
New Balance is considered an industry leader for global athletes. One of their biggest selling points is that they are "Made in USA" with a 250,000-square-foot office building in Boston that employs 700 workers. Today, the company has more than 350 stores around the world and runs another 3,500 stores through partners. They complete 12 percent of their business through eCommerce and it's growing.
A New Balance Career
New Balance corporate careers include a wide range of positions and functional areas, all focused on building a global brand that athletes are proud to wear. Career areas include:
Customer Service
Corporate Retail
Corporate Services
Design and Development
Digital and Ecommerce
Engineering
Finance & Accounting
Information Technology
Manufacturing & Distribution
Marketing & Communications
Product Marketing & Merchandising
Sales
Supply Chain
New Balance Work Culture
The company is well known for offering its employees a wide range of professional development opportunities including traditional and nontraditional development programs. There are also mentoring programs, customized team sessions, on and off-site seminars, and tuition reimbursement.
New Balance is also committed to giving back to the community through the New Balance Community Connection corporate volunteer program. Through this program, employees have the opportunity to join team volunteer projects or participate in the Dollars-for-Doer program. In addition, the company gift matches 100 percent of employee donations up to $500 each year.
"I think if you ask any New Balance associate, they'll likely tell you the organization cares about its people, their well-being, and their growth," says Joan McGrail, VP of HR.
"From entry-level to senior-level and across all departments and locations, we provide associates opportunities to grow."
New Balance Career Salaries
According to PayScale, the average salary for an employee at New Balance Inc. is $73,000. The highest-paid employees work as Product Development Managers ($81-$143,000) or Product Directors ($87-$170,000).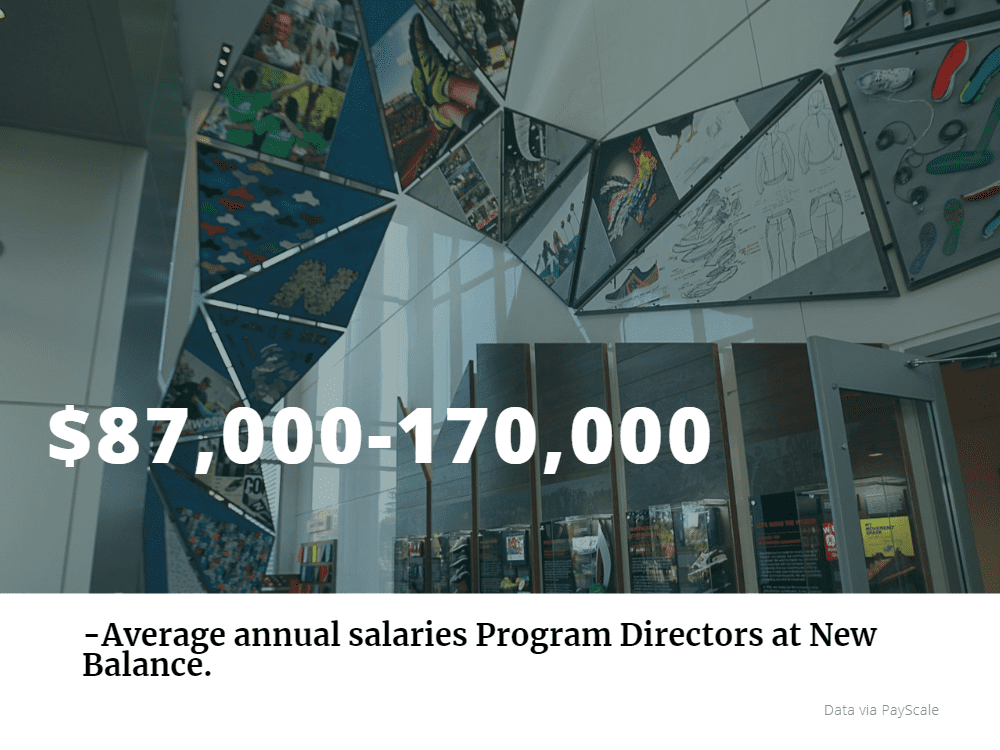 Employee Benefits
New Balance offers comprehensive medical and vacation benefits, including 12 weeks of fully paid maternity leave and two weeks of paternity leave. In addition, they offer:
Five percent matching 401(k) program
Tuition reimbursement
Employee discounts
Corporate gift matching
$500 in fitness reimbursement annually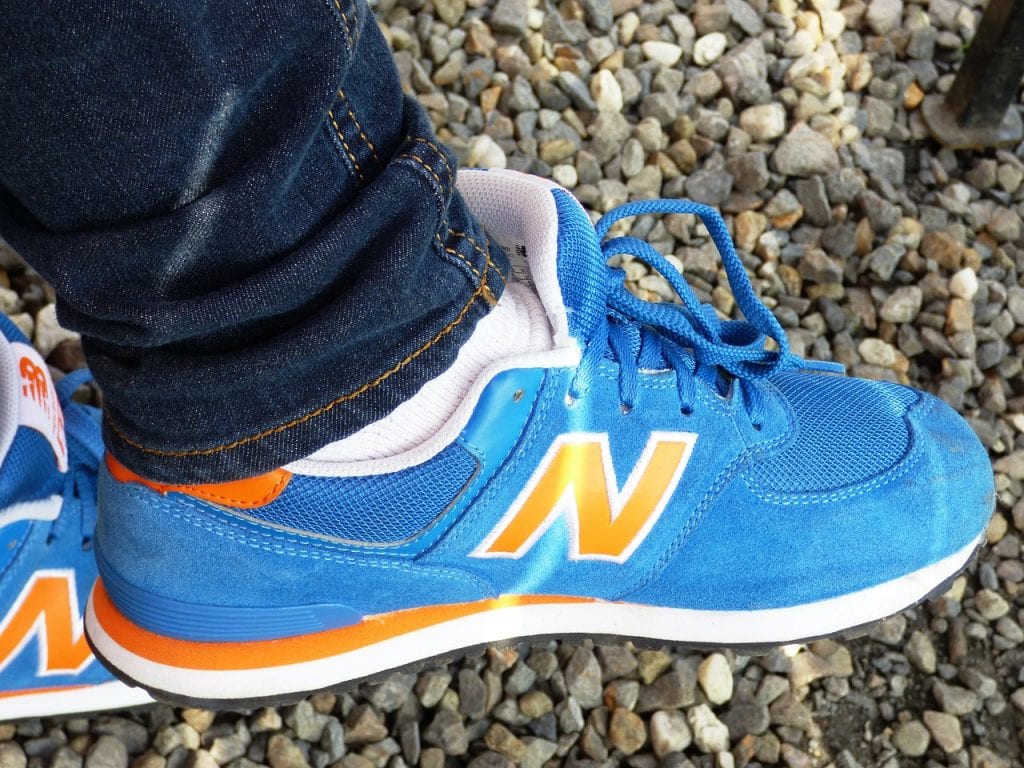 Employee Sentiments
The majority of New Balance employees work as sales associates at one of the company's retail locations. To ensure that these employees were removed, we narrowed down employee sentiments on Glassdoor to only reviews from full-time employees working at the Massachusetts headquarters, which gave us 63 reviews.
The average review was 3.1 stars out of five with 100 percent CEO approval but only 59 percent of employees willing to recommend the company to a friend. Here's a little what they had to say.
Pros
"Great staff. Healthy lifestyle. Location." — Account Manager
"Terrific, friendly people. Brand and products that you can generally be proud of." — Director
"There are great work benefits including health and dental benefits as well as a great employee discount." — Team Lead
Cons
"Profit has become the only important factor, not people." — Data Analyst
"Management is very one track minded and values certain departments and aspects of the business over others." — Information Technology
"Lack of direction at various levels, lack of opportunities to advance remotely, investment into marketing instead of employees." — Analyst
Current Openings
For example, the company is currently hiring a Talent Development Manager at their Brighton, MA corporate headquarters. They are looking for an individual who will be responsible for designing and implementing talent initiatives worldwide. This individual will report to HR to ensure that New Balance hires the best employees and maintains a diverse workplace.
Candidates should have an MBA and at least seven years of prior relevant experience. Responsibilities include:
Project plan management
Talent metrics analysis
Internal performance, talent, and organization development consultant
They are also looking for a Global Director of Brand Marketing. In this role, an individual will be expected to govern the company's global brand strategy as well as the go-to-market process for New Balance. They are looking for someone who can manage and deploy all marketing resources and dive the company's overall vision.
Candidates should have at least ten or more years of progressive experience in marketing and an MBA degree is preferred. Responsibilities include:
Maximize New Balance's portfolio with third-party agency partners
Work in partnership with Global Directors
Aligning consumer, international, and regional marketing
More positions can be found at the New Balance website here.
About the Author