News Roundup – Agility in Marketing at Tuck, Rady Professor Conducts Uber Study, and More

Let's take a look at some of the biggest stories from this week, including the Tuck Marketing Symposium, impeachment hearings, more.
---
Students from Dartmouth University's Tuck School of Business recently led a marketing symposium, organized in partnership with the Forbes CMO network. The theme was one which applies to the students' experience starting out in the business world to the companies at which they'll work – agility. Alumni executives from Wayfair, Colgate-Palmolive, and Beyond Broth all shared their thoughts on how the field of marketing has shifted, and what newly minted MBAs might be able to bring to the table.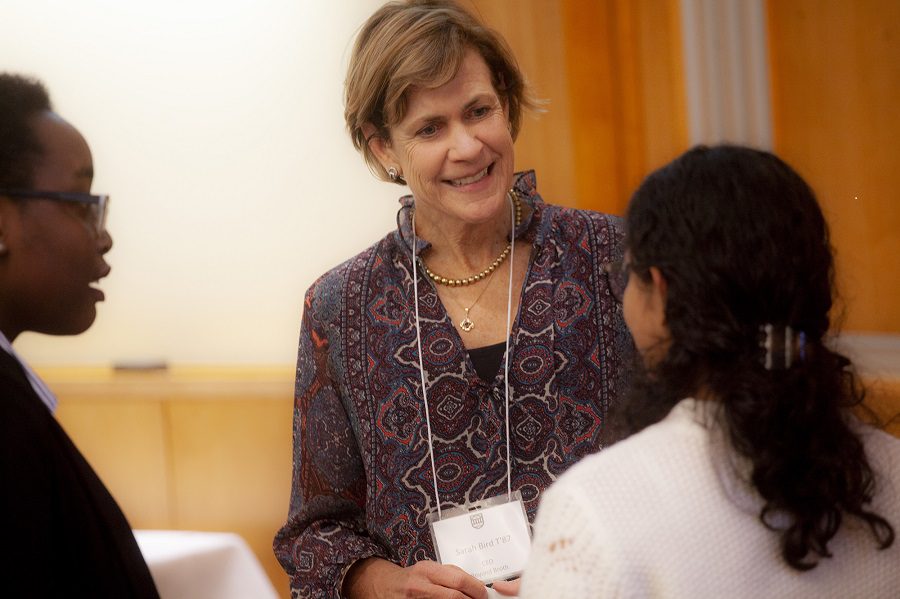 In her opening remarks to the symposium, Deputy Dean Punam Anand Keller says, "The beauty of marketing is you can use it in any career … I use it all the time as deputy dean. It's an amazing skill that's extremely portable."
The concept of agility was framed within discussions of the rapidly changing post-digital revolution world. Topics included the impact of omnichannel retailing and social media. The question of "Are Big Brands Dead?" initiated a talk by Dana Medema, the General Manager for Home Care North America at Colgate-Palmolive. The discussion involved the rising competition and integration of startups into the dominant landscape of long established brands.
Chris Fuqua (Tuck '06) is the CEO of the healthy restaurant chain B.Good gave a talk called "Managing in a Changing Environment" in which he addressed how his product could be made accessible and appealing in a highly competitive market.
"Managing in a changing environment is a way to differentiate yourself as a leader. It's not just about what you learn in textbooks, but how you respond to challenges," says Fuqua. You can read more about the Tuck Marketing Symposium here.
---
Ten Virginia Tech graduate students, including one from Pamplin's Business Information Technology Master's program, have been officially named as Innovation Fellows. They were chosen from more than two dozen applicants to help to define and shape the school's new Innovation Campus in Alexandria.
The fellows will offer input and advice as the campus develops, as well as share perspectives and participate in events classes begin there next year.
"The fellows will help us understand what is important to graduate students," says Brandy Salmon, Innovation Campus' Managing Director.
"We are so excited to have them onboard, helping us stay connected to those who matter most—our students. With their fresh ideas and feedback, we will create a better educational experience for future students [at the Campus]," Salmon continues.
Among the input already offered to the Campus planning team was to offer discounts to students for the many services that will be offered, such as dining and retail, in the surrounding areas. Ronald "Angel" Cox, Business Information Tech fellow, says, "When I read about the campus, it was everything I wanted … The idea of a campus acting as an incubator for fostering ideas and partnering with private companies is a culmination of everything I have pursued in my own career."
Read here for more on the Innovation Fellows and the new campus.
---
Uri Gneezy, UC San Diego Rady School of Management Professor in Management Leadership, opened up a widespread conversation when he published a working paper on the nature of tipping in today's on-demand economy.
The team specifically studied tipping data from Uber. Along with his co-authors, Gneezy studied 40 million trips during four weeks in August and September 2017. Some of the factors that they examined were characteristics of the drivers and riders, location, ride quality, and timing of the rides.
The study discovered that a majority of riders, around 60 percent, never tip, and only about 1 percent consistently do. Whether or not there is a tip is dependent more upon the rider than the driver, but safety and promptness were also obvious reasons for tipping. Other factors the team found included destination, star rating, the time of day, and gender.
Andrew Van Dam of The Washington Post remarks, "We all have theories or stereotypes about who tips best and which workers earn the most, but honest-to-goodness tipping facts are rare."
Major news outlets such along with The Washington Post, such as The Economist, Wired, and The Daily Mail shared the paper, as did millions of Twitter users. For the original paper, entitled The Drivers of Social Preference: Evidence from a Nationwide Tipping Experience, read here.
---
The Harper Family Foundation, founded by Chicago Booth alumnus Charles "Mike" Harper ('50), has donated a generous gift of $10 million in scholarship assistance for current and former members of the Armed Forces in Booth's full-time, Evening, Weekend and Executive MBA programs.
Harper's son, Dr. Michel Harper, says, "This gift fits nicely with my father's personality and his allegiance to both the country and the military … The whole purpose of our foundation is to make transformative investments that encourage and reward leadership, supporting an individual's path to success so they may amplify their potential."
Chicago Booth is a proud participant in the Yellow Ribbon Program, which allows universities to enter into an agreement with the U.S. Department of Veterans Affairs in order to fund tuition and fee expenses. Since 2006, Booth has seen an enormous increase—300 percent—in the number of veterans in the MBA program. This is due in major part to the school's efforts to recruit veterans.
Madhav Rajan, Chicago Booth dean and Professor of Accounting, says of the gift:
"Military veterans are a great asset to the Chicago Booth community. The experience, commitment to service and maturity that they bring are incredibly valuable to us … We are grateful to the Harper Family Foundation, whose generous gift will allow more veterans to benefit from a Booth education."
You can read here for more on the Chicago Booth donation.
---
Attorney Steve Castor, a Philadelphia-area native and Lehigh College of Business and Economics MBA grad, will take a large responsibility for examining witnesses during the public presidential impeachment hearings that began this week.
Castor first made national news during the closed door sessions of the hearings. Castor revealed the name of a whistleblower during his questioning of Lt. Col. Alexander Vindman, a national security adviser to President Trump. This was the first time the name was publicly shared.
Jason Chaffetz, a Fox News pundit and former Republican congressman, says to the Daily Beast, "Castor has the institutional knowledge, experience and prowess to be the guy in the hot seat … Most of the public hasn't seen him but for a photo of him in the background whispering to the chairman or a ranking member. But behind the scenes, he's been doing these types of inquiries for years."
Castor, who also earned his J.D. at George Washington University, has participated in several other high profile hearings. These included an investigation of the Justice Department's selling of illegal firearms to track gun traffickers, along with the Internal Revenue Service's involvement with conservative groups. For more on Castor and his background, read here.
About the Author