News Roundup – Fox Professor on Handling Work at Home Stress, McDonough Fellows Pivot to Success, and More
Let's take a look at some of the biggest stories from this week, including advice about balancing home and work stress, from Temple.
---
A Temple University Fox School of Business study has revealed a surprising phenomena—working from home is stressful.
Ryan Vogel, Assistant Professor in Fox's Department of Human Resources Management, surveyed 500 employees of a multi-national software company who are based in the U.S. The employees responded to a short questionnaire throughout their workday over a period of three weeks. The survey addressed the employees' stress levels, engagement with their projects, and relative creativity while working in different environments.
While their levels of creativity and engagement tended to remain constant, the employees showed a higher stress level when working from home, along with lower levels of positive emotions. "The strongest factor was the fact that people are more psychologically attached to home when they are at home," Vogel says. "With flexible working environments, it's important that employees can create mental distance between home and work … We need to be conscious of creating some form of mental separation between the personal and the professional, so that employees can focus on each one when it's appropriate." 
To cope with the inevitable stressors of home life, Vogel proposed several suggestions. One is to build in exercise and changes of scenery. Secondly, employees must create 'protected time' to prevent the long hours that may result when there is no office to leave at the end of the day. Third, he says, incorporate mindfulness strategies into the workday, setting an intention to leave to-do lists and chores at home for appropriate time.
Learn more about handling home and work stress here.
---
Two UNC Kenan Flagler Business School alumni have collaborated to put their business skills to great use for the Research Triangle's farming community.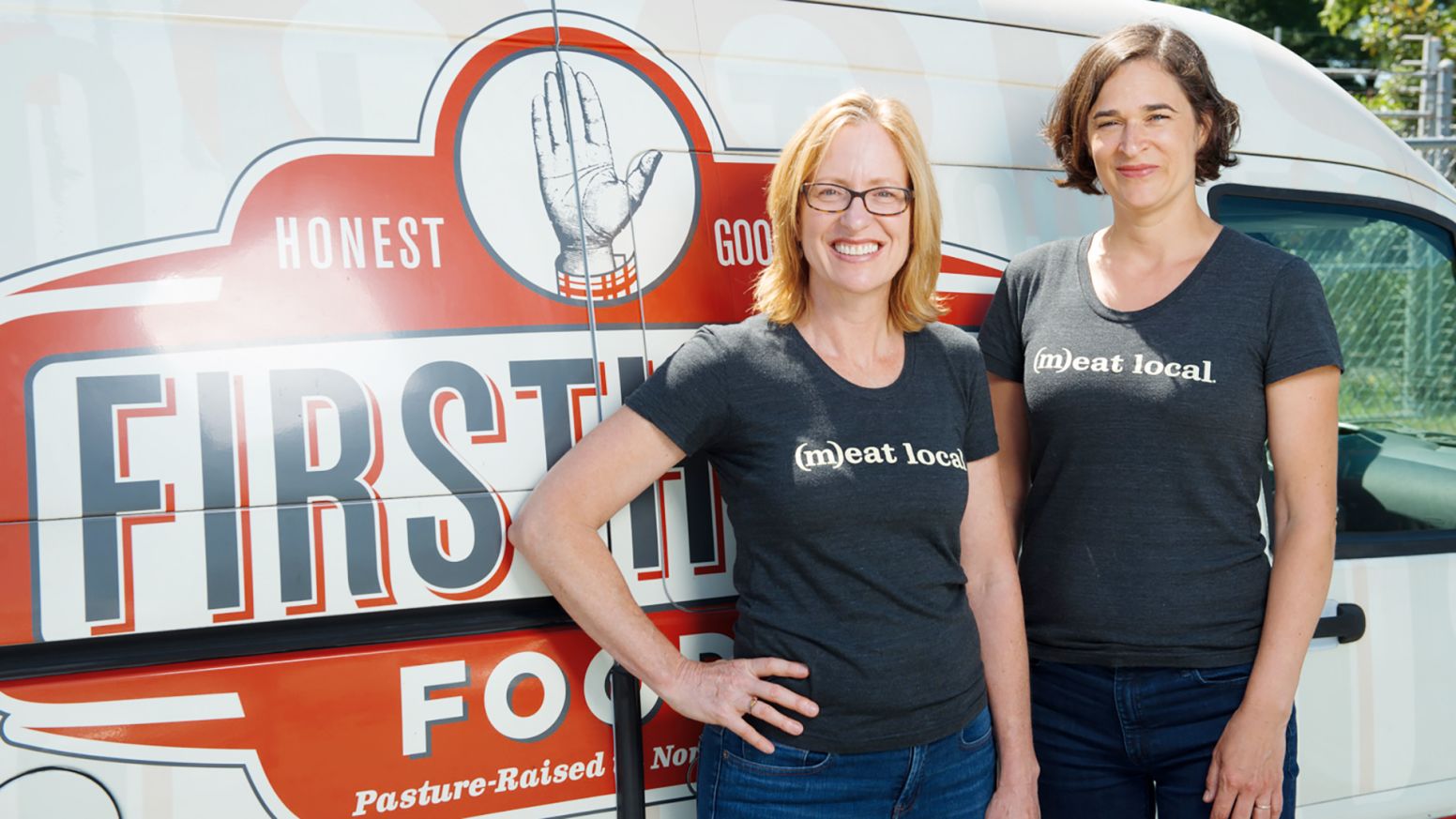 Tina Privatte Levy (MBA '09) and Jennifer Curtis (MS '98) met in 2008 through a summer consulting project hosted by Kenan Flagler's Center for Sustainable Enterprise (CSE). At the time, Privatte Levy was pursuing her MBA. Curtis was consulting for NC Choices, which promotes sustainable agriculture through education of farmers, suppliers, distributors and consumers.
The CSE challenged Privatte Levy and Curtis to form a plan for increasing consumer access to sustainable, locally grown and raised foods while also increasing market opportunities for independent farmers.
Privatte Levy studied environmental engineering at Berkeley, and she also earned her Masters in City and Regional Planning from UNC in a dual degree program. Of her experience working and studying, she says, "I encountered many business leaders who fought hard to not do the right thing environmentally, and I wanted to be able to speak their language and challenge their thinking."
Curtis encouraged Privatte Levy to take a chance with her and raise funds for a startup that would bring both of their talents to bear—a sustainable food business. The CSE consulting project was the perfect venue for the pair—it would provide the technical support for the new venture while challenging the business model to become a reality.
The project evolved into Firsthand Foods, which at first operated as a food truck. The two built the brand while making connections with local farmers. One of the challenges they faced was building trust in the male dominated farming community as people without agricultural backgrounds. Privatte Levy says:
"Jennifer and I didn't start this business because we are die-hard meat lovers—we were vegetarians for many years … We started it because we care about small-farmers … We are passionate about building a more resilient food community in our region."
Firsthand Foods won the Leadership in Corporate Sustainability Award from the Center for Sustainable Enterprise nine years after its founding, and Privatte Levy and Curtis remain proud of its continued growth. Privatte Levy says, "In the end, regardless of the dollar value, doing this together has helped us become better human beings, … And for that, we are hugely grateful."
For more on Firsthand Foods, read here.
---
A joint effort by the McDonough School of Business and Georgetown University's Prisons and Justice Initiative has resulted in the new Pivot Program, which gives formerly incarcerated people business skills with the goal of helping them to start their own businesses.
The one year program offers participants classes in personal finance, public speaking, economics, and communications, along with a six month paid internship.
Kadija Clifton joined the Pivot Program after encountering the frustration faced by many in her situation—the inability to get a job, despite numerous skills and the desire to turn her life around. Clifton was released from prison in 2017, and while there she earned her GED. Part of the inaugural class of the Program, Clifton graduated in June of 2018. Her fellowship led to a full-time job with the United Nations of Individuals Fighting Impossibilities, a nonprofit that promotes fair food access and economic opportunities in underserved communities. Clifton is using her entrepreneurial training to launch a plant-based food company called Cloud 9 Eats.
Clifton is also bringing her story to women like herself who are struggling to find their footing after incarceration. "I want to be a positive example that you can be bigger than the greatest mistake you've made," she says.
For more on the Pivot Program and its fellows, read here.
---
More than twenty years after becoming the first African American woman in history to receive her Ph.D. in Accounting from Ohio State, Cynthia Turner has a new dual role—Assistant Dean and Chief Diversity Officer of the Fisher College of Business. She is the only African American woman to be appointed to the dean's leadership team in Fisher's history.
In a recent interview, Turner discussed her new role and the steps she took to get there. When asked to define diversity and inclusion and why they matter, Turner says that diversity is "the extent to which the people within an organization reflect the range of human differences and experiences that exists within the society in which it operates … On the other hand, I define inclusion as the degree to which those with these differences are valued and empowered to contribute within their organizations."
Turner served for 17 years on the faculty at the University of Illinois Urbana-Champaign where she was a lecturer and associate professor of the undergraduate accountancy program. In her current role as a professor of accounting and MIS at Fisher, she teaches courses in cost and managerial accounting. Turner also teaches undergrad courses in information systems and accounting.
Before her appointment as Chief Diversity Officer, Turner formed Project THRIVE in 2016, with the goal of creating a more diverse student body in the undergraduate accounting and the MIS departments. Two years after the initiative began, the departments saw their diversity expand to double what it had been before.
Of her new role, Turner says, "What excites me most is being a member of a leadership team that is totally committed to our diversity and inclusion vision; serving alongside members of Fisher's Diversity and Inclusion Committee—faculty, staff and students … and being able to further engage our alumni and corporate partners in innovative ways that will support Fisher in equipping our graduates to lead and serve with impact in the global marketplace."
For more on Turner and the full text of her interview, visit Fisher's news page.
---
Katherine Pinkard (MBA '14) is no stranger to hard work. While pursuing her MBA at Carey, Pinkard was also building her real estate business, which now is responsible for over 3.5 million square feet of property.
Part of Pinkard's mission is to advocate for other women who are considering roles in the industry. "I'm passionate about creating leadership opportunities to help other women climb the ladder,…I want to be proactive," she says, "For example, if I see a speaker panel with no women speakers on it, I will call the organizers and ask them 'can I help you find other talented women to participate in this event?'"
She has engaged in this and multiple other efforts to build the ranks of women in real estate, which she believes will only strengthen the industry as a whole. "If you want to build for what's next for everyone you need to bring people of different backgrounds and experiences to the table. It will only make the real estate industry stronger," she says.
For more on Pinkard, read here.
About the Author