Georgia Tech's Full-Time MBA Recruiter Answers Our 5 Questions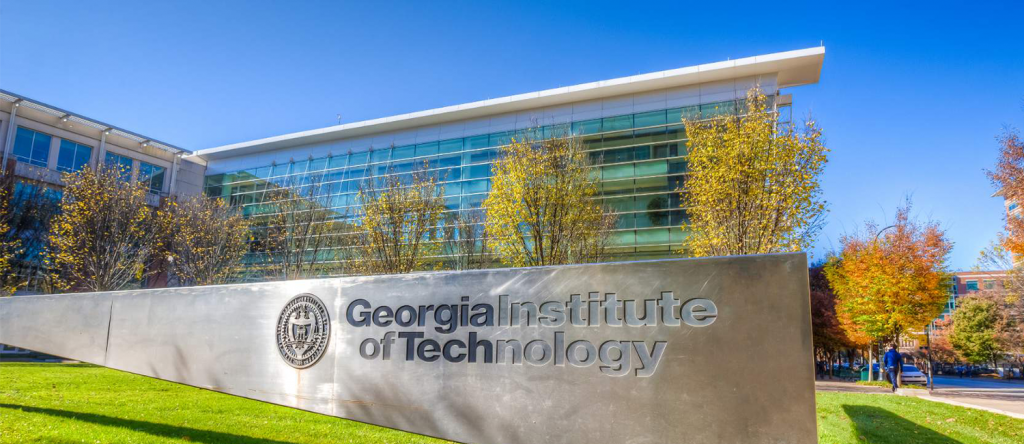 In our latest installment of the MetroMBA "5 Questions" series, we speak with Amy Hayes, Full-Time MBA Recruiter at the Georgia Tech Scheller College of Business. Hayes talks about what makes an ideal Georgia Tech MBA candidate, what to know before applying, and much more, below.
---
1.) What Advantages Does a GT Scheller MBA Have Compared to Other Offerings in Georgia?
"What makes Georgia Tech Scheller College of Business stand out is the way our curriculum and experiential learning opportunities explore the intersection of business and technology. Many of our students do come from a technical educational and professional background; however, we have nearly as many who don't. All students are looking to address gaps, in technology or business acumen or both, to prepare to pivot into a new career or to gain a better framework for decision-making. In other words, our program is approachable no matter your background is. Our aim is to produce MBAs who understand how technology drives innovation in any industry. A general understanding of technology's power is vital to any role. While many of our students take a broad approach to our flexible curriculum, we offer concentrations in seven functional areas and nine interdisciplinary areas that often draw students into our flagship coursework in Business Analytics, Strategic Sustainability, Marketing, Supply Chain and Innovation.
Additionally, Scheller is located not just in Atlanta, but specifically in Midtown Atlanta's Technology Square. Our students benefit from an innovative ecosystem comprised of major global corporations, emerging tech companies, and many corporate innovation centers strategically placed to draw from Georgia Tech talent. This location positions students well with opportunities advantageous for networking. Among our extraordinary 12 practicum offerings, students are not only partnered with companies based outside of Atlanta (including Nike, IHG, Bank of America, Samsung, AT&T) but also work with neighboring businesses where there is opportunity to meet face to face regularly with executives of these organizations (including Coca-Cola, Delta Air Lines, The Home Depot, NCR)."
2.) Is There a "Perfect" Kind of Candidate That Fits the School's MBA Mold?
"Actually, we prefer to look at how a candidate can break the mold. What is it about your experience, your background, your career goals that will bring a diverse perspective to our program? Sure, we aim to bring in students who can be successful in the classroom and who we can successfully serve in terms of career placement, but I feel lucky to get to recruit prospective candidates with different stories and unique individuals to Scheller. Given our small program size of around 160 students, we have a tight-knit, collaborative community that commands intentionality in finding bright candidates with good character, great personalities, open-mindedness, and willingness to help others. I'm certainly held accountable by our current students to uphold our values in the recruiting process, and I wouldn't have it any other way. I love that they have a vested interest in who they will work and play alongside!"
3.) What Would You Say Students Need to Prioritize the Most Before Applying?
"I think as much as anyone dreads standardized testing, applicants should know that your performance on the GRE or GMAT is the one application area you can impact the most. Transcripts from undergrad are set in stone, and your work experience is what it is. Intentionally preparing for the GRE or GMAT and planning to test multiple times will not only help you achieve better results for admission and funding but might also set you up for better job placement as some industries will evaluate these scores in recruiting. When considering full-time MBA programs, it's best to approach the testing phase with determination instead of dread."
4.) What Would You Say Applicants Need to Worry Less About Before Applying?
"My recommendation is to worry less about exact courses you will take and mapping your MBA experience out before you get here. Having some degree of clarity about career goals and how certain classes or experiences within a program will help you get there is great to highlight in essays and interviews, but you should also be open-minded. Curiosity is a very attractive quality when we're evaluating candidates at Scheller; and, I'm sure many programs would say the same. You'll receive wonderful advising when you get to our program pertaining to curriculum and career goals. We find our candidates who are flexible and join clubs or take classes in areas they didn't know they'd be interested in have the best experiences and see the most success in the long run."
5.) If You Had to Choose One Book for a Potential GT Scheller MBA to Read Before Enrolling, What Would It Be?
"I would recommend Grit: The Power of Passion and Perseverance by Angela Duckworth. It would be beneficial both in applying to business schools and in preparing to start business school as it contends that the best thing to arm yourself with is resilience. The application process is a journey in finding the best fit for you and you might have disappointments and new information coming to you that could shift the course you've charted for yourself. Your "dream school" might change. And, your business school journey might bring big challenges early on as you navigate the transition back into the classroom, are tested in your quest for a summer internship, and enter a world in which feedback freely flows from your classmates, career advisors, faculty, and even acquaintances. Your MBA experience will stretch you, but the return on your hard work will come in the ability to receive coaching and the perseverance you'll carry with you throughout your career."
About the Author