5 Questions with MBA Admissions: Georgia Tech Scheller College of Business Evening MBA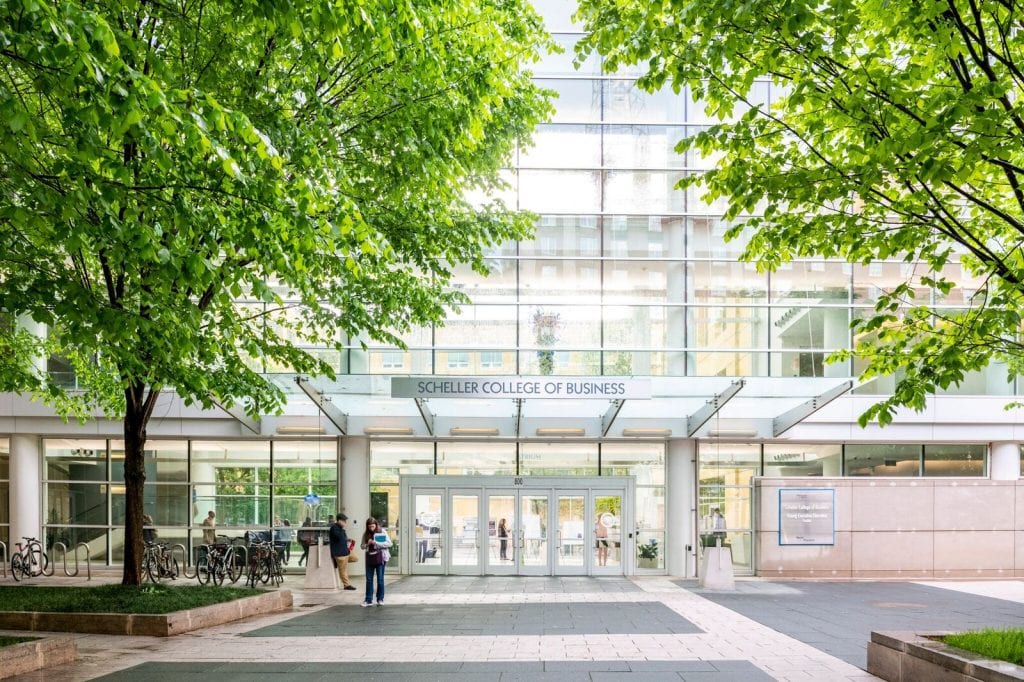 In our latest installment of the MetroMBA "5 Questions" series, we speak with Christopher Hilario, Evening MBA Recruiting Manager, from the Georgia Tech Scheller College of Business. Hilario talks about the advantages of their evening MBA, the "perfect" kind of candidate and priorities before applying.
What Advantages Does a Georgia Tech Scheller College of Business Evening MBA Have Compared to Other Offerings in Georgia?
When I think about the competitive advantages our Scheller Evening MBA students have over other programs, two things jump to the front of my mind: career services and practicum courses.
For instance, if you're looking to pivot into a new industry, an MBA degree itself may not get you to your career goal. You're going to need some help along the way, and it starts with our career services team. The Jones MBA Career Center is ranked #3 in the US, and it's because of the dedication we provide our students. Once you enroll into our Evening MBA program, you're assigned a career advisor who will want to meet with you during your first semester. They will discuss your career goals, look at your work experience, and identify where you want to be by the time you graduate. Throughout the program, you'll have the opportunity to attend a number of career advancement workshops, mock interviews, and information sessions with companies recruiting MBA students. Students in the Evening Program have their own dedicated career advisors who are there to ensure Evening MBAs get the highest return on investment.
For the person looking to pivot into a new industry, our career services will help you land the interview. But what are your talking points for that interview? That's where our MBA curriculum, specifically our practicum courses, go to work for you. Our presence in the heart of Tech Square and Midtown gives us the opportunity to partner with nearby startups, nonprofits, and Fortune 500 companies. We partner with these organizations for practicums – courses where students work on a real strategy issue for a reputable company. Our students work on these projects all semester and have the ability to solve real challenges that major companies face today. Not only will this give you practical experience as you look to pivot into a new industry, but the practicum provides you with great talking points during an interview. We offer 12 different practicum courses that vary across disciplines, including business analytics, sustainability, and nonprofit consulting. On average, our students take advantage of four practicums during their time in the program. These courses allow you to state that not only do you have an MBA degree, but that you were able to immediately apply what you learned in the program.
Our career services will help you get the interview, and our curriculum will provide you with the content that will separate yourself from candidates with MBAs from other programs.
Is There a "Perfect" Kind of Candidate That Fits the School's Evening MBA Mold?
The "perfect" kind of candidate for the Evening MBA program is one who is willing to immerse themselves into the collaborative community we foster here at the Scheller College of Business. We want someone who is going to take advantage of the networking opportunities, guest lecturers, and student-led organizations. Notice how I didn't mention a candidate's specific industry or undergraduate degree? Some prospective students believe they have to have an engineering or computer science background to be successful in an MBA program at Georgia Tech, but that's not the case. The Evening MBA program is comprised of students from varying backgrounds, disciplines, and experiences. We want a diverse classroom that will be representative of what students come across in their day-to-day jobs. It doesn't matter if you are looking to pivot into a new industry or move up the ladder within your current organization. As long as you are open-minded and are willing to get involved with the MBA community, then you're the "perfect" candidate we are seeking at the Scheller College of Busines
What Would You Say Students Need to Prioritize the Most Before Applying?
Schedule a meeting with a member of our admissions team. During this conversation, we take a look at your resume, assess your candidacy for our program, and discuss how you can improve your application. It's pretty much like getting the answer key before you take an exam! We have no hidden algorithm or secrets when we assess a candidate. At the end of the day, we are looking for a reason to invite you for an interview once you submit an application. Make an appointment with our team, and it will help ease any worries you may have going through the admissions process
What Would You Say Applicants Need to Worry Less About Before Applying?
Don't get stressed over the interview process. Once we review an applicant, if we feel that they are competitive, then we will invite them on campus for an interview. The admissions committee found a reason to invite you, so now is your time to shine. I would suggest preparing like you would for a typical to job interview but know that our interviewers are not intimidating people by any stretch of the imagination and they truly are interested in getting to know you.
If You Had to Choose One Book for a Potential Georgia Tech Scheller Scheller College of Businses Evening MBA to Read Before Enrolling, What Would It Be?
I could give you a book on leadership/management (Dare to Lead by Brené Brown would be my pick), but honestly, you're going to read enough books, case studies, and articles once you enroll, so enjoy this time to read something you love. My personal favorite is City of Thieves by David Benioff. It's a historical fiction novel that is a classic coming-of-age story set in the Soviet Union during World War II. Benioff was actually one of the writers on Game of Thrones, but don't let that ending hinder you from checking out his book!
About the Author