Post tagged "georgetown-mba"
Nov 14, 2018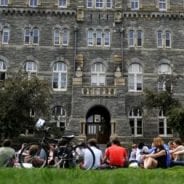 Georgetown University's McDonough School of Business set records this year for both salaries and job offers according to its Class of 2018 Employment Report, released earlier this month. An impressive 98 percent of students received job offers within three months of graduation, and average full-time salary rose to an all-time high of $116,946.
MBA Graduates Get More Money and More Job Offers

Compared to last year, average starting salary increased by 4 percent. The average signing bonus for the latest graduating class was $31,036, up 9 percent year over year.
The record-setting 98 percent of students who received job offers within three months of graduation represented a 5 percent jump over the prior year. Ninety-four percent of 2018 graduates had accepted an offer within three months, up 2 percent from last year.
"Through a personalized approach to the job search, opportunities for career treks throughout the United States and around the world, and a global alumni network of 190,000 graduates, the MBA Career Center ensures students are placed in the positions that inspired them to attend business school," Doreen Amorosa, Associate Dean of McDonough Career Services, said in a press release.
MBAs Choose Consulting, Financial Services, and Technology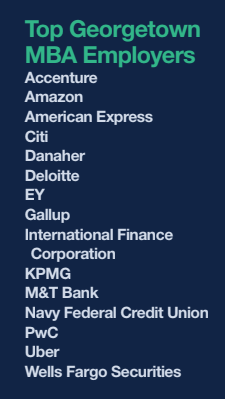 For the second year in a row, consulting, financial services, and technology were the top three industries for MBA graduates. However, the breakdown within these three industries saw some shifts.
Last year, financial services was the top industry of choice, drawing an even third–33 percent–of students. Consulting was second, drawing 28 percent of grads, and technology was a distant third, at 13 percent. The most recent graduating class headed off to these three leading industries in more equal numbers. Consulting, for its part, drew 25.5 percent of students, followed by financial services at 21.7 percent, and tech at 17.5. In both years, nonprofit/social impact came in fourth, attracting 8 percent of the Class of 2018 and 7 percent of the Class of 2017.
MBA Internships Remain Steady
As for this year's class of MBA student internships, the results remained similar to previous years with only slight increases. This year, 100 percent of students secured an internship, and 86 percent of those positions were paid an average of $7,043 per month. This was an uptick over last year, when interns averaged $6,501 per month. Also, 78 percent of all internship positions were facilitated by the MBA Career Center, a ten percent increase from 2016. Student interns gravitated toward the finance/accounting (34 percent), consulting (28 percent), and marketing & sales (17 percent) industries.
---
This article has been edited and republished with permissions from its original source, Clear Admit.
Aug 17, 2018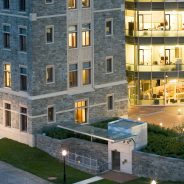 The Georgetown University McDonough School of Business recently announced its newest application essays for admission to its full-time MBA and all-new Flex MBA programs.
According to the business school, which announced the new essays on Thursday, August 15, "Applicants can now choose one essay among three essay prompts, allowing them to showcase what they believe sets them apart from other applicants, either their leadership experience, how they have overcome challenges, or their values and beliefs."
Shelly Heinrich, the McDonough School of Business Interim Associate Dean for MBA Admissions, says, "It's important to us to that our students represent a diversity of backgrounds, experiences, cultures, and more—and we realized that professional and personal experiences showcasing this diversity do not always fit neatly into a single essay prompt."
"We want to give applicants the flexibility to distinguish themselves from a competitive applicant pool," Heinrich adds.
Applicants may submit one of the three following Georgetown MBA essays during their application process, in 500 words or less:
Describe a situation when you were asked to lead outside of your comfort zone. What leadership characteristics did you exemplify in this situation that allowed you to succeed?
Describe a situation when failure has been your fuel. What was your failure (or when did you not succeed to your full potential), and how did you use this as motivation to move forward and be successful in a future situation?
Describe the personal brand that you will bring to business school using examples or experiences that support how you've developed it. How do you believe your personal brand will strengthen the McDonough community? As you complete your MBA program, how do you hope to see your personal brand evolve through the transformative experience of business school?
Hopeful entrants to the Georgetown McDonough full-time and Flex MBA programs may apply on October 9, 2018; January 7, 2019; April 1, 2019; and May 1, 2019. Click here to learn more about the school, its MBA programs, and admissions process.
Jun 27, 2018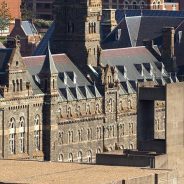 The newest batch of Georgetown MBA deadline dates have been announced for the McDonough School of Business, going in to the 2018-19 academic season.
Round One
Deadline: October 9, 2018
Notifications: December 19, 2018
Round Two
Deadline: January 7, 2019
Notifications: March 26, 2019
Round Three
Deadline: April 1, 2019
Notifications: May 15, 2019
Round Four
Deadline: May 1, 2019
Notifications: May 31, 2019
Head over to the official Georgetown McDonough website for more application information and check out our MBA deadline calendar here.