Apr 9, 2018

American coffee behemoth and casual status symbol Starbucks has become one of the most well-known companies in the world with over 27,000 stores and a massive headquarters located in Seattle, Washington. The company is known its quality service, customizable drinks, and pre-packaged items. As it continues to grow, so does the appeal for a Starbucks corporate career.
The company got its start in 1971 when the first store was opened in the Pacific Northwest. However, it wouldn't be until 1987, when Howard Schultz took over and re-branded the company that they would open their first location outside of Seattle. By 1989, it had 46 stores and were roasting over two million pounds of coffee.
In 1992, Starbucks released its initial public offering (IPO) with a revenue of $73.5 million and a market value of $271 million. By the end of the year, the share price had risen over 100 times the earnings per share of the previous year. Now, the company earns more than $22.3 billion per year and employs over 238,000 people worldwide.
You can't talk about Starbucks without talking about the location of its headquarters in Seattle. Located in the city's SoDo neighborhood, Starbucks can be found in the largest multi-tenant building in the city with over 2,200,000 square feet of space. But while the building is impressive, it's the city that really stands out.
Washington was ranked as "America's Top State for Business in 2017," by CNBC, and Seattle is the city to be in. According to Outside Magazine, Seattle is one "America's Best Towns Ever," and a PWC survey considers it one of the nation's most innovative cities. There's much to love about Seattle from its opportunities for adventure, laid-back culture, and strong economy, which grew 3.7 percent last year—almost 2.5 times the national average.
MBA Recruiting at Starbucks
Starbucks is a major MBA recruiter. It looks for MBA students who understand who Starbucks is as a company. As well, it recommends reading former CEO Howard Schultz's book, Onward: How Starbucks Fought for Its Life without Losing Its Soul and following the company on social media including LinkedIn, Twitter, YouTube, and Instagram. The company wants to know why you want to be a part of it and how you fit in with the Starbucks Mission Statement.
Other required qualities include:
Strong analytical and technical skills
Ability to analyze business trends
A strong team player who can collaborate cross-functionally
Strong interpersonal skills
Great communication skills orally and in writing
Strong organizational and problem-solving abilities
Ability to balance priorities and meet deadlines
You may also be required to have a deep understanding of financial planning, forecasting, and inventory management. You should also have a strong understanding of marketing fundamentals and be able to understand sales, return on investments, and profit and loss.
As for where Starbucks recruits, many MBA programs feed into the company including:
Salary & Benefits of Starbucks Employment
According to PayScale, MBAs hired at Starbucks are paid well:
Master of Business Administration (MBA), Business Administration – $128,500
Master of Business Administration (MBA), Accounting – $65,111
Master of Business Administration (MBA), Marketing – $109,823
Master of Business Administration (MBA), General Business – $89,000
Master of Business Administration (MBA), Global Management – $77,419
As for benefits, Starbucks offers a tailored benefits package that's called "Your Special Blend," which includes Medical, Dental and Vision coverage as well as life insurance, disability, adoption assistance, paid vacation, a 401(k) Savings Plan, stock investment, one free pound of coffee per week, and more. There are also perks that include in-store merchandise discounts, matching gifts programs, etc.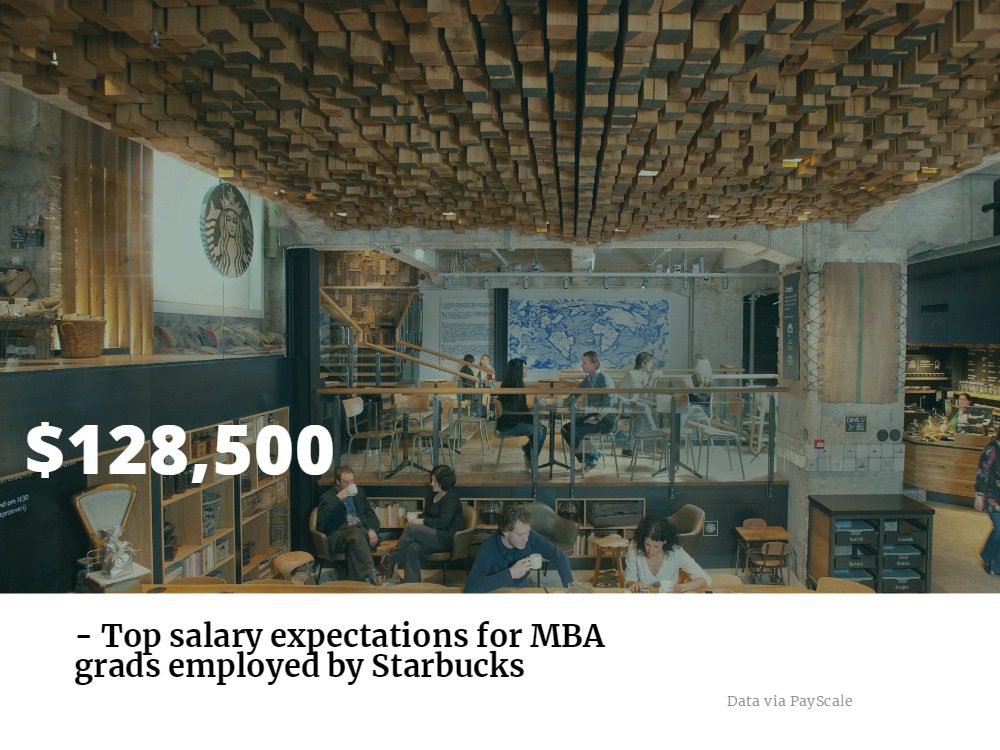 Interning at Starbucks
Every year, Starbucks offers an exclusive ten-week internship program in Seattle that is designed to provide a robust and meaningful experience. MBA students who are chosen to participate can expect to participate in high-impact, business relevant projects that have well-defined goals and expectations. Interns also have access to mentorship and leadership opportunities. Graduate internship applications open from January to February each year for the summer program.
According to Peter Kazarian, a '16 UW Foster MBA graduate who interned at Starbucks, the intern program is very deliberate and well laid out.
"With part MBAs and the rest technical and undergrad interns, there was a formal on-boarding program, weekly meetings with SVP/C-suite leadership, and great experiences like a Sounders game or fancy catered dinners at museums," Kazarian explained in a blog. "My department was under the Channel Development arm of Starbucks, which included consumer packaged goods and anything else not in a Starbucks retail store, like grocery bottled fB2brappuccinos, licensed stores, and in my case, bulk B2B customers like airlines, hotel chains, restaurants, and campus cafes. As part of the Digital and Loyalty team, my main project involved e-commerce enhancements to our B2B team's website, and forecasting new sales revenue and cost savings from these changes."
As for what Kazarian enjoyed most about his experience, he enjoyed the free pound of coffee each week. He also loved getting to know his fellow MBAs who are now good friends of his. "I had a great experience … and I'll be returning to Starbucks … as a Product Manager," he said.
Mar 12, 2018

With just over a week before U.S. News & World Report reveals its eagerly-anticipated 2019 best business school rankings, the publication offered a sneak peek of the business schools that managed to earn spots within the top 10.
Unsurprisingly, the top 10 of the 2019 rankings resembles the publication's 2018 edition, with nine out of the top 10 schools nearing the top of the annual list. The lone ranking variation from 2018 to 2019 will be the University of Michigan Stephen M. Ross School of Business, which came in 11th in the previous year.
The top ten business schools for the 2019 U.S. News rankings are as follows (unordered):
The one school left out of the newest rankings from the previous edition was the Yale School of Management.
The publication will release the full list of the 2019 best business school rankings will officially arrive on March 20, 2018. Stay tuned for more updates on the rankings on MetroMBA.
Mar 6, 2018

Clear Admit recently looked into some of the best business school podcasts out today. Take a look at a few of the premiere productions below.
---
Many business schools and MBA students have recently begun to produce podcasts, discussing the diverse range of student and graduate experiences as well as current trends and relevant topics in business. These podcasts are unique in that they provide a candid, first-person look at business school from those currently enrolled, allowing for an open platform to discuss business topics outside of the confines of the university. While this is a fairly new trend, there are several different podcasts out there for those who might be interested to learn more. We've assembled our five favorite MBA podcasts right now, and we'll keep an eye out for new podcasts to highlight going forward.
Business Beyond Usual, by Ross Business School Students
One very cool MBA podcast on our radar is Business Beyond Usual, produced by students at the University of Michigan's Ross School of Business. The podcast tackles a variety of issues of interest to both prospective and current business school students. Recent episodes have delved into topics including:
Is business education a waste of money?
Do school rankings actually mean anything?
If you want to make a difference in the world, is working for a consulting firm selling out?
The podcast describes itself as having no rules or moderators, so those looking for an unfiltered opinion on the MBA experience may be interested in what these Michigan students are doing. With more than 20 episodes in the series already, there's a wealth of material already for this relatively new podcast. Business Beyond Usual is available on iTunes, Stitcher, and Soundcloud.
Why CBS Podcast
Those looking for an Ivy League perspective may be interested in the Why CBS Podcast, a series for Columbia Business School hosted by Fahad Ahmed, a 2017 graduate of the program. Why CBS features interviews with students, faculty, and alumni who speak candidly about their MBA experience at Columbia, as well as the time leading up to the program and their lives and careers after graduation. Why CBS is currently available on the iTunes Store.
Wharton FinTech Podcast
MBA students at the University of Pennsylvania's Wharton School have been producing their own podcast, FinTech, since 2015, one of the earliest examples of this fairly recent trend. Boasting a back catalog of almost 50 episodes, this prolific podcast focuses specifically on global financial services, featuring diverse perspectives from CEOs, investors, students, and researchers. This "informative and high caliber" podcast is well-liked by its listeners, offering "a great source of insight into the minds of the founders, investors, and leaders in financial technology," according to one user review.
Berkeley-Haas Podcasts
While they do not produce a serial podcast like many others, UC Berkeley's Haas School offers a variety of podcasts and webinars on its website, including several produced by the admissions staff that provide a wealth of information for prospective applicants. There's a series on financing your MBA, another series of webinars featuring current students discussing the school's various areas of emphasis, and a third three-part series by Stephanie Fujii, the former executive director of the full-time MBA program, focusing specifically on what the school looks for in its applicants and how best to prepare for your application process.
There's also a Humans of Haas Podcast produced by students in the full-time MBA program, though most seem to have graduated last year and it's unclear whether anyone has taken up the reins to continue the podcast going forward. But there are four episodes available on Soundcloud that are worth checking out if you want to get a feel for the school's students and culture. Each episode focuses on a specific theme and their titles include "Love at Haas," "Vets at Haas," "The Politics of Hair," and  "But Where Are You Really From?"
University of Chicago Booth School of Business Podcast
Also of note is the Chicago Booth Podcast Series. This production interviews a variety of CEOs, faculty, and other experienced professionals on a wide array of topics related to current and historical trends in business and finance. Selected archived episodes are available to stream for free on the school website and include diverse topics such as gender and the pay gap, interviews with important historical figures in business, and research on fiscal and monetary legal policy.
These are just a few examples of the many podcasts out there being produced by students and graduates as well as more officially by the schools themselves. These types of podcasts offer a fresh alternative to the often noisy, polluted world of online business commentary and there's likely a podcast out there devoted to almost any topic that a prospective or current MBA might be interested in learning about.
Sep 1, 2017

I'm busy, you're busy, your boss is most definitely busy. Indeed, publications ranging from Men's Health to the Atlantic, the Washington Post to Forbes are all reporting that "busyness" has become the new status symbol for our times. Which is part of what makes asking someone to write you a letter of recommendation for business school so daunting. Now, try telling that person that you actually need five different letters for five different schools. Oy vey.
As uncomfortable a spot as it puts applicants in—it's no better for recommenders. Even your most vociferous supporter is going to wonder what in the world she's gotten herself into when she realizes that helping you in your pursuit of acceptance to business school means taking time away from work or play or family or whatever else to labor over leadership assessment grids, each a little different from the one before, and write 10 slightly different answers to 10 slightly different questions. Here's hoping that your top-choice school doesn't happen to be the last one she gets around to…
Good news. The graduate management education industry recognizes the strain that letters of recommendation put on applicants and recommenders alike and has been wrestling with ways to make the process easier for everyone involved. To this end, the Graduate Management Admission Council (GMAC) established a committee made up of admissions representatives from dozens of leading business schools to brainstorm about ways to lessen the burden while still collecting the third-party assessments of candidates that are so critical to the MBA application process.
GMAC Pilots Common MBA Letter of Recommendation
As an outgrowth of that committee's work, GMAC last year piloted a common MBA letter of recommendation (LOR) that schools can choose to incorporate into their applications to reduce the burden placed on applicants and recommenders alike.
"The Common Letter of Recommendation (LOR) effort is intended to save you and recommenders valuable time by providing a single set of recommendation questions for each participating school," reads the GMAC website. "This allows your recommenders to use the same answers for multiple letter submissions, alleviating the workload of having to answer different questions for each school multiple times. You benefit because it makes the ask for several different letters to be written on your behalf much easier."
Cornell's Johnson Graduate School of Management, NYU Stern School of Business, and Michigan's Ross School of Business were among the first schools to pilot the Common LOR last year. In addition to a single set of open-ended essay questions, the pilot Common LOR also included a leadership assessment grid inviting recommenders to rate applicants on 16 "competencies and character traits" grouped into four main categories of achievement, influence, personal qualities and academic ability.
"At Johnson, we saw the Common LoR as a clear opportunity to improve the admissions process for candidates and their recommenders in a way that would also add value to our own assessment of applicants," Judi Byers, Johnson executive director of admissions & financial aid, told Clear Admit. "A thorough and consistent review is important to us and the grid provides a straightforward base of insights that can be assessed and compared reliably while the accompanying letter adds meaningful detail and context," she added.
Soojin Kwon, managing director of full-time MBA admissions and program at Ross, sees applicants and recommenders as the main beneficiaries of the Common LOR and is pleased that more schools are coming on board. "As more schools adopt it, applicants won't have to feel like they're burdening their recommender with completing multiple rec letters with different questions and ratings grids," she told Clear Admit. "This year, more than a dozen of the top 20 schools are using it."
Ross was also among the schools to first pilot the Common LOR last year, and Kwon served as part of the GMAC committee that helped craft it.
Common Questions Easy to Agree on, Common Leadership Grid Not
"What we found in using the Common LOR this year past year was that the questions gave us helpful insights into applicants, particularly on the important area of constructive feedback. The questions, however, were fairly similar to what we and other schools were using before, so it was easy for the AdCom to use it," she notes.
Those questions are as follow:
Please provide a brief description of your interaction with the applicant and, if applicable, the applicant's role in your organization. (50 words)
How does the performance of the applicant compare to that of other well-qualified individuals in similar roles? (E.g. what are the applicant's principal strengths?) (500 words)
Describe the most important piece of constructive feedback you have given the applicant. Please detail the circumstances and the applicant's response. (500 words)
Is there anything else we should know? (Optional)
"The rating grid was quite different from what we'd used in the past," Kwon continued. "It was also the most difficult part for the GMAC advisory group to develop and get agreement upon. The group worked this past year to revise and simplify the grid so that AdComs could get more meaningful insights from it."
This year, the 16 competencies and character traits from the original grid have been distilled to 12, with specific questions about analytical thinking and information seeking omitted. Johnson and Ross have both incorporated the revised leadership grid into the LOR distributed to applicants as part of their applications, as have most other schools that have this year decided to incorporate both the grid and open-ended essay question portions of the form. UT's McCombs School of Business and Rice University's Jones Graduate School of Business, notably, still seem to feature the earlier version of the leadership grid in their application, the one that calls on recommenders to assesses applicants on 16 competencies and traits.
Jul 14, 2017


Good morning and happy Friday!
Here are a few stories you may have missed from the week that was …
Feb 15, 2017

The goalposts for group MBA interviews are constantly shifting. For years, we at MetroMBA and Clear Admit, as well as other provincial publications, have been dishing out valuable advice for how to prepare for it. And for those familiar, one of the key points to remember is constantly being familiar with the changes.