Mar 20, 2018
Clear Admit recently explored which business schools help prepare MBAs the most for a career in consulting, which you can read below.
---
With starting salaries in the $140,000 to $150,000 range and a customary $25,000 signing bonus on top of that, it's no wonder so many business school students target the prestige consulting firms known as the "MBB"—McKinsey & Company, Boston Consulting Group (BCG), and Bain & Company—as their post-MBA landing pads. That $170,000+ annual compensation package can quickly cut any MBA loan debt you may have taken on down to size.
Indeed, management consulting has been one of the most coveted career paths for fresh MBA grads for ages. And though the technology industry has in recent years been stealing some grads from the consulting industry's traditional slice of the pie, the most recent MBA employment reports reveal that consulting is already making a comeback against tech at certain schools.
The opportunity to work with a range of clients comprised of many of the world's most celebrated businesses across industries—tech included—is part of the appeal of consulting. In many ways, a top consulting gig allows MBA grads to continue their management education while getting paid for it—and further honing their skills and expertise by helping solve a wide variety of business challenges. And, not for nothing, breaking into the MBB is a highly competitive pursuit—one that almost assures that your colleagues will be smart, driven people you'll get a lot out of working with.
Finally, where the top consulting firms are choosing to find their talent reflects on the quality of the education those schools' students are getting. In many ways, the hiring practices of the MBB can serve as a gold star standard of sorts for MBA programs.
Elite Firms Hire Grads from Elite Business Schools

The crème de la crème of leading business school talent has headed toward the top consulting firms for decades—and performed well there—creating a virtuous circle of sorts in which the firms' appetite for such talent only grows. And while this piece focuses on MBB, we should note that a host of other consulting firms—Deloitte, A.T. Kearney, Accenture, Strategy&, and Oliver Wyman among others—are also highly prized post-MBA destinations.
If you are looking to see which business schools send the greatest percentage of their graduates into consulting overall, don't miss our September 2017 analysis of leading consulting industry feeder schools. Which schools top the list? And what stands out about how these schools successfully train students for careers in consulting?
Looking at Class of 2016 graduates, the University of Virginia's Darden School led the pack, with 38 percent of its graduates heading into consulting. Columbia Business School was next, sending 35 percent, followed closely by Northwestern University's Kellogg School of Management, which sent 33 percent.
The 2017 employment reports, which have been released since our analysis last fall, show some shifts year over year. Darden tied with Emory's Goizueta School of Business in terms of the percentage of Class of 2017 grads who headed into consulting, with each school sending 34 percent. Close on their heels were Columbia, Duke's Fuqua School of Business, Northwestern's Kellogg School of Management, and Dartmouth's Tuck School. All four sent 33 percent of their most recent graduating class off to consulting firms.
2 Non-U.S. Schools Lead All Others in Consulting-Bound '17 MBA Grads
But year after year, one thing remains the same. INSEAD, with campuses in France, Singapore, and Abu Dhabi, beats all leading U.S. business schools when it comes to consulting. INSEAD's 2016 MBA employment report, detailing employment outcomes for December 2015 and July 2016 INSEAD grads, shows that 46 percent went into consulting. And the most recent figures reveal that almost a full half—49 percent—of the 1,029 students who completed the INSEAD MBA program in December 2016 and July 2017 chose to either enter or return to the consulting field.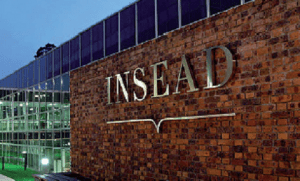 We should note here that INSEAD is distinct from many other schools in that it includes sponsored students who are returning to their pre-MBA employers among its hiring stats. This is in contrast to many U.S. schools, where the reported number and percentage of students hired by sector and employer corresponds to those students actively seeking employment, excluding sponsored students. Of the 49 percent of INSEAD 2017 grads headed into consulting, 33 percent were new hires and the remaining 16 percent were returnees.
London Business School (LBS) was the runner-up for the Class of 2017, sending 41 percent of grads into consulting. This was a 6 percentage-point gain over the school's previous class of MBA graduates. Like INSEAD, LBS's reported sector designation and top employer information includes sponsored students, only its employment report does not disclose what percentage of the class those returning students represent.
Dec 6, 2017

Columbia Business School (CBS), together with Columbia Engineering, yesterday announced a new full-time Master of Science in Business Analytics degree. Distinct from CBS's MBA degree, the new program features a three-semester curriculum and is really geared toward students who want to learn the modeling techniques and data science tools that help businesses use data to influence decision making. A unique capstone project will serve as a key element of the new program, through which students will work with actual clients and relevant data sets to put the skills they've learned to work helping solve those companies' real-world business problems. The capstone course will extend over the full three semesters of the program.
The program was developed jointly by faculty at both CBS and Columbia Engineering, and the resulting curriculum is designed to prepare graduates to excel in careers both as consulting analysts and associates and as business analysts and data scientists in fields including financial and professional services, technology, advertising and media, and other professions that require both a deep understanding and practical application of data analytics.
"By tapping into the vibrant and diverse business ecosystem that can only be found in New York, Columbia Business School and Columbia Engineering are uniquely situated to offer this new Master's degree," CBS Dean Glenn Hubbard said in a statement. "We see this as a must-do program for any future business person who wants to have a leg up in using data to make informed business decisions."
CBS Enters an Already Crowded Field
Columbia is far from the first to announce a new data analytics master's program—and it likely won't be the last. It joins a long and growing list of other leading business schools that have sensed demand from both students and recruiters for programs that marry some of the skill sets of the MBA with the deeper study of data science and analytics that engineering faculty can provide.
MIT Sloan School of Management last year launched its own Master of Business Analytics (MBAn) degree, with leadership and support from the MIT Operations Research Center. In just one year, applications to the program have more than doubled—from 300 to 800—making the degree the most competitive at the school, with an admissions rate of less than 4 percent, the school reports. And just last month Sloan unveiled a new Business Analytics Certificate program that will be open to students in all MIT masters-level programs who want more rigorous academic content focused on data science.
Not to be left out, last month the University of Virginia's Darden School of Business announced the launch of a new MBA+MSDS dual-degree program, which grants a Master of Data Science degree from UVA's Data Science Institute and an MBA from Darden in 24 months (tuition for the MBA+MSDA program is the sum of each individual program's standalone tuition). The program welcomed a pilot cohort this past summer, and Darden is currently accepting applications for the full program, which will launch in 2018.
NYU Stern, for its part, is now accepting applications for the inaugural class of a new specialized one-year Tech MBA, first announced last spring. And just yesterday Stern shared that an $8 million alumni gift will fund creation of a new center for technology, business, and innovation.
---
---
Harvard Business School (HBS), too, sees where the action's at and doesn't intend to sit idly on the sidelines. In August 2017—together with the Harvard John A. Paulson School of Engineering and Applied Sciences and the Faculty of Arts and Sciences—HBS announced a partnership with 2U, Inc. to deliver a new online certificate program in business analytics. Expected to welcome its first cohort of students in March 2018, the Harvard Business Analytics Certificate Program is designed to help business leaders—including MBA grads—keep up with and leverage the explosion of data now available in every industry.
Some Schools Were Out in Front
Of course, amid this recent flurry of activity to enhance academic offerings at the intersection of technology and business, some schools can claim clear first-mover advantage. MBA students at CMU's Tepper School of Business can opt to pursue a Technology Leadership MBA Track, a joint partnership between the Tepper School and Carnegie Mellon's top-ranked School of Computer Science—indeed, it is one of the most popular offerings in the MBA program. Tepper also offers a three-year, dual-degree MBA/Master of Software Engineering program, also in partnership with the School of Computer Science.
And Stanford Graduate School of Business has for several years offered its students the opportunity to pursue a dual degree of significant relevance to students interested in careers in tech. Its joint MA in Computer Science/MBA degree links two of the university's world-class programs and helps students develop a unique skill set ideal for becoming a manager and/or entrepreneur for new technology ventures. Stanford's program includes a year of courses at each the GSB and in the Computer Science department followed by a third year of elective courses in both programs, enabling students to shave off one to two semesters it would take to complete both degrees separately.
---
---
It Only Makes Sense
Whether beginning several years ago or just getting off the ground now, that business schools are recognizing and responding to market demand for business fundamentals married with data science know-how makes complete sense.
"The role of analytics has grown increasingly critical for most sectors of the economy," Columbia Engineering Dean Mary C. Boyce said in a press release. "Our partnership with Columbia Business School combines our strength in data science, optimization, stochastic modeling, and analytics with their strength in data-driven decision-making for business and marketing to create a rigorous new master's degree program."
What Sets Columbia's New Program Apart?
So what sets the newest program announced yesterday by Columbia apart from others in a crowded field? One distinguishing feature of the M.S. in Business Analytics is the capstone project that will put students to work on real-life consulting projects with companies using the companies' own data, the school argues. "By working on real-world consulting projects, with real-world data, students will use the modeling techniques and data science tools to provide pragmatic solutions to the practical problems that businesses are facing today," Costis Maglaras, professor and chair of CBS's Decision, Risk & Operations Division, said in a press release.
Students in the new Columbia Business analytics degree program will also have valuable access to dedicated career placement services, the school notes, starting with completing a required Professional Development and Leadership course. "The M.S. in Business Analytics combines classroom instruction by distinguished Columbia professors with the experience of working on real-world problems via the capstone project course," Columbia Engineering Professor Garud Iyengar said in the press release. "We expect this program to have 100 percent placement of its graduates as do our very successful M.S. in Management Science and Engineering and M.S. in Financial Engineering programs."
Applications are currently being accepted for the first cohort of this new M.S. in Business Analytics. Students can choose to complete the program in one year by taking a summer semester or can take three non-contiguous semesters (fall, spring, fall), which would reserve the possibility of a summer internship.
For more information about the new Columbia M.S. in Business Analytics, click here.
This article has been edited and republished with permissions from our sister site, Clear Admit.
Nov 16, 2017

For the third straight year, Harvard Business School reigned supreme in the annual Bloomberg Businessweek "Best Business Schools" ranking, topping the Wharton School at the University of Pennsylvania and MIT Sloan School of Management. In joining HBS on the medals podium this year, those schools both saw significant gains over last year, climbing from sixth and seventh respectively.
Rounding out the top five this year is the University of Chicago Booth School of Business —holding steady year over year at fourth—and Stanford Graduate School of Business, which fell from second place in 2016 to fifth this year.

The methodology Bloomberg Businessweek uses to arrive at its annual MBA ranking involves weighting each of five principle factors. Employer surveys account for 35 percent of a school's score. Alumni surveys account for another 30 percent. And a combination of current student surveys, salary rankings, and job placement together account for the remaining 35 percent of the final score.
High Risers
Ten out of the top 20 ranked schools in the 2017 Bloomberg Businessweek ranking advanced at least one spot over last year. Wharton and Sloan each managed to leap four spots, boosted by high praise from employers and hefty salary benefits for recent graduates. The University of Washington Foster School of Business also managed to jump from 19th to 15th overall this year, thanks largely to its top ranking as the nation's best business school for job placement.
The Cornell S.C. Johnson Graduate School of Management and the UCLA Anderson School of Management both saw a rankings jump of three spots, with Johnson moving up to 13th and Anderson coming in at 19th.
The year's biggest winner, however, may be the Penn State Smeal College of Business, which jumped a whopping 12 spots from last year's 37th to come in at 25th in 2017. It wins the award for the year's biggest overall rankings increase. The USC Marshall School of Business also saw a momentous climb this year, sidling up eight spots from 38th last year to 30th this year.
In the latter half of the rankings came another one of this year's biggest risers, with the Terry College of Business at the University of Georgia jumping 11 spots from last year, up from 65th overall to 54th. Elsewhere, the David Eccles School of Business at the University of Utah, the Whitman School of Management at Syracuse University, the C.T. Bauer College of Business at the University of Houston, and the Pepperdine University Graziadio School of Business and Management all saw a jump of at least seven spots in the new ranking.
Once Mighty, Now Fallen
Stanford GSB, Duke's Fuqua School of Business, Dartmouth's Tuck School of Business, and Jones School of Business at Rice University may all be feeling a wee bit dizzy. Last year Stanford shot up to second from seventh the year before, but this year it finds itself demoted to fifth. Duke's Fuqua School, which last year celebrated a momentous jump from eighth to third, this year fell back down to seventh. Dartmouth's Tuck School of Business, which had one of last year's biggest gains, rocketing up nine spots to break into the top five from a mere 14th place finish the year before, this year finds itself at seventh. Similarly, Rice Business, as the Jones School likes to be called, which last year catapulted 11 spots to number eight, this year slipped to tenth. But at least all maintained their footing within the top 10.
Emory's Goizueta Business School and the Texas A&M Mays Business School, for their part, slipped out of the top 20 altogether. Goizueta slipped just slightly, from 20th to 21st, and Mays slid from 18th to 22nd. The University of Virginia Darden School of Business also stumbled, slipping from 12th last year to 17th this year. But the Charlottesville school at least managed to remain in the top 20, thanks in part to strong scores in the student survey and salary categories.
No school, however, lost more ground than the George Washington University School of Business, which fell an eye-popping 14 spots from last year, losing its place among the top 50 business schools in the United States.
Bloomberg BW has made multiple changes to its methodology in recent years, resulting in significant volatility in terms of where schools fall on the list even when not much has changed year over year at the individual schools themselves. This has led many to question the credibility of the ranking overall. That said, Clear Admit's Alex Brown found this year's results easier to swallow than some in recent years. "This ranking seems more reasonable to me this year," he says. "Each of the M7 programs are in the top 10, and the schools I would consider in the top 16 are all in the top 20."
You can view the complete 2017 Bloomberg Businessweek rankings here.
Sep 19, 2017

If you are a prospective MBA applicant looking to business school as a way to enter or accelerate your career in the consulting industry, you are certainly not alone. According to the 2017 Prospective Student Survey conducted by the Graduate Management Admissions Council (GMAC), consulting is once again the most sought-after postgraduate industry, with 33 percent of applicants surveyed citing consulting firms as their destination of choice. The consulting function, too, is a top draw. One in four indicated it as their chosen job function, after just marketing/sales (30 percent) and finance/accounting (28 percent).
With so many MBA graduates vying for roles in the consulting field, one of the best ways to distinguish yourself is by going to one of the business schools best known for training top-notch consultants. Of course, this requires thorough research and a deep knowledge of individual school programs. Lucky for you, Clear Admit has done some of the legwork.
Consulting Continues to Be a Top Draw for MBAs
Finance—and investment banking in particular—took a hit following the financial crash of 2008. And the tech sector has been gaining ground as a top destination for MBA grads. But along the way, the consulting industry has held its own, with MBAs clamoring to work for both towering giants in the field as well as at an increasing number of boutique firms now in the marketplace.
What's the allure? Part of it is the diverse work. Consultants get to think creatively and solve problems, analyze both the big picture and the details, and work on teams juggling multiple assignments. Top salaries don't hurt either. Recent MBA graduates taking jobs at firms like McKinsey & Company, Boston Consulting Group (BCG), and Bain & Company—known as 'the MBB firms' in industry parlance—reported base salaries in 2017 of between $147,000 to $152,500, with additional signing bonuses of $25,000, according to managementconsulted.com, an online resource for the consulting industry.
Choosing the Best Business School for Consulting
Determining which leading business school will best prepare you for a career in consulting requires looking at a range of factors. A logical place to start is by examining career outcomes at individual schools, both in terms of summer internships and full-time jobs. If possible with the available data, you also want to get a sense of how well a school has done placing career-switchers, namely those without prior consulting experience, in coveted consulting roles, since barriers for entry for these grads are understandably higher than for their counterparts who have already worked in the field.
It can also be instructive to see which of the powerhouse consulting firms donate to which leading business schools. Finally, it helps to understand how a given school goes about teaching its students to be consultants, what role experiential learning plays, whether you can hope to learn directly from superstar professors in the field, and what extracurricular resources are in place to help you land your dream consulting gig.
Consulting at UVA Darden
The University of Virginia's Darden School of Business sent more of its MBA graduates into consulting than any other U.S. school, with 38 percent of the Class of 2016 pursuing work in the consulting industry and 38 percent choosing a consulting function. By comparison, Harvard Business School (HBS) sent 25 percent of its 2016 graduates into consulting, and Stanford Graduate School of Business sent just 16 percent.
As for the top recruiting companies at Darden, Boston Consulting Group snapped up 18 members of the Class of 2016, followed by McKinsey & Company (14), PwC (13), and Accenture (10).
In terms of pay, the average base salary for a Darden MBA heading into consulting was $135,771 with a signing bonus of $26,927. While this isn't the highest salary in the industry—it falls a few thousand dollars short of offers reported by students at schools like Kellogg School of Management—it is the highest average salary for all Darden MBAs.
Darden's Classroom, Curriculum, and Professors
As for how Darden trains its MBAs to enter a career in consulting, the school offers a career track concentration in strategy consulting. This concentration is designed to immerse MBA students into the consulting process by helping them identify and deepen their consulting skill sets.
Darden is also known for its case study method of teaching and learning. This method confronts Darden MBA students with challenging, real-life business situations and teaches them how to analyze each situation to come up with a solution—just as they will be called upon to do in a consulting career. Over the course of MBA students' two years at Darden, they'll complete in more than 500 case studies on a variety of topics, industries, and diverse environments.
As for Darden's faculty, many of the school's professors have an in-depth knowledge of consulting with a breadth of research dedicated to all facets of the field. For example, Samuel E. Bodily, a professor of business administration, teaches "Decision Analysis" to first-year students and "Management Decision Models" to second-year students while also consulting with many corporations, utilities, and government agencies. And Scott. C. Beardsley, Darden dean since 2015, spent 26 years at McKinsey & Company before joining the school.
Outside the Classroom
Darden is home to the Consulting Club, a student organization designed to support students interested in the consulting industry. The club regularly holds events such as consulting industry panels, networking 101, consulting conferences, case competitions, mock interview sessions, internship preparation workshops, and more. And many large consulting companies are club sponsors, including Deloitte, AT Kearney, Bain & Company, EY, and Accenture.
In addition, there are also a variety of consulting projects for MBAs to participate in. These projects help MBAs learn how to develop business plans, create financial forecasts, and perform marketing analysis. For each project, teams of three to six students will work with corporations, global businesses, or non-profit organizations to provide strategy evaluation and planning services.
INSEAD For Consulting
In terms of sheer numbers, no school sends more students into consulting jobs than INSEAD. According to the school's latest 2016 MBA employment report, 46 percent of INSEAD MBAs took a job in the consulting sector and 48 percent assumed a consulting function. That's a whopping 479 students accepting a position as a consultant—almost half of the 999 students who filled out the employment report.
INSEAD's MBA graduates took jobs with such companies as McKinsey (which hired 125 INSEAD grads in 2016), BCG (67), Bain (48), Strategy& (24), and Accenture (16). And it's no wonder the major players like INSEAD. Many alumni hold prominent positions such as chairmen, CEO, or senior leader at these same top consulting firms.
As for where these consulting grads work, they're spread out around the world. More than 100 consulting graduates took jobs in Western Europe, 41 of those in the United Kingdom. Another 83 graduates headed off to consulting offices in Asia Pacific, including 23 each in Singapore and Australia. But the single most attractive country for INSEAD consulting grads was the United Arab Emirates, which drew 42.
INSEAD also features an alliance with the University of Pennsylvania's Wharton School, allowing INSEAD students to spend one of their five periods studying at the U.S. school. INSEAD has a similar campus exchange with Kellogg as well. These exchanges afford INSEAD students access to those schools' career management centers as well, which can be especially valuable in terms of making connections to U.S. recruiters for students who are interested in working in consulting in the United States after graduation.
In terms of what its consulting grads command in salary, INSEAD also shows strong numbers, albeit lower than Kellogg and Darden. For 2016, the overall mean salary in consulting was $107,300 USD, the overall median salary was $109,500 USD, and the overall annual median sign-on bonus was $25,000, with 76 percent of salaries coming with a sign-on bonus and 83 percent with a performance bonus around $24,500.
Proud of its success in helping career switchers enter new industries, INSEAD shares data about how many of its graduates heading into consulting started out there and how many used business school to make a pivot. Of those graduates taking jobs in consulting after INSEAD, 67 percent held pre-MBA roles in consulting. But 34 percent of those who were financial services professionals also successfully switched to consulting, as did 56 percent of former technology, media, and telecommunications professionals and 38 percent of former corporate sector professionals.
How Consulting Is Taught at INSEAD
INSEAD's accelerated 10-month MBA is composed of five, eight-week periods built around core courses and electives and concluding with an exam, essay, and/or project. There is no preferred teaching method at INSEAD; instead, individual professors choose the method they feel is best. However, no matter the teaching style or technique, each class is sure to have lively exchange opportunities and diverse study groups.
In terms of core courses, students will start out their first eight weeks with an "Introduction to Strategy" course and will continue their learning into the next period with "Process & Operations Management." As for electives, over a dozen courses are offered under the Strategy heading including the "Strategy Lab," which provides MBA students with a practitioner's view of how consultants tackle projects.
Who Trains Consultants at INSEAD
There are more than 25 resident strategy professors across INSEAD's three campuses, as well as around a dozen visiting faculty members. Of these, several are former consultants, bringing experience straight from the trenches at McKinsey, Monitor Group, and Accenture, among other leading firms.
Two INSEAD professors, W. Chan Kim and Renée Mauborgne, authored a best-selling book called Blue Ocean Strategy, which spawned the 2007 launch of the INSEAD Blue Ocean Strategy Institute. The institute offers several programs and electives that support the development of aspiring con­sultants, including a mini-elective, "Blue Ocean Strategy Simulation," that lets students apply the trademark Blue Ocean Strategy toward managing a fictional company.
Beyond the Classroom at INSEAD
INSEAD's accelerated 10-month program can make it hard for some student groups to gel, but despite this obstacle, the INSEAD Consulting Club seems to have an active campus presence. Much like at Darden, the Consulting Club at INSEAD provides resources to help INSEAD students prepare for consulting interviews and careers, including workshops, networking, and recruiting events with consulting firms. It also publishes the INSEAD Consulting Club Handbook, free to Consulting Club members, which offers an overview of the industry, profiles of individual firms, and sample cover letters, résumés, interview tips, and practice case questions.
INSEAD also features regular consulting case competitions, including the A.T. Kearney Global Prize Competition. As many as 15 teams from INSEAD compete against each other, with winners advancing to represent INSEAD in a regional competition against seven other European business schools. The winning European school then battles the winning North American school for the Global Prize.
Sep 12, 2017

While a career in investment banking may not be as highly sought after anymore among MBAs, it's still a fairly popular option. And according to a U.S. News interview with Jeff McNish, Assistant Dean of the Career Development Center at the University of Virginia's Darden School of Business, investment banks and consulting firms are raising their compensation offers to draw in more students. These companies are willing to pay a premium to draw MBA talent. The question is, which are the best investment banks to work for?
Vault Banking 50 recently released its annual ranking of the best investment banks in North America. The list was compiled through a survey of 2,400 banking professionals and used a weighted formula to review such issues as quality of life—including culture, satisfaction, work/life balance, training, and compensation—and overall prestige.
This year, Goldman Sachs took the #1 spot—with a score of 8.380—maintaining its title of "best investment bank to work for." Coming in at a close second was Evercore (8.311), followed by Centerview Partners (8.308), and Morgan Stanley (8.114).
The top 10:
Goldman Sachs Still #1
This was the second year in a row that Goldman Sachs took the top spot, with survey responders saying such things as: "The firm is extremely focused on improving work/life balance. In the time that I've been here, I've seen a tremendous difference, not only as a result of formal policies but also in the culture and mindset of those who work here."
Respondents also said that Goldman Sachs provided workers with various benefits including "exposure to talented, thoughtful, respectful colleagues" and "challenging, intellectually stimulating assignments." Even respondents at Goldman Sachs' competitors had mostly nice things to say. They called the firm "a finance machine" and "the gold standard."
Other elements that set Goldman Sachs apart include its protected-weekend-day policies for junior bankers, no-working-past-midnight policies for interns, and fast-track promotions. It was also one of the first banks to provide a modern performance review system as well as to implement video interviews during on-campus recruiting.
Other Investment Banks Making Waves
As for Evercore, it rose two places in 2018 from #4 to #2. Much of its rise in placement was due to its increase in prestige as well as the company's focus on a better working environment for its employees. In fact, Evercore came in first place in two areas: formal training and informal training.
As for what some of the survey respondents had to say about Evercore: "We have an outstanding, very teamwork-oriented, and collaborative culture. The firm is filled with very intelligent people treating each other with respect and working together to give clients the best advice possible. The atmosphere is very positive—lots of high fives on wins and no dressing-down calls if you miss a piece of business."
In third place, Centerview Partners is a small boutique investment banking firm. Insiders stated that the firm is filled with "extremely talented, smart, and thoughtful senior bankers" and that "deal opportunities are unparalleled."
Another boutique investment bank to make it to the top of the list was Moelis, which ranked fifth. The firm rose four places this year thanks to its "great culture" and "smart dedicated people."
Investment Banks Focused on Diversity 
The Vault Banking 50 also measured firms' focus on diversity. Loop Capital Markets led the way for the second year in a row, coming in first for overall diversity, minority diversity, female diversity, and LGBT diversity. However, following close behind were Evercore (which placed #2 in overall diversity, female diversity, and minority diversity) and Goldman Sachs (which placed #3 for overall diversity, minority diversity, and LGBT diversity).
To see the full report, visit the Vault.com.
This article has been edited and republished with permissions from Clear Admit.
Sep 1, 2017

I'm busy, you're busy, your boss is most definitely busy. Indeed, publications ranging from Men's Health to the Atlantic, the Washington Post to Forbes are all reporting that "busyness" has become the new status symbol for our times. Which is part of what makes asking someone to write you a letter of recommendation for business school so daunting. Now, try telling that person that you actually need five different letters for five different schools. Oy vey.
As uncomfortable a spot as it puts applicants in—it's no better for recommenders. Even your most vociferous supporter is going to wonder what in the world she's gotten herself into when she realizes that helping you in your pursuit of acceptance to business school means taking time away from work or play or family or whatever else to labor over leadership assessment grids, each a little different from the one before, and write 10 slightly different answers to 10 slightly different questions. Here's hoping that your top-choice school doesn't happen to be the last one she gets around to…
Good news. The graduate management education industry recognizes the strain that letters of recommendation put on applicants and recommenders alike and has been wrestling with ways to make the process easier for everyone involved. To this end, the Graduate Management Admission Council (GMAC) established a committee made up of admissions representatives from dozens of leading business schools to brainstorm about ways to lessen the burden while still collecting the third-party assessments of candidates that are so critical to the MBA application process.
GMAC Pilots Common MBA Letter of Recommendation
As an outgrowth of that committee's work, GMAC last year piloted a common MBA letter of recommendation (LOR) that schools can choose to incorporate into their applications to reduce the burden placed on applicants and recommenders alike.
"The Common Letter of Recommendation (LOR) effort is intended to save you and recommenders valuable time by providing a single set of recommendation questions for each participating school," reads the GMAC website. "This allows your recommenders to use the same answers for multiple letter submissions, alleviating the workload of having to answer different questions for each school multiple times. You benefit because it makes the ask for several different letters to be written on your behalf much easier."
Cornell's Johnson Graduate School of Management, NYU Stern School of Business, and Michigan's Ross School of Business were among the first schools to pilot the Common LOR last year. In addition to a single set of open-ended essay questions, the pilot Common LOR also included a leadership assessment grid inviting recommenders to rate applicants on 16 "competencies and character traits" grouped into four main categories of achievement, influence, personal qualities and academic ability.
"At Johnson, we saw the Common LoR as a clear opportunity to improve the admissions process for candidates and their recommenders in a way that would also add value to our own assessment of applicants," Judi Byers, Johnson executive director of admissions & financial aid, told Clear Admit. "A thorough and consistent review is important to us and the grid provides a straightforward base of insights that can be assessed and compared reliably while the accompanying letter adds meaningful detail and context," she added.
Soojin Kwon, managing director of full-time MBA admissions and program at Ross, sees applicants and recommenders as the main beneficiaries of the Common LOR and is pleased that more schools are coming on board. "As more schools adopt it, applicants won't have to feel like they're burdening their recommender with completing multiple rec letters with different questions and ratings grids," she told Clear Admit. "This year, more than a dozen of the top 20 schools are using it."
Ross was also among the schools to first pilot the Common LOR last year, and Kwon served as part of the GMAC committee that helped craft it.
Common Questions Easy to Agree on, Common Leadership Grid Not
"What we found in using the Common LOR this year past year was that the questions gave us helpful insights into applicants, particularly on the important area of constructive feedback. The questions, however, were fairly similar to what we and other schools were using before, so it was easy for the AdCom to use it," she notes.
Those questions are as follow:
Please provide a brief description of your interaction with the applicant and, if applicable, the applicant's role in your organization. (50 words)
How does the performance of the applicant compare to that of other well-qualified individuals in similar roles? (E.g. what are the applicant's principal strengths?) (500 words)
Describe the most important piece of constructive feedback you have given the applicant. Please detail the circumstances and the applicant's response. (500 words)
Is there anything else we should know? (Optional)
"The rating grid was quite different from what we'd used in the past," Kwon continued. "It was also the most difficult part for the GMAC advisory group to develop and get agreement upon. The group worked this past year to revise and simplify the grid so that AdComs could get more meaningful insights from it."
This year, the 16 competencies and character traits from the original grid have been distilled to 12, with specific questions about analytical thinking and information seeking omitted. Johnson and Ross have both incorporated the revised leadership grid into the LOR distributed to applicants as part of their applications, as have most other schools that have this year decided to incorporate both the grid and open-ended essay question portions of the form. UT's McCombs School of Business and Rice University's Jones Graduate School of Business, notably, still seem to feature the earlier version of the leadership grid in their application, the one that calls on recommenders to assesses applicants on 16 competencies and traits.