Dec 18, 2017

Washington DC may be a top city for students pursuing their MBAs, but the city's high cost of living could prove prohibitive for many young Mstudents. Growing rent prices over the past ten years have led DC to be one of the least affordable of the major U.S. metropolitan areas.
Of course, MBA students looking to apply their education to governmental agencies won't find a better place to do so than in the nation's capital. And though contending with high rent prices may be unavoidable, many business schools offer students a number of ways to keep the cost of their degree at a minimum.
From scholarships to grants and student work opportunities, business schools in Washington DC ensure that low-income applicants can have equal access to the high quality education their program's provide. Below are just a few of the opportunities provided to assist low-income applicants at Washington DC MBA programs.
Finding An Affordable Washington DC MBA
McDonough School of Business – Georgetown University
Over $1.5 million in aid is available to MBA applicants through merit based scholarships at Georgetown University's McDonough School of Business. All students are eligible for these grants, but it is advised to apply for the program early to best position yourself for consideration. International students in need of additional funding may also apply for external scholarships and private loans specifically for international students. The university has compiled a list of common lenders that students may want to consider here.
McDonough also provides scholarship opportunities through the Consortium, a group whose goal it is to reduce the under-representation of blacks, Native Americans, and Hispanic students in business education. As a member school, a number of scholarships are also available at McDonough for students admitted as part of the Consortium.
University of Maryland R.H. Smith School of Business
Roughly 85 percent of MBA students at UMD Smith receive merit based awards to help fund their education. Between scholarships, fellowships need-based awards and assistantship opportunities, students have a number of opportunities to reduce their tuition and keep their MBA affordable. Awards such as the Dean's Award of Smith award provide two years and one-year of full scholarship and fees. Students may also find additional opportunities for scholarships through the university's organizational partnerships, such as the Forté Foundation or management Leaders for Tomorrow.
---
---
George Mason University School of Business
The George Mason University School of Business provides one of the best values in education, demonstrated through the high success rate of alumni and the fact that Mason alumni have the lowest student loan default rates in Virginia.
Mason offers a number of financial aid opportunities through grants, scholarships, work-study employment, and loans. Every year, the school offers millions of dollars to incoming students, including fellowships for graduate students. The Office of Student Financial Aid is dedicated to assisting each student in finding the financial assistance that is needed for their degree.
George Washington University School of Business
The George Washington University School of Business offers a number of different ways for students to reduce the cost of their MBA degree. Each year, graduate students may apply to a number of different fellowships, available through the university as well as private foundations and agencies. At the Office of Graduate Student Assistantships & Fellowships, students can search through these numerous opportunities and see which scholarships best fit their qualifications.
GWU also offers Financial Aid based on the need of each students. Eligible applicants can apply for need-based aid by filing the Free Application for Federal Student Aid (FAFSA).
Howard University School of Business
MBA students at the Howard University School of Business may be eligible both for federal student aid, based on need, and a variety of scholarships, which are given based on merit and other factors. Scholarships range, and may cover up to full-tuition, while others provide partial funding. Howard MBA students may also pursue loans for tuition through the ACCESS Loan Program, Alternative Education Loans, or other private loan services.
Kogod School of Business – American University
The Kogod School of Business at American University ensures that its high quality education can be affordable for all. Roughly 80 percent of all students receive financial aid of some kind, with almost $85 million awarded just to the undergraduate population. Kogod offers both need-based aid and merit scholarships. Students may contact the Graduate Admission Office at Kogod for more information on the scholarships available to them, but all applicants who demonstrate excellent academic credentials will be considered for these honors—a separate application process is not needed.
Nov 16, 2017

For the third straight year, Harvard Business School reigned supreme in the annual Bloomberg Businessweek "Best Business Schools" ranking, topping the Wharton School at the University of Pennsylvania and MIT Sloan School of Management. In joining HBS on the medals podium this year, those schools both saw significant gains over last year, climbing from sixth and seventh respectively.
Rounding out the top five this year is the University of Chicago Booth School of Business —holding steady year over year at fourth—and Stanford Graduate School of Business, which fell from second place in 2016 to fifth this year.

The methodology Bloomberg Businessweek uses to arrive at its annual MBA ranking involves weighting each of five principle factors. Employer surveys account for 35 percent of a school's score. Alumni surveys account for another 30 percent. And a combination of current student surveys, salary rankings, and job placement together account for the remaining 35 percent of the final score.
High Risers
Ten out of the top 20 ranked schools in the 2017 Bloomberg Businessweek ranking advanced at least one spot over last year. Wharton and Sloan each managed to leap four spots, boosted by high praise from employers and hefty salary benefits for recent graduates. The University of Washington Foster School of Business also managed to jump from 19th to 15th overall this year, thanks largely to its top ranking as the nation's best business school for job placement.
The Cornell S.C. Johnson Graduate School of Management and the UCLA Anderson School of Management both saw a rankings jump of three spots, with Johnson moving up to 13th and Anderson coming in at 19th.
The year's biggest winner, however, may be the Penn State Smeal College of Business, which jumped a whopping 12 spots from last year's 37th to come in at 25th in 2017. It wins the award for the year's biggest overall rankings increase. The USC Marshall School of Business also saw a momentous climb this year, sidling up eight spots from 38th last year to 30th this year.
In the latter half of the rankings came another one of this year's biggest risers, with the Terry College of Business at the University of Georgia jumping 11 spots from last year, up from 65th overall to 54th. Elsewhere, the David Eccles School of Business at the University of Utah, the Whitman School of Management at Syracuse University, the C.T. Bauer College of Business at the University of Houston, and the Pepperdine University Graziadio School of Business and Management all saw a jump of at least seven spots in the new ranking.
Once Mighty, Now Fallen
Stanford GSB, Duke's Fuqua School of Business, Dartmouth's Tuck School of Business, and Jones School of Business at Rice University may all be feeling a wee bit dizzy. Last year Stanford shot up to second from seventh the year before, but this year it finds itself demoted to fifth. Duke's Fuqua School, which last year celebrated a momentous jump from eighth to third, this year fell back down to seventh. Dartmouth's Tuck School of Business, which had one of last year's biggest gains, rocketing up nine spots to break into the top five from a mere 14th place finish the year before, this year finds itself at seventh. Similarly, Rice Business, as the Jones School likes to be called, which last year catapulted 11 spots to number eight, this year slipped to tenth. But at least all maintained their footing within the top 10.
Emory's Goizueta Business School and the Texas A&M Mays Business School, for their part, slipped out of the top 20 altogether. Goizueta slipped just slightly, from 20th to 21st, and Mays slid from 18th to 22nd. The University of Virginia Darden School of Business also stumbled, slipping from 12th last year to 17th this year. But the Charlottesville school at least managed to remain in the top 20, thanks in part to strong scores in the student survey and salary categories.
No school, however, lost more ground than the George Washington University School of Business, which fell an eye-popping 14 spots from last year, losing its place among the top 50 business schools in the United States.
Bloomberg BW has made multiple changes to its methodology in recent years, resulting in significant volatility in terms of where schools fall on the list even when not much has changed year over year at the individual schools themselves. This has led many to question the credibility of the ranking overall. That said, Clear Admit's Alex Brown found this year's results easier to swallow than some in recent years. "This ranking seems more reasonable to me this year," he says. "Each of the M7 programs are in the top 10, and the schools I would consider in the top 16 are all in the top 20."
You can view the complete 2017 Bloomberg Businessweek rankings here.
May 30, 2017


If Samuel L. Jackson and Jennifer Garner can't convince you, let it be known that the cat's out of the bag on Capital One as a fantastic place for MBA graduates to hang their hats.
Feb 17, 2016

According to The Cavalier Daily, the University of Virginia's news website, the Darden School of Business announced the opening of a new facility in Rosslyn, Virginia for MBA candidates pursuing an Executive MBA or Global MBA for Executives degree. Rosslyn is located across the Potomac River from Georgetown in Washington, D.C. Continue reading…
Jan 28, 2016

According to an article by Nicole Hitpas, Virginia Governor Terry McAuliffe announced the members of the new Governor's Council on Youth Entrepreneurship, a council that will coordinate and implement youth entrepreneurship initiatives and for young people in Virginia. The list includes three people with ties to the George Mason School of Business. Continue reading…
May 22, 2015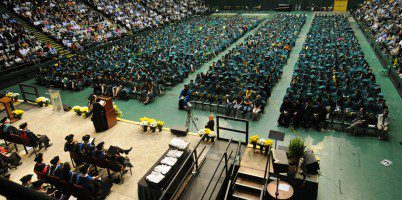 George Mason's School of Business walked 1,200 students at this year's graduation ceremony, bringing the school's total alumni count up to more than 28,000. Each year at graduation time, the School of Business also takes time to recognize the top graduate in each program—those students who went above and beyond during their time at Mason. This year's Outstanding Award recipient from the School of Business MBA program is Kristina Stuhler. Continue reading…