Jan 6, 2020
Sponsored Content
Since 1969, Virginia Tech has served local residents, government and industry in the greater Washington, D.C., metro area. While the planned Innovation Campus in Alexandria is anticipated to triple Virginia Tech's local footprint, it already boasts more than 45 graduate degree and certificate programs, as well as many laboratories and research centers, spread across the region from Arlington to Leesburg.
Continue reading…
Dec 10, 2019


Sponsored Content
The working professionals who pursue the Arlington-based Executive MBA at Virginia Tech get a rich education in the fundamentals of business—accounting and finance, marketing, operations, ethics, communications, and leadership.
Continue reading…
Sep 10, 2019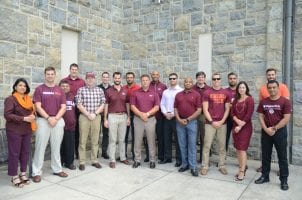 Sponsored Content
Virginia Tech has been making local headlines lately with the announcement of its Innovation Campus in the newly-designated neighborhood of National Landing.
While the new campus will help cement the university's regional footprint, Virginia Tech has been quietly providing graduate education opportunities in the DC Metro Area since 1969. Virginia Tech's Pamplin College of Business has offered its MBA programs in this region for decades and more recently made the decision to narrow its focus to working professionals in urban centers across the commonwealth.
"What we did at Virginia Tech a few years ago was to say that we really want to focus on the working professional—someone who wants to enhance their career or make a change in the direction of their career, but not at the expense of continuing to be a business professional," says Pamplin Dean Robert Sumichrast. That allows those students to come into the classroom, he adds, "and use what they've learned as part of the experience of the MBA program."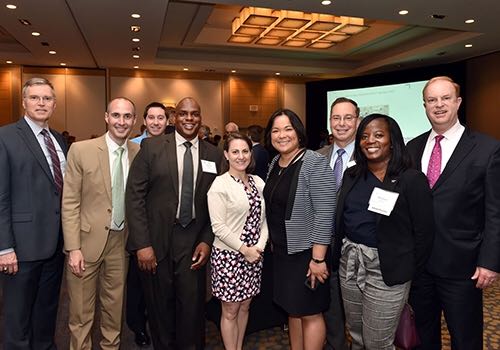 Arlington is home to the Executive MBA program, an 18-month, cohort-based option for mid-career professionals. The curriculum is centered around experiential learning modules that provide students with hands-on experience in topics like business analytics and leadership and governance.
The nationally-ranked Evening MBA program is based in Falls Church and designed to provide maximum flexibility. Students can change their course load each semester to balance work and other commitments. They also have the option to focus their degree in one of 10 specialization areas, including traditional business topics like finance and management, and some more niche areas like healthcare information technology.
The Professional MBA program is a 24-month hybrid option with once-per-month in-person classes that rotate between Richmond, Roanoke, and Newport News.Visit mba.vt.edu to learn more about Virginia Tech's MBA programs, or register to attend an upcoming information session.
Feb 21, 2019
In our latest installment of the MetroMBA "5 Questions" series, we speak with Dana Hansson, the Director of MBA Programs at Virginia Tech's Pamplin College of Business. Hansson talks about the school's culture, the faculty, and the networking opportunities available for students.
---
How would you describe the culture of Virginia Tech Pamplin?
"We are a community of professionals seeking greater opportunities through learning and networking.  Our faculty scholars love to teach graduate students and build relationships," says Hansson. "Our student body is engaged, curious and supportive.  Our MBA program is flexible, allowing you to choose the pace, which meets your lifestyle and select courses to expand your horizons."
According to Dean Robert Sumichrast, "Pamplin has large and expanding programs in Northern Virginia, including our MBA and other planned programs that take advantage of the business and government environment of the Washington metro area."
What type of student is the best fit for Pamplin's MBA program (career goals, experience, interests, etc)?
"Pamplin MBA students have professional experience and are ready to take the step in their career, be that seeking a promotion at their employer, shifting from one sector to another or making a pivot to something new such as launching a business concept," explains Hansson. "Our students are service oriented, embracing the 'Ut Prosim: That I May Serve at Virginia Tech,' with many having military service. They enjoy the large and active alumni base, feeling a part of something dynamic."
Speaking of military service, MBA students with a military background looking to transition to a civilian career or move up the ranks will find lots of support at Virginia Tech. A few of the benefits provided include:
Military application fee waiver.
There are Student Affairs specialists available to liaison with the VA on your behalf.
Financial aid is available including Post 9/11 help.
Alumni and current students can speak with you about their experience.
If there was just one piece of advice you could give to an MBA applicant considering Pamplin, what would it be?
"Do your due diligence as you explore programs; learn the basics of the program, talk to current students, alumni of the program and faculty," Hansson encourages. "You will be making a large investment in time and money, as well that from your significant others and employers, so make sure you have chosen the best program to meet your needs."
To help you with your research, Pamplin regularly hosts information sessions all about their MBA programs.
How accessible are Pamplin professors? Can you give an example?
"MBA program faculty reside in Northern Virginia and have weekly office hours, and are available to meet you at your convenience," Hansson says.  "Emails work well too."
In terms of faculty and staff, Pamplin is a very small college. This makes it a rather intimate experience. In addition, the school recently appointed "some of the most promising new and accomplished faculty from around the world," says Dean Sumichrast. He admitted that this was an "intentional change" to increase diversity, raise expectations, and improve faculty research and teaching.
In particular, the school has made prominent strides toward diversity. Among faculty, the percentage of underrepresented minorities is now 16 percent from 0 percent four years ago.
Sumichrast also states, in the same speech, that the college is a very open and friendly environment, "An important part of community is becoming more welcoming and inclusive of everyone, and we have become more welcoming," he says.
What club would you recommend for a student to check out and why?
"As our MBA program is a part-time offering, our students are busy with life and work," Hansson explains. "Clubs are not available. However, we offer several networking and alumni mentoring opportunities each semester."
In regards to networking, the MBA Career Network, launched in 2014, is an opportunity to match MBA students with alumni volunteers. And with a vast Hokie Nation to choose from, there are many mentoring opportunities across Northern Virginia, Richmond, and Roanoke.
As for opportunities beyond clubs, Evening MBA students can choose to participate in a study abroad course to gain international experience. This two-week study abroad portion, allows students to visit several multinational and international corporations, local businesses, and cultural venues.