Haub Dean Joseph DiAngelo Wins Recognition as Philadelphia Business Leader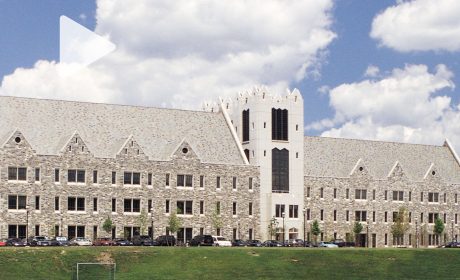 Joseph DiAngelo, the Dean of St. Joseph University's Erivan K. Haub School of Business, was recently honored with back to back awards recognizing his services to business education.
On April 8, DiAngelo was appointed as the incoming board chairman of the Association to Advance Collegiate Schools of Business (AACSB) at the organization's national conference in Chicago. The AACSB is an international business school accreditation body with 672 member institutions worldwide, including many in the Philadelphia metro. DiAngelo has been an AACSB board member since 1997, participating in numerous accreditation trips to business institutions both in the United States and abroad.  Haub's MBA programs are accredited by the AACSB.
Then, on April 11, DiAngelo was awarded the Franklin Award from the Philadelphia Insurance Society for his services to insurance education. The Philadelphia Insurance Society was founded in 1901 and offers licensing courses, training workshops and seminars to insurance professionals belonging to over 200 member companies in the Philadelphia metro. The Franklin Award was presented by the Philadelphia CPCU society; CPCU stands for Chartered Property Casualty Underwriters. DiAngelo launched  the Risk Management and Insurance program at Haub in 2010.
About the Author