Lehigh MBAs Travel to Athens, Highlighting Expanded International Offerings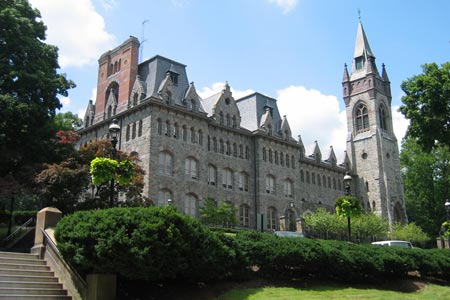 A group of graduate business students from Lehigh's College of Business and Economics (CBE) traveled to Athens, Greece in April to research that nation's sovereign debt crisis. The trip was planned in part to showcase the CBEs expanded portfolio of international offerings for graduate students.
Many of the new International Field Experiences, which are offered in United Kingdom, France, China, Chile and Argentina, will be conducted in association with the University of Nottingham, located in Nottingham, England. The CBE has partnered with the University of Nottingham for the past four years in order to provide international trips and study abroad experiences.
In Athens, students met with representatives of Athens Chamber of Commerce and Industry, Valef Yachts—an international luxury yacht charter business—and the Hellenic Bank Association (HBA). A dozen students participated in the nine day trip. They also visited cultural and historic sites like the Parthenon and the Panathenaic Stadium, site of the first modern Olympics.
Each of the new, for-credit international offerings concentrates on a topic relevant to the host country. While students in Greece explored the roots and consequences of the country's debt crisis, students traveling to England will research corporate social responsibility and those traveling to China will study manufacturing & logistics. Each trip is introduced by a pre-trip preparation course and concluded with a post-trip briefing at which students present brief research papers to their peers.
About the Author