Ageno Professor Part of Turing Test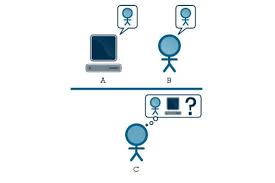 Golden Gate University's Ageno School of Business Adjunct Professor John Denning, MHA, was part of the first team to pass the 65-year-old Turing Test, organized by the University of Reading, England. Judges at the Royal Society in London believed they spent a five-minute keyboard conversation with a 13-year-old boy, when actually it was a computer program.
The Turing Test is based on a 1951 paper written by Alan Turing. The paper proposed a test called "The Imitation Game" that might finally settle the issue of machine intelligence. The first version of the game he explained involved no computer intelligence whatsoever.
Imagine three rooms, each connected via computer screen and keyboard to the others. In one room sits a man, in the second a woman and in the third sits a person, call him or her the "judge". The judge's job is to decide which of the two people talking to him through the computer is the man.
The man will attempt to help the judge, offering whatever evidence he can (the computer terminals are used so that physical clues cannot be used) to prove his man-hood. The woman's job is to trick the judge, so she will attempt to deceive him, and counteract her opponent's claims, in hopes that the judge will erroneously identify her as the male.
Thirty three percent of the people involved in the conversation mistook the computer for a human, passing the test based on 'the father of modern computer science' Alan Turing's question, "Can Machines Think?"
Thirteen year old "Eugene Goostman" was created in the United States, Russia and Ukraine. Denning said part of "Eugene's" success was that even though the 'conversation' took place in English, the program's conversation style was written in part by non-native English speakers who needed to analyze the language and recognize its nuances.
Professor Denning has been teaching Budgeting, Finance and Innovations in Healthcare IT for the MS in IT Management program at Golden Gate University's Edward S. Ageno School of Business since 2010. Denning is an entrepreneur focused on solving complex problems in healthcare using artificial intelligence.
About the Author