Employers Bullish on Hiring Recent MBA Grads, Recruiters Survey Shows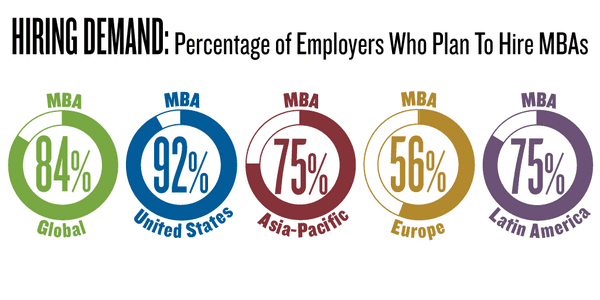 The following post has been republished in its entirety from original source clearadmit.com.
Students graduating in recent days from MBA programs across the United States and around the globe have more to celebrate than simply turning tassels, results from a corporate recruiters' survey released today show. Indeed, employer demand for recent business school graduates tops all previous years, according to the 2015 Corporate Recruiters Survey, conducted by the Graduate Management Admissions Council (GMAC) in partnership with EFMD and the MBA Career Services & Employer Alliance (MBA CSEA).
An astounding 92 percent of U.S. employers surveyed report plans to hire MBA grads this year, up 12 percent over last year. Globally, numbers are also robust, if not quite as strong as the U.S. figures. Some 84 percent of employers worldwide expect to add new MBAs to their workforce this year, up from 74 percent in 2014 and just 50 percent in 2009 following the Great Recession. This bests the prior all-time high of 82 percent in 2005.  
"The MBA, as an area of study valued by employers, is showing more strength than ever with hiring of new graduates projected to rise for the third year in a row," Sangeet Chowfla, GMAC president and CEO, said in a statement. "Students of any undergraduate background would do well to consider taking a graduate management degree because of the contributions it can make to their career aspirations."
Up, Up and Up
Not only do more employers plan to hire MBAs this year, they plan to hire more of them and pay them higher starting salaries. Almost two-thirds of companies plan to increase the number of MBA grads they will hire, and more than half of employers will bump up starting salaries for those new hires, the survey found. "This is great news for students and portends well for the economy overall," MBA CSEA President Damian Zikakis, who also leads career services at the University of Michigan's Ross School of Business, said in a statement. "It is encouraging to know companies are so confident in their growth prospects."
The projected median starting salary this year for recent MBA grads in the United States is $100,000, a 5 percent gain over last year and almost twice the expected starting salary for recent bachelor's degree graduates ($55,000). Of course, employers also expect MBA graduates to have clocked an average of two to four years of work experience between college and business school, contributing to the near doubled salary.
Europe Trails in MBA Hiring Growth
MBA graduates seeking jobs in Europe have less cause for celebration than those targeting employers elsewhere around the world. While more than half of companies based in Europe (56 percent) report plans to hire MBAs this year, that's up only slightly from 53 percent in 2014, and considerably lower than the nine in 10 U.S. employers actively recruiting MBA grads.
In Latin America and Asia, meanwhile, growth is projected to be stronger than in Europe. Seventy-five percent of Latin American and Asian companies surveyed plan to hire MBAs in 2015, up from 69 percent in each region in 2014.
One trend revealed by GMAC's latest research into corporate recruiting plans is notable growth in the demand for data analytics. More than half (51 percent) of all companies surveyed globally indicated plans to hire for this job function in 2015, up from 44 percent last year. Asked to list three skills they were looking for in MBA grads this year, more employers said analytics than anything else.
As for how they pick which MBA candidates to interview for available positions, employers were of remarkably similar minds. Nine out of 10 cited demonstrated track record, strong communications skills and solid technical or quantitative skills as their top three selection criteria.
For the first time this year, the survey also gauged employers' impressions of massive open online course (MOOCs). The findings: Only 15 percent of companies globally and 8 percent of companies in the United States view MOOCs as a viable alternative to graduate management education.
The 2015 Corporate Recruiters Survey drew responses from 748 employers in 47 countries, including 46 of the Fortune 100.
About the Author