University of San Diego Introduces New Hybrid Format for Its Part-Time MBA Program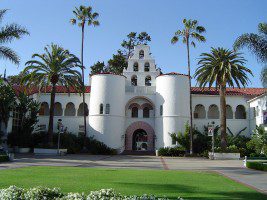 The School of Business Administration at the University of San Diego has introduced a new format for its part-time MBA program—a hybrid onsite and online coursework schedule. The Professional MBA offers the same curriculum as the full-time MBA but is designed for working professionals. The goal of the program is to provide students with practical hands-on experience as well as business best practices that can be immediately applied in a career.
And the new format of the Professional MBA program allows students to study at their own pace off-campus, via distance learning. However, students will still retain necessary and valuable face-to-face contact with faculty and peers through once-a-month meetings on the USD campus.
The updated program consists of 53 units, with fall and spring start dates for even greater flexibility. Students beginning in the fall start with full onsite classes two nights a week while those students who start in the spring will take hybrid courses, which will only be onsite one weekend a month and online the remainder of the time. In total, the hybrid spring class will spend 60% of their instruction time onsite and 40% online.
The dean of the School of Business Administration, Jaime Alonso, revealed in a recent press release that she is thrilled with the new hybrid format. "The benefits of embedding this flexibility into our already rigorous MBA program affords prospective students the opportunity to maintain work and family lives while also engaging in academic pursuits on a schedule that works for them," says Dean Gómez. "We're proud to be the first hybrid MBA program in San Diego, allowing us to meet a growing need in the region for practical graduate education solutions for working professionals."
The key to the new Professional MBA program is flexibility. At the beginning of the program, both spring and fall students will participate in a one-week residency to complete orientation, team building activities, and the first two-unit class. However, after the first semester of instruction, students can mix and match their course formats to match any schedule. Both Professional MBA program options can be completed in as little as two years.
To learn more about the newly updated Professional MBA program at the University of San Diego, visit their website.
About the Author