Startup Lessons: ParkingBee
The path for startups can be treacherous. In the series "Startup Lessons," we examine new MBA startups at the ground level to understand how they succeed.
During the summer of his junior year, Mike Black learned first hand how painfully expensive a prospect everyday parking can be in Manhattan.
While interning at Merrill Lynch in New Jersey, Black often needed to travel to one of the company's New York locations. The cost incurred as a result of the trip, perhaps not to the surprise of many who live in and near the New York metro, was a stinging $45 per day.
"I was never exposed to these kinds of parking rates before and thought it was insane," Black remarks. Monthly parking rates in U.S. cities are costlier than in non-metro areas—thanks to basic supply-and-demand principles—with New York City reigning at the top. Boston, San Francisco and Philadelphia follow in terms parking expense.
But one lucky week, one of Black's friends in Jersey City had to leave town, guaranteeing him a free spot for a few days.
"I would of happily paid $30 to park there and he could of made over $200 while being away," he remarks, which spurred the initial idea for his new startup app ParkingBee, which works like an AirBnB service for parking spaces. Users can simply look for open parking spaces at cheap rates or offer their own spots up for rent.
"I did some research to see if there was an app for this and at the time I couldn't find anything," he remembers. "There still isn't anything like that in Manhattan." His app wound up gaining initial traction in his entrepreneurship courses at Penn State's Smeal College of Business, where Black eventually teamed up with co-founder Chris Gonzalez. ParkingBee generated a modest $10,000 in revenue after creating the app's first website.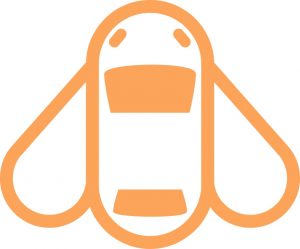 Black's counsel to fellow entrepreneurial students considering the startup path is simple: "Take risk now."
But he doesn't advise going it alone. He suggests that would-be startup-builders work with a mentor in order to "reduce mistakes." He also encourages soliciting feedback from customers. A back-and-forth is crucial during a startup's early stages of development, he says. And, if possible, avoid recruiting web developers too early in the process.
Now working as a team of four out of Penn State's "Launchbox" incubator, ParkingBee is preparing to present its emerging app at the 2016 U.Pitch Competition and Showcase competition in Chicago. The event, now in its third year, pits U.S. collegiate startups against one another for a prize pool worth $10,000. While confident, Black knows there are plenty of teams across the country with impressive ideas.
"You never know with pitch competitions," he says. "I'm sure there are a lot of teams doing some amazing things that we will be competing against. I'm looking forward to visiting Chicago and being in front of investors with big networks more than winning money."
Take a look and sign up for ParkingBee today.
About the Author