USD Appoints New Director of Center for Peace and Commerce

The Center for Peace and Commerce (CPC), created in a joint partnership between the University of San Diego School of Business and the Joan B. Kroc School of Peace Studies, appointed a new director last week. Amit Kakkad, an Assistant Professor of Operations Management, took over the role of developing social innovations for a positive impact on people, planet, profit and peace.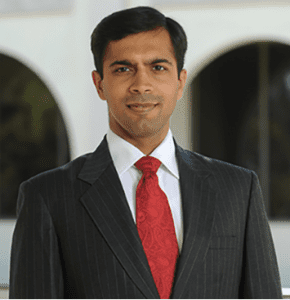 Kakkad was chosen due to his substantial expertise and tremendous passion. Since joining USD in 2012, he has been closely engaged with the CPC and has helped to enrich and enhance its growth and interdisciplinary endeavors. In addition, Kakkad has served as a coach and mentor in the Idea Labs as well as a judge of Social Innovation Challenges. To the role of director, he will bring in-depth knowledge as well as action.
Prior to USD, Kakkad worked in a variety of industries and at a diverse range of businesses from large corporations to small startups. He also has experience working with nonprofit organizations and has served as a board member for three organizations in Europe and an elementary school in San Diego. He earned his MBA at the Crummer Graduate School of Business and his Ph.D. from the London Business School.
In his role, Kakkad will work alongside Rachel Christensen, the Assistant Director of the CPC. Rachel was a program specialist for Edify, a nonprofit founded by Christopher Crane with the goal of improving and expanding affordable private education. She is also currently pursuing her Master's in Public Administration and Latin American Studies at San Diego State University.
The Center for Peace and Commerce supports students in the San Diego-Tijuana region. Its goal is to promote a new model where business and entrepreneurship work together with peace building to develop initiatives inside and outside the classroom. All of its programs are designed to include hundreds of leaders in the regions as well as undergraduate and graduate students.
"Innovating to solve humanity's urgent challenges is central to the University of San Diego's vision and the CPC represents a path to prepare new generations of changemakers who will ethically solve problems in today's fast changing world," Patricia Marquez, dean of the Kroc School and CPC's founding director, said in a press release.