UC San Diego Rady School of Management: Developing the Entrepreneurs of the Future

Sponsored Content
It used to be the ideal result of an MBA was a job in a major corporation. In fact, between 2000-12, 91 percent of U.S. MBA alumni stated they worked for an employer, and only 5 percent were self-employed or a small-business owner. But that trend is changing. In 2015, more than 10 percent of MBA alumni were self-employed, and that percentage is only expected to grow.
That's why schools like UC San Diego's Rady School of Management are focused on developing entrepreneurs. Not only does their MBA curriculum include startup-based courses such as Lab to Market, but outside of the classroom, they offer accelerators, mentorship, and even potential funding to budding entrepreneurs.
At the Rady School, they understand that becoming a successful entrepreneur is a process that starts from the ground up; it's not just about taking a single class or attending one workshop. Instead, to truly gain the skills, knowledge, and insight necessary to start a business you need an all-encompassing experience—inside and outside the classroom—and that's exactly what the Rady School provides.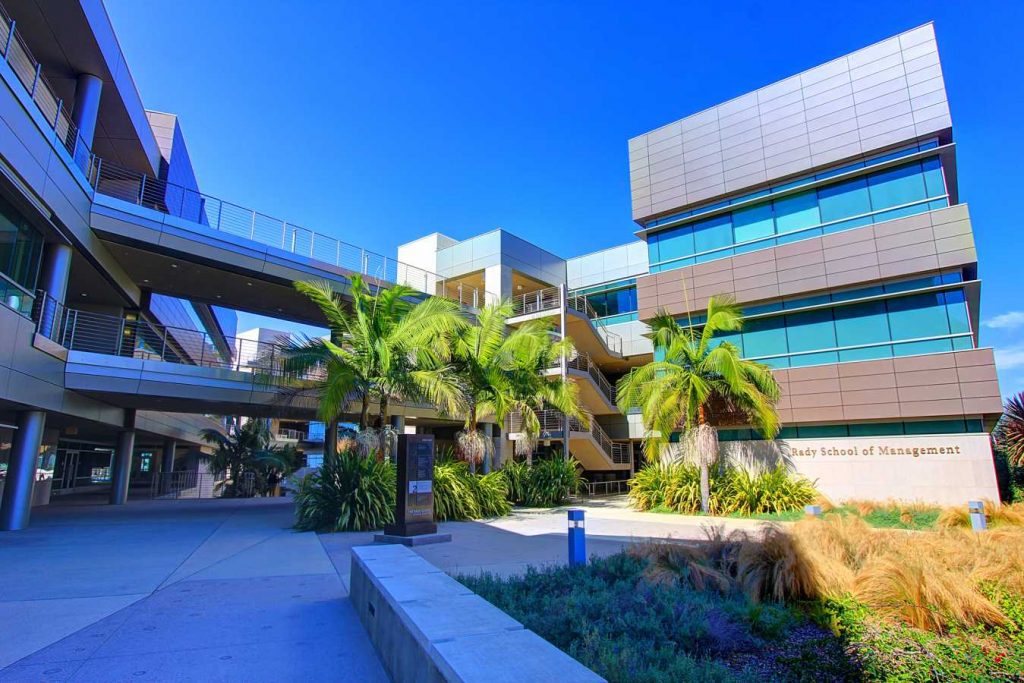 San Diego and the Rady School
The Rady School entrepreneurial experience begins with the city of San Diego. The school is centrally located in San Diego's innovation hub: Torrey Pines Mesa. "This location provides students direct exposure and access to a multitude of technology and scientific discoveries, as well as access to serial entrepreneurs who are searching and evaluating their next opportunity or venture," explains Delbert Foit, a Lecturer at UC San Diego Rady.
It's a vibrant and valuable entrepreneurship ecosystem that includes more than 15 accelerators/incubators spread out between downtown San Diego, Torrey Pines Mesa, Carlsbad, and North County. All of these unique characteristics have enabled the entrepreneurship scene in San Diego to make significant advancements, and the Rady School has been able to take advantage of it all. "Our curriculum is an immersion in innovation, emphasizing innovation–driven industry sectors propelled by discoveries in technology and science and the serial entrepreneur's experience," says Foit.
So, what exactly is it like to learn entrepreneurship at the Rady School?
Entrepreneurship and Rady
First and foremost, if you're an entrepreneur at Rady, you're not alone. To date, Rady students and alums have started over 115 companies—many in biotech and technology. And, based on a recent survey, those same Rady startups have raised on average around $2,237,533 in funding. So, if you're an entrepreneur at Rady, you're in very good company.
And the good news is that finding your fellow entrepreneurs at Rady is easy. As an MBA, you'll meet many of them within your classes.
"Our unique curriculum has been designed to provide analytical and theoretical frameworks for rigorous business decision making, as well as the applied and practical knowledge needed for success as an entrepreneur," describes Foit. "The unique blend of core and electives prepares students to make adept decisions in the current and future dynamic business environment, and at the same time, allows them to focus on personal and professional goals. The curriculum encourages collaboration, classroom discussion, and interaction—with classmates as well as experienced entrepreneurs."
Lab to Market
In particular, Rady's signature Lab to Market (L2M) three-course sequence is an immersive entrepreneurial experience. Its goal is to provide MBAs with the analytical framework and tools necessary to take an idea and to transform it into a market opportunity. L2M is more than just a single course or simulated exercise; it's an entire experience that demonstrates the true challenge of creating a business: determining which innovative ideas can be translated into viable and valuable market opportunities.
"Lab to Market is an action-based, learning experience that begins in the classroom and moves into the real-world," says Foit. "First, students identify emerging opportunities in an industry sector. Then, from there, they generate and validate new ideas, distinguish viable opportunities from interesting ideas, and evaluate business models that can translate opportunities into ventures. Throughout the remainder of the L2M journey, students perform real-world market research and validation, conduct feasibility studies using prototypes, develop a business case, design a business plan, and ultimately create a go-to market strategy for their innovation."
And if the student's go-to market strategy is something that they wish to pursue further, then they can take their idea outside of the classroom and into one of Rady's two incubators/accelerators: mystartupXX and StartR Accelerator.
Rady's Incubators/Accelerators
Both mystartupXX and StartR Accelerator are designed to give Rady students and alumni the tools they need to start and grow their businesses. It's the natural progression after the L2M sequence. Within these incubators/accelerators, entrepreneurs attend workshops, receive mentoring and advice, and gain access to the necessary resources they need to develop an early-stage company.
Both these accelerators have been instrumental to the Rady entrepreneurial community. In fact, 27 of Rady's 115 startup companies graduated from StartR Accelerator.
"The overall culture at the Rady School of Management is one of innovation and entrepreneurship. The StartR Accelerator enables MBA candidates and graduates to immerse themselves in this culture, and to progress from a burgeoning idea to a full-fledged company during the 6-month program. For Braykion, co-founded by two MBA Flex candidates, StartR was the perfect launchpad."—Jon Wilensky (MBA), Co-Founder, Braykion

"mystartupXX is great because it's really the only platform that I know of that encourages women entrepreneurs specifically in innovation-driven and technology-driven companies." —Ashley Van Zeeland (MBA), Co-Founder, Cypher Genomics
Meet a Successful Rady Entrepreneur
There have been many successful Rady startups including Lab Fellows, Tab32, Clarify Medical (formerly Skylit Medical), Sterling Mobile, ecoATM, Go Green Agriculture, Owaves, The Nicholas Conner Institute, and Interra Energy. But one company that stands out in the crowd is Aira, a visual interpreter for the blind.
Suman Kanuganti first developed Aira during the Lab to Market sequence in his MBA program. He was a part-time student who was passionate about startups and wanted to do something different, but wasn't sure what that was. Then, during Lab to Market, he began having deep conversations with his fellow students and a blind friend. It was through these conversations and the course work that he came up with a unique idea: what if you could be a blind person's sight using Google Glass? The rest was history.
Aira started with prototypes built at the University, all the while Suman was working full-time at his day job. Then, in his last semester, Aira went from a prototype to a marketable business when he spent two credit hours to create a functional marketing plan.
"Aira transformed from a simple idea into a great business because of the opportunities I had at the Rady School," Suman explains. "The framework that Lab to Market gave me indirectly and directly helped me to think about my idea diligently, and not just jump in. L2M taught me to think like an entrepreneur and forced me to learn the entrepreneurial way of doing things."
But it wasn't just L2M that made Aira possible; it was also the StartR Accelerator program. After applying and being accepted into StartR, Suman developed a team of other exceptional individuals including two UC San Diego engineers and an engineer from Cisco.
"StartR gave us an environment where we were surrounded by other startups and could connect with each other," Suman says. "It was a community that taught me discipline and showed that I wasn't alone. During the program, my team met from 6:00 – 8:00 pm six days a week to build Aira. During these meetings, we planned out everything we needed to achieve to make Aira a reality. It even got us funding."
It was a huge learning experience for Suman. He learned what it truly meant to start a company. "It's not going to happen magically. It takes work to get things done," describes Suman. "Confidence is good but too much confidence can blind you to reality. Pulling together a concept and a vision takes a lot of time, but that's where the Rady School can help."
To discover how UC San Diego's Rady School of Management can help transform your business idea into reality, visit the school website and see what it takes to be #RadyMade.
About the Author