What is the Most Valuable San Francisco MBA?

There's no doubt: San Francisco is a great city to earn your MBA. Located near Silicon Valley, business schools throughout the area provide not only an excellent education but also opportunities to interact with many tech and industry leaders in the area. But which MBA programs in San Francisco are the best?
This is not an easy question to answer. You can check rankings, to see which MBA programs perform well based on surveys and statistics provide to The Financial Times, U.S. News and World Report, and The Economist. And that's a great place to start, but probably the most essential value when determining the right MBA program for you is your return on investment (ROI).
The ROI of an MBA program is one of the best indicators of what your MBA is actually worth. It looks at statistics such as average salary increase, post-graduation employment, tuition cost, cost of living, and more. To help you out, we looked in-depth at the best business schools in San Francisco to see which offer the best ROI.
The Best San Francisco MBA Return on Investment
Haas School of Business – UC Berkeley
The Berkeley Haas MBA program is consistently ranked as one of the top MBA programs in the world. This already makes it a great consideration when trying to determine where to attend. A highly ranked school tends to be looked at more favorably by potential employers. But let's dig a little deeper.
The cost of tuition for the 2017-18 academic year was $58,722 for residents and $59,739 for non-residents. This equates to around $110,000 for two years of full-time MBA education. When you combine that with an annual cost of living in San Francisco of $43,581, you can expect to walk away with almost $200,000 in debt over two years.
The good news is that Berkeley Haas distributed approximately $6.9 million in scholarships to help decrease the cost of attending and nearly 70 percent of Haas students received financial assistance through scholarships and loans.
When you look at the average salary upon graduation at $172,271—a 104 percent salary increase—it's not a bad ROI. Particularly when you consider that 90 percent of graduates were employed three months post graduation and 76 percent received a sign-on bonus. And MBA graduates found jobs at such distinguished employers as Adobe, Amazon, Bain & Company, Deloitte, Google, Microsoft, McKinsey & Company, and VMware.
Stanford University Graduate School of Business
Stanford GSB's MBA program also consistently ranks among the best in the world. This year, it ranked as the world's best in the The Financial Times' Global MBA Ranking and fourth overall on U.S. News & World Report. More importantly, Forbes ranked Stanford MBA graduates as those most satisfied with their education and current jobs. This is a huge indicator of ROI.
To achieve such a great return on investment, 92 percent of MBA graduates have a job three months post-graduation, and those positions are with top employers such as Apple, Bain, Boston Consulting Group, McKinsey, and more. As for the median salary, MBA graduates earn $140,000 with an average signing bonus of $29,534. Stanford graduates can also expect a median performance bonus of $35,000, for total compensation package over $204,000 a year their first year. In addition, many Stanford GSB graduates receive equity in big companies that comes to a median value of $380,000 five years out of school.
When you consider all of this alongside the cost of $112,797 per year for tuition and living expenses, the ROI really stands out. Particularly when you consider that the average GSP fellowship is $35,000 per year, which covers a third of an MBA student's cost, bringing the total cost for two years down to $155,594.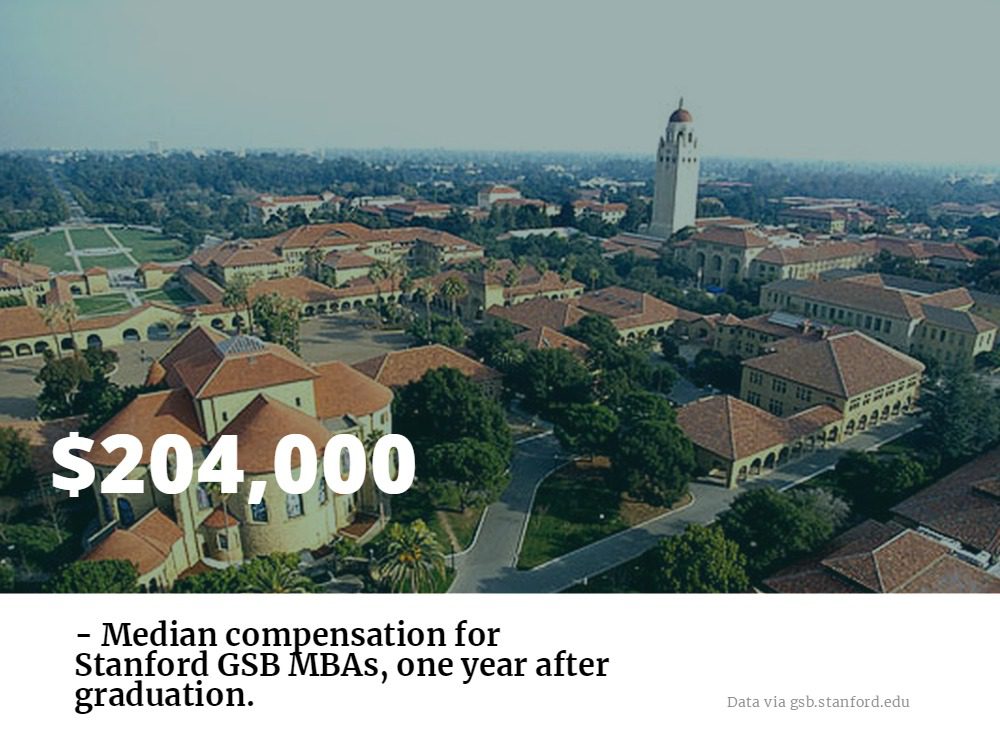 UC Davis Graduate School of Management
UC Davis is yet another top MBA program in San Francisco. It's frequently ranked in the top 9 percent of MBA programs according to the U.S. News and World Report.
UC Davis is more affordable than Stanford or Haas Berkeley with a yearly cost of just $62,765 for residents and $75,010 for non-residents. In addition, 82 percent of incoming MBA students receive a scholarship or fellowship worth anywhere from $3,000 to $39,000. And when you consider the placement report that indicates 91 percent of MBA graduates are employed three months post graduation with an average salary of $95,603 and an average signing bonus of $14,125, the school has fair share in the ROI debate.
University of San Francisco School of Management
At the University of San Francisco, MBA students can expect to pay $70,800 for the full-time MBA program, which can be offset by various scholarships and awards. As for post-graduation, MBAs earn 50-100 percent more than prior to schooling, for an average salary of $102,000. As for where these MBA graduates work, they find jobs all over the Bay Area at companies such as Airbnb, Bank of America, Cisco, Salesforce, General Electric, and more.
Leavey School of Business – Santa Clara University
At the Santa Clara University Leavey School of Business, MBA graduate salaries were ranked ninth nationally for the highest alumni salaries according to PayScale's Best Graduate Business Schools report. MBA students with ten or more years of experience after graduation had a median mid-career annual salary of $164,000. With a tuition cost of $77,560 for all 70 units, this is an impressive debt to salary ratio.
About the Author