Finding the Top Part-Time MBAs in Florida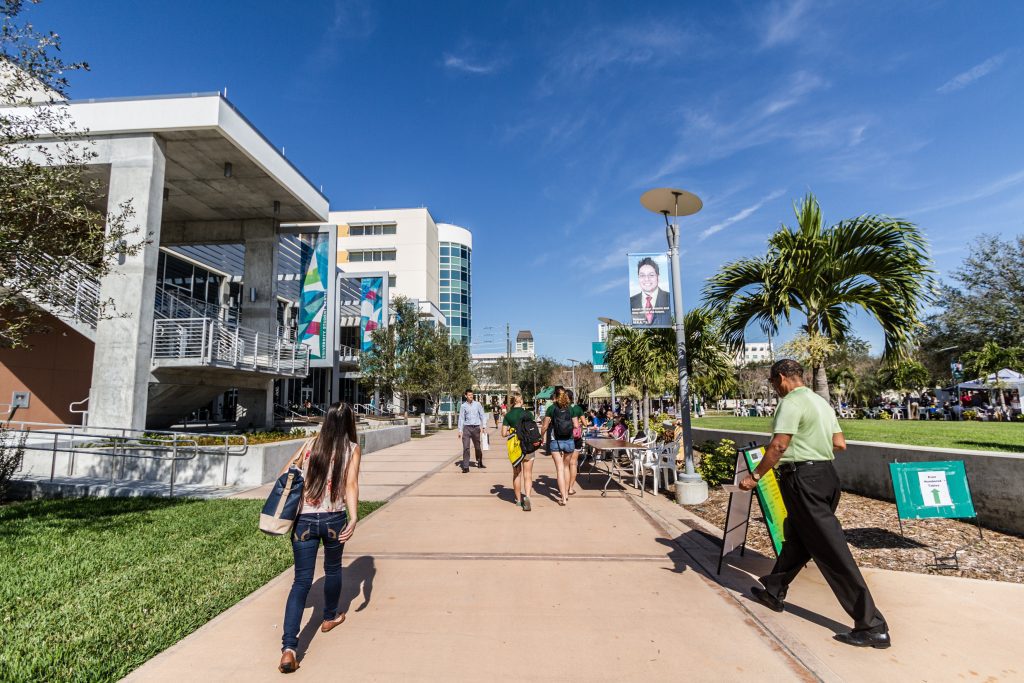 Florida may not be the first U.S. state that comes to mind when rising business leaders consider where to make their mark. But don't be fooled by the "Florida Man" meme; the Sunshine State is not only home to three of the highest-ranked "boomtowns," but it also has the nation's fourth-largest GDP and total personal income. It makes perfect sense why Forbes ranks Florida #7 on its 2018 "Best States for Business" list.
For prospective MBAs interested in part-time business school opportunities in Florida, we took a closer look at several stand-out options.
The Best Florida Part-Time MBA Programs

Ranked 32nd on the U.S. News & World Report list of the best part-time MBAs in the U.S., the University of Florida's Hough Graduate School of Business offers several part-time MBA tracks.
The Weekend Professional MBA is available in both a two-year and a 16-month accelerated course to those who have completed an undergraduate business degree within the previous seven years. For those without an undergraduate background in business, a two-year track without prerequisites is also offered.
For students seeking options outside the Gainesville area main campus, University of Florida's MBA Sunrise Center in Southern Florida offers another two-year track.
Part-time online options are also available. Tuition is reported at $26,622 per year in-state $26,622 and per year out-of-state.

Located in the capital city of Tallahassee, FSU's College of Business offers multiple business degree options for those seeking a part-time MBA option. Overall, the program currently ranks 57th on the U.S. News & World Report ranking.
The Evening MBA format presents a seven-semester program tailored to working professionals, including a pathway for "Florida's state-employee tuition waivers, giving state workers the opportunity to pursue an exceptional graduate business degree at minimal cost."
The school also offers an Online MBA and a hybrid Online part-time with Real Estate track. Tuition is reported at $780.18 in-state and $810.24 out-of-state

UCF's College of Business Administration offers two part-time MBA options, earning the 89th spot on the U.S. News & World Report part-time MBA ranking. The Evening MBA program allows a flexible pace with weekday evening classes at UCF's main campus in Orlando.
The AACSB-accredited part-time Professional MBA program "features convenient evening classes at the UCF Executive Development Center each summer term and at UCF regional campus locations on a rotational basis." Tuition is reported at $370 per credit in-state and $1,194 per credit out-of-state.

The Muma College of Business at University of South Florida offers a part-time MBA "designed with the full-time working professional in mind." Located in Tampa Bay, Muma draws students from across the Tampa Bay area and boasts notable alumni such as FedEx Co-CEO and CIO Robert Carter and Dell Chief Innovation Officer Jim Stikeleather. The part-time program holds the 99th spot on the U.S. News & World Report part-time MBA ranking.
With a curriculum focused on "data analytics" and developing creativity in its business leaders, an accelerated calendar and evening courses are also offered to part-time MBA candidates. Tuition is reported at $467 per credit in-state and $913 out-of-state.

The Chapman Graduate School of Business at Florida International University offers a variety of part-time MBA options, including a Professional MBA Weekend, Professional MBA Downtown, Professional MBA Flex, and an the Professional MBA Online. In all, the school currently holds the 109th spot on the U.S. News & World Report part-time MBA ranking.
Each option is tailored to particular needs of the working professional, ranging in options from accelerated course schedules to flexibility in electives and field specialization.
Chapman's Online program is AACSB-accredited and the school's part-time programs boast a $103,000 average salary. Total in-state tuition is $48,000 while out-of-staters can expect to pay $54,000.
About the Author