What is Dell Looking for When it Comes to MBA Talent?

When considering jobs and internships, MBAs may reflect on the diverse set of skills and experience they've acquired. And few industries are witnessing a greater reflection of those diverse skills than tech.
Dell Technologies is one organization that has demonstrated a major commitment to hiring MBAs for their fresh knowledge and ideas, as evident in its 2020 'Legacy of Good' Plan.
Dell MBA Recruitment
The tech giant is pushing for 25 percent of all external hiring to come from university recruitment; a goal which is well on its way to becoming a reality. Marie Moynihan, Dell's Senior Vice President of Global Talent Acquisition, notes that, "[Dell works] hard to create an inclusive environment to help team members develop their skills and build their careers while maintaining work-life balance. We're proud to see those efforts paying off." Moynihan also points out the entrepreneurial culture as a huge draw for Dell MBA recruitment.
Current openings for MBAs at Dell include Technical Marketing Manager, Senior Technical Program Manager, and Field Marketing Consultant (Western Region).
One recent Glassdoor employee review states, "Generally speaking, once you are in at Dell, they will take care of you if you work hard."
Other hires note the company's inviting flexibility, allowing employees to often work remotely. In addition, many employees praise the company for a nice blend of work/life balance, competitive salaries, and a "great" culture. Close to 80 percent of employees in a Glassdoor survey would recommend employment at Dell to friends. Upper level management received high marks as well.
The competitive salaries for Dell employees, unsurprisingly, was higher on average for MBA graduates. The majority of MBA holders at Dell earn more than $100,000 per year, according to PayScale data.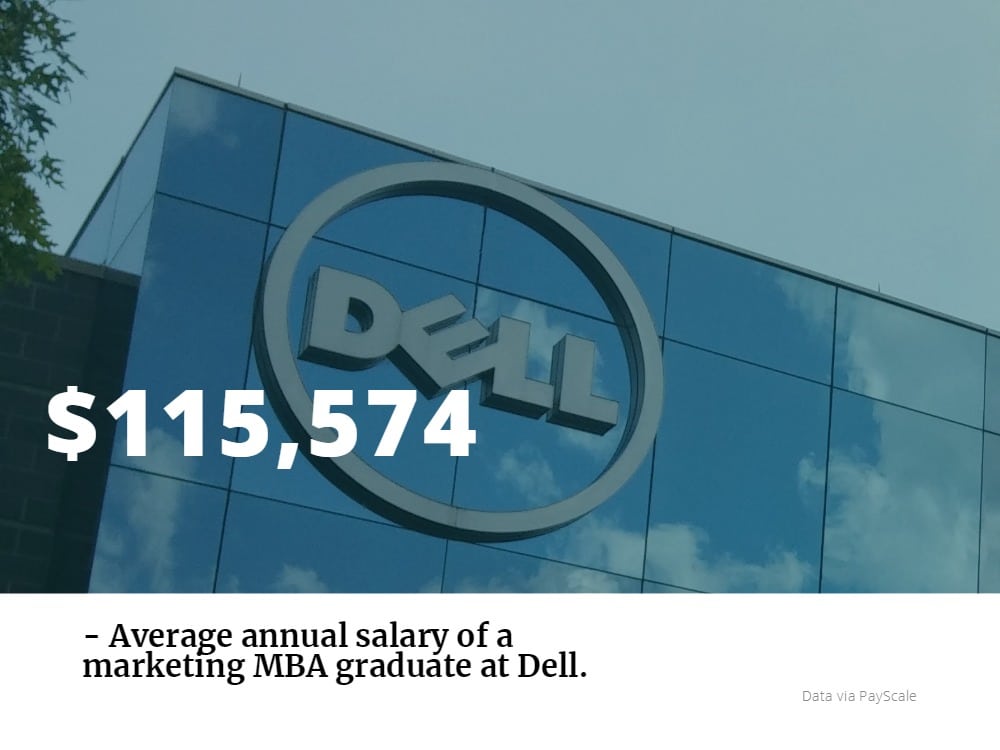 Working At Dell
Shikhar Pandev, a Senior Data Intelligence Engineer at Dell, says, "I was hired right out of college, and in four years, I have five product patents in the U.S. Patent Office."
"We behave like a startup … we disrupt ourselves." says Senior Systems Engineer Ronald Pereira.
Supply chain, marketing, and business operations are just a few of the roles for which Dell hires MBAs. Because of this, the company prides itself on cross training employees to excel in a variety of functions. Maria Crabtree, Dell University Relations and Diversity Manager for North America, notes that interns are often given real-time projects to see how they can deliver their best work for the company. Other factors such as team engagement and trust also rate high in the criteria of full-time hiring after internships.
Dell headquarters are located in Round Rock, TX, but Crabtree points out that MBA hiring is geographically wide. With active recruitment from over 15 MBA programs, Dell pays attention to rankings, along with the number of high-performing graduates.
Dell MBA recruitment takes place at well-known business schools, such as the Penn State Smeal College of Business. In addition, the company often recruits from the Texas A&M Mays Business School, UC Berkeley Haas, and more.
About the Author