KSU Opens New Location, Blackstone Exec Addresses McDonough Grads, and More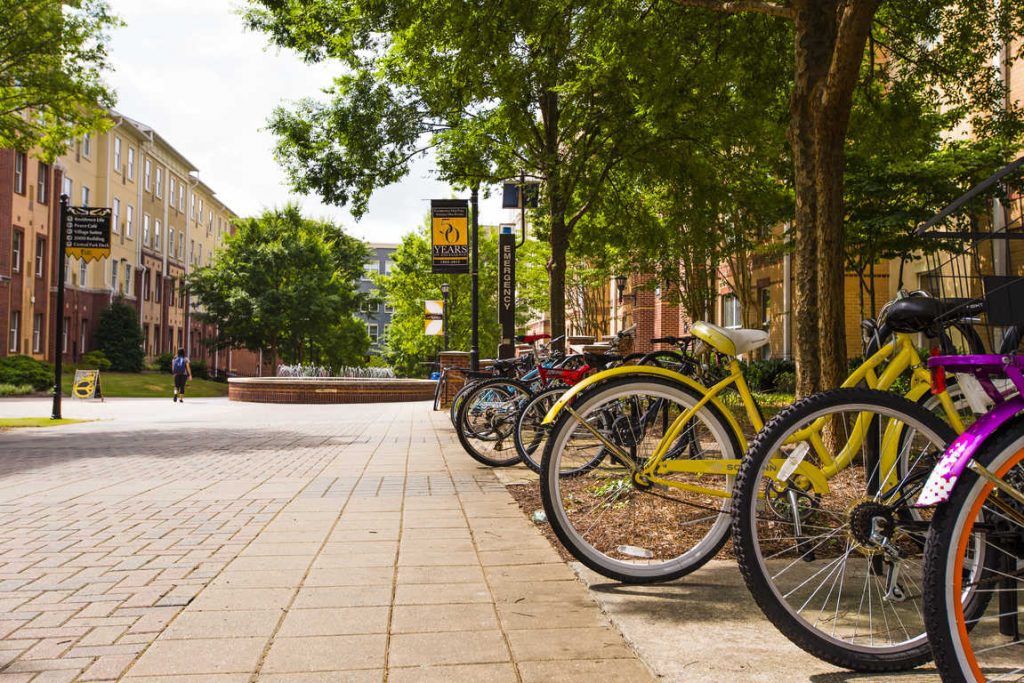 Let's take a look at some of the biggest stories from this week, including the a new Coles MBA classes held in Sandy Springs.
---
Next fall, Kennesaw State University's Michael J. Coles College of Business will expand its MBA course offerings to Sandy Springs, GA. This will be the school's third location.
MBA courses are currently offered at the Kennesaw Campus and the Cobb Galleria. The campus' new extension is the result of a partnership between Kennesaw State, the City of Sandy Springs, and its Chamber of Commerce. Robin Cheramie, Coles Interim Dean, announced the new offerings. "We are thrilled to be opening our doors to the business community in Sandy Springs. The partnership … creates more opportunities for KSU to provide career-enhancing education to Atlanta's business population."
Increased demand for part-time MBA courses in Atlanta's metropolitan area was the catalyst for the Sandy Springs location, which was first announced in April 2018. The area has a high number of working professionals who will greatly benefit from the chance to complete their studies without interrupting work schedules.
Sandy Springs Chamber of Commerce Tim Mahaffey says, "With the KSU program located [here], employees will have the convenience of leaving their workplace and being in their classrooms within minutes."
You can read here for more on the new Kennesaw State University MBA classes.
---
Georgetown University McDonough School of Business alum Joseph Patrick Barratta II, (B '93) will deliver the commencement address on May 17, 2019.
Barratta is a Senior Managing Director and the Global Head of Private Equity at Blackstone. After joining the firm in 1998, Barratta advanced quickly to help establish its European corporate private equity business in London. Over his two decades with Blackstone, he has been responsible for many of its most significant private equity transactions.
A trustee of the Tate Foundation, Barratta also serves as a board member of Year Up, which assists youth with employment training. Among his service commitments to Georgetown are his membership of the University's Board of Directors and the McDonough Global Business Initiative Advisory Board. Along with his wife, Abigail, he established the Baratta Endowed Global Business Education Fund and the Baratta Endowed Chair in Global Business. For more on 2019 Commencement events at Georgetown McDonough School of Business, click here.
---
Students at University of Colorado's Leeds School of Business have put their knowledge to work by assisting residents with annual tax returns.
The IRS sponsored Volunteer Income Tax Assistance (VITA) Program provides low-income Boulder residents the opportunity to file their tax returns with one-on-one help from business and law school students. Throughout the ten year program, residents have received $4 million in refunds, $1.3 million in earned income tax credit and $700,000 each in education tax credits and child tax credits.
In order to volunteer, students must first receive a certification from the IRS, and each return is checked by other volunteers who are well versed in tax law. Susan Morley, Senior Accounting Instructor and Faculty Advisor of the Leeds' VITA program says:
"It is a very humbling and rewarding experience to provide this valuable service to the community. We are excited to continue this service in the future, and we know our students and community volunteers are excited to continue to serve Boulder County."
To be eligible for assistance, residents must earn less than $54,000 per year. Those with disabilities and non-English speaking residents are also eligible. Read more about VITA and Leeds' community service efforts here.
---
A recent discussion at UNC Kenan-Flagler Business School addressed a question we've all asked: how can I make LinkedIn work for me?
Megan Parker, Senior Associate Director of Coaching in UNC Kenan-Flagler's MBA Career and Leadership team, offered a number of key guidelines for making the most of the professional networking site. Among them were how to create a profile that's effective, how to optimize the site for networking, and perhaps most importantly, what recruiters and employers are seeking when they use LinkedIn.
The goal, she says, is to first shape your profile to match what recruiters are looking for, and then to focus upon your unique skills. Crafting the right headline, using your LinkedIn summary to reach your target audience, and using your profile to share content and updates relevant to your profession all increase your visibility, Parker said.
The talk was part of UNC Kenan-Flagler's 2019 Alumni Weekend.
About the Author