Friday News Roundup – Sustainability at NYU, Ohio State Commencement, and More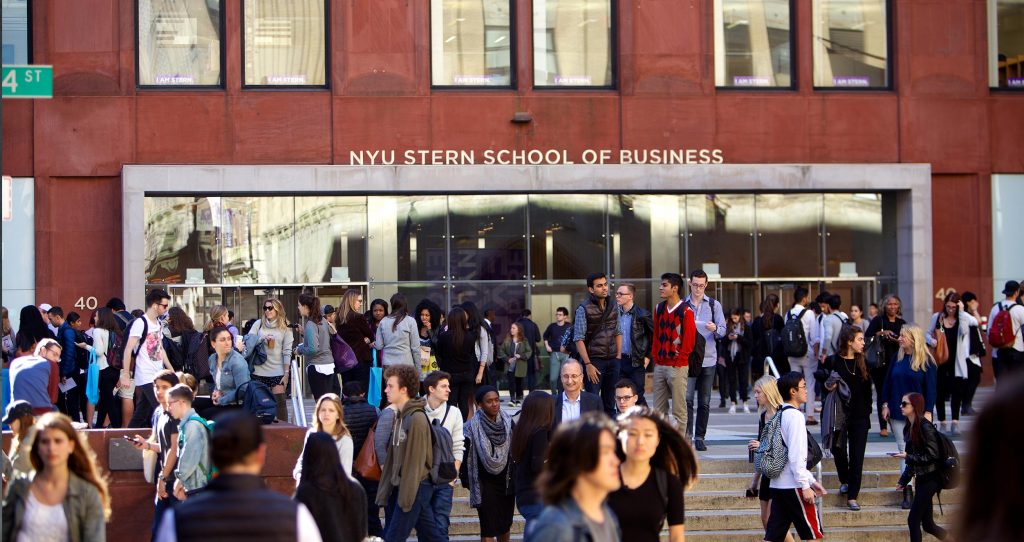 Let's take a look at some of the biggest stories from this week, including the new NYU sustainability efforts at the Stern School of Business, OSU Fisher commencement's celebrity speakers, and more.
---
In support of New York City planners' efforts to implement sustainable development initiatives, NYU's Stern Center for Sustainable Business has launched "Invest NYC SDG" (Sustainable Development Goals).
The Goldman Sachs Center for Environmental Markets and PepsiCo have donated $350,000 to jump start Invest NYC SDG's efforts.  Invest NYC SDG is comprised of a team of investors and corporate leaders who will address such challenges as access to clean energy, affordable housing, and climate change resilience. Employment, revitalization, and responsible urban development are the initiative's key goals.
Professor Tensie Whelan, founding director of NYU Stern's Center for Sustainable Business says, "We are excited to develop a shared vision for the future of sustainable economic development in NYC with a wide group of public and private sector stakeholders, and longer-term, help others to replicate that vision in cities across the world."
Read here for more on Stern and Invest NYC SDG.
---
Ohio State University's Fisher College of Business will hold pre-commencement ceremonies on May 5, 2019.
Fisher holds this event to honor b-school students prior to the all-school commencement on the same day. This year, Fisher will honor 225 MBA, HR Management and Specialized Master of Finance graduates, 69 Masters of Accounting (MAcc) grads, and 32 EMBAs.
Headlining the event as a speaker will be Peter Cohen, who graduated from Fisher in 1968 and later went on to become Wall Street's youngest CEO at the age of 36. Gary Price, partner affairs leader and chief administrative officer at PwC will deliver the MAcc keynote address. A 1983 Fisher grad, Price remains engaged with the Accounting and Management Information Systems Departments at Fisher.
The EMBA ceremony will feature speeches from the class valedictorian, along with an awards presentation. Commencement for the larger OSU community will be at noon on May 5, and will feature an address by Fareed Zakaria, columnist for The Washington Post, a contributing editor for The Atlantic, and CNN Worldwide host.
For more on the Ohio State commencement speakers, click here.
---
Rutgers University in Newark served as host to the New Jersey Social Entrepreneurship Summit last month, bringing together innovators and impact investors, and other leaders creating change through their businesses.
Among the issues presented by speakers were how to legally structure a business to be recognized as a social impact venture; how to form a narrative to draw investors, and the best ways to align profit with a socially responsible mission. Jeffrey Robinson, Associate Professor of Management and Entrepreneurship and Academic Director of The Center for Urban Entrepreneurship & Economic Development (CUEED) at THE Rutgers Business School, led the Summit.
Robinson said of the event:
"[Its] purpose was to raise the profile of social entrepreneurship in New Jersey by bringing leaders of the social sector and entrepreneurs who address social and environmental problems in their businesses together to learn from and support one another."
The New Jersey Office of Faith Based Initiatives, the Pro Bono Partnership of New Jersey, and Uplift Ventures were just a few of the Summit's participants, which was attended by 250 students and members of the surrounding community. You can read more about the Summit here.
---
Led by Nurit Katz (MBA/MPP '08), Executive Director of Facilities Management and the university's first Chief Officer of Sustainability, UCLA Anderson is aiming to become a nationwide leader in the use of active transportation around campus.
"Our Healthy Campus Initiative integrates well with the UCLA Grand Challenges of climate change and mental health because the overall goal is wellness in body and mind—our health depends on environmental health," says Katz. UCLA is a participant in LA's Bike to Work Week, and also launched the popular Bruin Bike Share program which is part of the region's larger bike share initiative.
Katz has been a strong proponent of cycling and other forms of active transportation on campus since she attended Anderson. Along with founding the university's Sustainable Resource Center, she also serves on the advisory boards of Sustainable Works and the Green Business Council of Southern California, as well as on the steering committee of the USGBC Resilience LA Initiative. She also is a member of the California Higher Education Sustainability Conference Steering Committee.
Katz, who completed a full Ironman distance triathlon in 2010, is one of UCLA Anderson's 'Inspirational 100' alumni. Read here for more on Katz and her work.
---
Boston University Questrom School of Business Professor Marshall Van Alstyne, one of the world's leading experts in information business models, has been honored by the World Economic Forum for exceptional work in his field.
His research on the theory of network effects, which is now taught worldwide, explores the relationships between communications markets, intellectual property, and the social effects of technology. Van Alstyne, along with his co-authors Michael G. Jacobides of the London Business School and NYU Stern's Arun Sundararajan, presented their whitepaper to members of the forum as part of its Digital Transformation Initiative.
Bruce Weinelt, the head of the DTI and member of the WEF's leadership team, says:
"The DTI is a multi-year engagement analyzing the impact of digital transformation on individual sectors on the enterprise and on society at large … One of the notable findings of this project is the development of a unique economic framework which actually identifies and quantifies the impact of digital on industry as well as society."
You can check out the whitepaper, along with Van Alstyne's presentation, online.
About the Author