Top MBA Recruiters: Finding Your MBA Career at PwC Firm Strategy&

Navigating job applications and interviews after all the hard work of earning your MBA can be tiresome. After devoting a year or more of your time to gaining the skills of a top business professional, shouldn't future companies be knocking down your door?
It might not be that easy, but there are certainly a number of companies currently seeking the best and the brightest up-and-coming business leaders, who acknowledge the kind of skills an MBA can contribute to their team. Among them is Strategy&, one of the top recruiters of MBA students at business schools throughout the world.
For MBA graduates looking for careers in the consulting industry, Strategy& could be the perfect opportunity to break into the field and develop critical skills in strategy and consulting. And as an MBA graduate with a wealth of knowledge within the industry, companies like Strategy& are probably also looking for you.
About Strategy&
Strategy& was established more than 100 years ago by Edwin G. Booz, eventually being known for most of its life as Booz & Company. In 2014, the firm was acquired by PricewaterhouseCoopers (PwC), when it was renamed to Strategy&. The firm is headquartered in New York City, with more than 57 offices throughout the world. Today, the company features roughly 3,000 employees and more more than $1.3 billion in revenue.
Strategy& functions currently as the strategy consulting team for PwC, offering strategic solutions in an uneven business climate, helping companies to transform, invest in growth, and stay in tune with business trends even through rapidly changing times.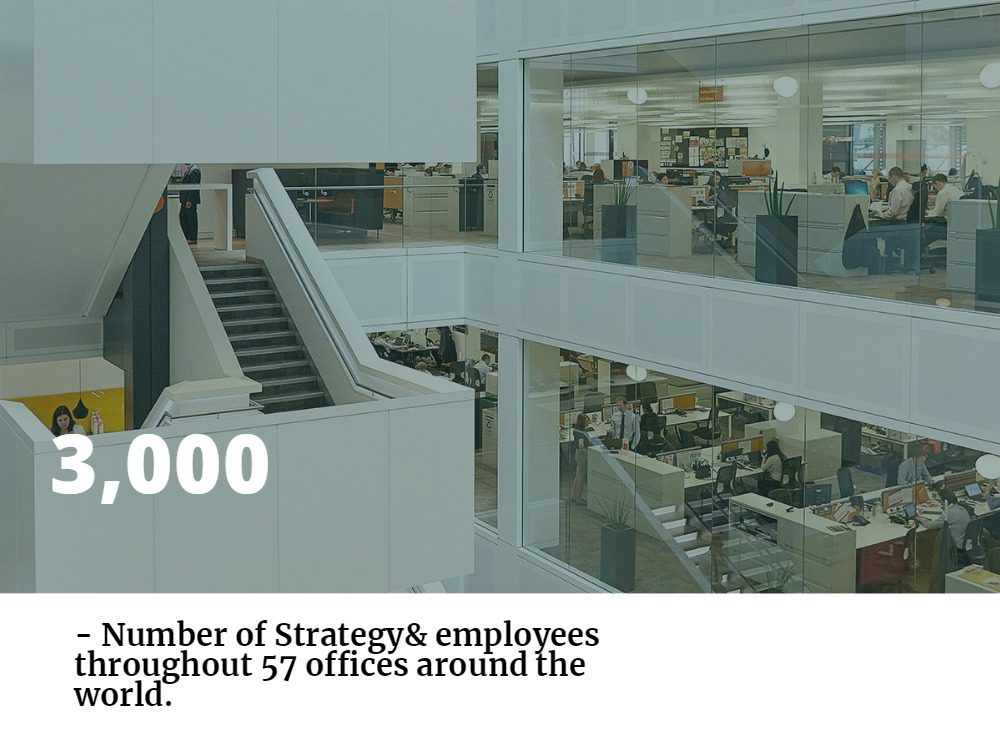 Why MBAs Love Strategy&
Strategy& is an active recruiter from business schools around the world, including top programs like Harvard Business School, NYU Stern, and INSEAD, among many others. The company is also supportive of staff who have not yet earned an MBA but hope to advance their business education. Strategy& even offers junior staff the chance to apply for full MBA sponsorship, and provides flexible work opportunities so students can pursue a degree while still maintaining their career.
The Strategy& consulting experience is shaped in a way that relies on mentorship, with a 1:6 ratio of partners to junior consultants. For MBA students—who have already demonstrated an interest in investing in their growth and education in the field—this type of setting means that class is always in session.
Life at Strategy&
New consultants at Strategy& can expect a clear and structured path laid out at the start of their career, with rapid career progression possible. New associates will advance towards roles as partners, typically spending two to three years at each level along the way.
While undergraduates would begin in associate roles, those with MBA degrees can jump right in at the senior associate level. Senior associates have the opportunity to develop their skills by working closely alongside clients to resolve complex issues and guide clients and their companies towards success. From there, MBAs could move upward into a manager role, then director, and finally partner.
The development of strong mentor relationships is seen as crucial at Strategy&. Mentors will provide a constant source of support for new associates, offering guidance as they move upwards through the company, choosing projects they are passionate about and forming strong professional networks. Mentors will also provide real-time feedback, helping pave the way for a successful career.
Landing a Job at Strategy&
Strategy& is an active recruiter of MBA programs throughout the country, where they may host events on campus and offer direct information to students on applying for positions at the company. Students from any program, even if the school does not actively recruit there, are able to apply directly for their internship and job openings through their website. Jobs are available at a number of the firm's locations throughout the country and around the globe.
Summer internship opportunities are a great way for students to get their foot in the door at Strategy&, and may end up leading to full time employment. This was the case for Bryan, now a director at the company and based out of Chicago. Bryan interned for the company during the summer while earning his MBA at the University of Chicago Booth School of Business. He completed his MBA in 2011, joined Strategy& as a full-time colleague, and is now a key member of the Technology Strategy team.
"I had the opportunity to do an internship with the firm between my first and second year at business school, and I came away impressed with the caliber and character of the people at the firm," Bryan said of his experience with Strategy&. "In only nine weeks, the camaraderie and professional bonds that I was able to develop with my teammates, fellow interns and leaders at the firm was special."
About the Author