Flex Advantage: Finding Which MBA is Right for you at UC San Diego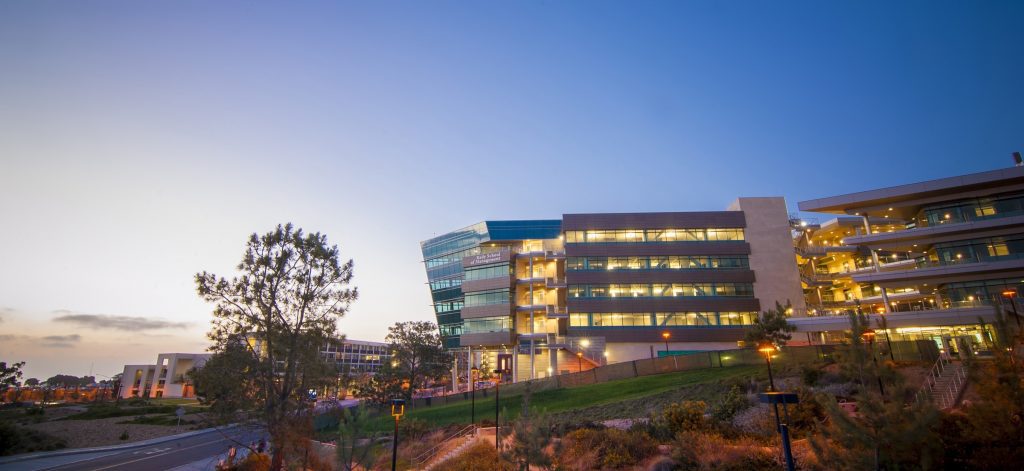 Sponsored Content
On the surface, a part-time MBA decision has obvious benefits. In contrast with full-time MBA degrees, scheduling is often much more flexible, allowing students to complete the program on their own time while continuing their careers outside of the classroom. However, there are more factors that go into the decision-making process before enrolling in business school. How experienced are the faculty? What kinds of experiences can you earn at one school that you cannot at another?
The multiple part-time MBA options at the University of California San Diego Rady School of Management offer consummate answers to these enduring questions. Its FlexWeekend and FlexEvening programs do not fit the traditional part-time MBA billing. Rather, it incorporates elements of the full-time, part-time, and Executive MBA offerings you may find split at many other top-ranked schools, giving students a definitively unique learning opportunity.
Jay Bryant, the Director of Graduate Recruitment and Admissions at the Rady School of Management, tells MetroMBA that, despite its title, the FlexWeekend MBA is similar to a traditional Executive MBA program—primarily designed for students that already have management experience. But to pigeonhole it as a traditional Executive MBA may be short-sighted.
"This program utilizes the same faculty and curricular requirements as the full-time MBA program" Bryant says. "This is different than most weekend programs on the market. The primary difference of our FlexWeekend MBA program versus our other MBA programs is in the experience and professional levels of the students. Whereas our other versions of the MBA are primarily designed as a training ground for future managers, the FlexWeekend MBA is only open to those who are already working in a managerial role of some sort. The insight in the classroom often comes from fellow students who share learning that they have had from prior real-world experiences. The students are able to explore real and tangible situations that they have encountered. The students are decision makers in their organizations and can immediately use the skills attained in the FlexWeekend MBA for a much more informed decision making process."
Regarding the FlexEvening MBA, Bryant likens it to more familiar kinds of part-time offerings, built for various kinds of students. "The FlexEvening MBA at the Rady School of Management" he says, "is specifically designed for busy professionals at varying stages of their career that are unable to leave behind the income of a job, yet want to attain the managerial and business acumen offered through the MBA program. The students come from a wide range of industries, functions, and educational backgrounds. I find one of the best things about the program is that you find the potential and excitement of students who are early in their respective careers working alongside individuals that are much more senior in their roles. The wide variety of students allows for an idea sharing opportunity like no other. More experienced managers have the opportunity to learn from the tech savvy younger students, while the early career individuals learn from those with years of experience in their toolbox."
Working full-time as a single mother, Dina Tassin had a lot to weigh when considering an MBA. But the benefits of the FlexWeekend MBA may have proved obvious. "My work schedule, commute, and family schedule led me to choose the Rady FlexWeekend program," she explains. "I was a single mother and I also had an ambitious corporate career—both required full attention, dedication and time. I also lived in Carlsbad, which meant commute during rush hours."
Despite her arduous schedule, the FlexWeekend program affords Tassin a precise and focused education. "The most significant advantage of FW program is an opportunity for undivided attention and immersion into study mode without interruption," she continues. "The weekend program also allowed to build stronger connections and bonds with classmates, teammates, and faculty. I was able to feel like a student 100 percent without having to break my day into work, home and school."
Even with those apparent benefits, she didn't rush her decision to join the program, however. "I took my time and I did a thorough research on many schools, which included visits, meetings with faculty and even auditing classes," Tassin notes. "It was absolutely clear that Rady was my winner. Quality of faculty and their teaching style made it easy for me to decide."
For a more diversified cohort and less compressed schedule, Tyler Church's path led him to enroll in the FlexEvening MBA program.
"I chose the Rady Evening program for two main reasons," Church tells MetroMBA. "The FlexEvening class profile was most similar to my background when I was looking, and I preferred the model of spreading the classes out over the week as opposed to cramming everything into the weekend. I figured that taking classes over multiple evenings during the week would allow me to better absorb the material."
The decision, Church reveals, brought him into an incredibly diverse class environment.
"The Rady FlexEvening program attracts experienced professionals with a broad range of functional and industry expertise that will enhance the experience," he says. "In my cohort, we had students with Ph.D.s in life sciences, military veterans, start up entrepreneurs, and professionals from large corporations. Our class discussions were lively and intellectually stimulating, and we had a lot of fun. Plus the professors are top notch. With San Diego being such a great place to live and UC San Diego being a world renowned university, Rady is able to continually attract the best and brightest faculty."
Not coincidentally, there is another defining link that led both students to UC San Diego: the enriching and inviting Southern California culture and business environment. "The Rady campus is beautiful and sits in one of the most desirable locations in the world," Church illustrates. "I enjoyed watching sunsets over the Pacific on the top floors of Wells Fargo Hall."
Bryant, as well, seess some obvious benefits Rady students get just by being in Southern California.
"What really makes these programs unique among similar programs at other schools is the connection to the innovation economy of California," he explains. "Our California Institute for Innovation and Collaboration (CIID: prounonced 'seed') works with interested students who are interested in starting their own entrepreneurial ventures. This is a great opportunity to start building the foundation of your organization within the safety of the educational environment."
"Furthermore," he continues, "the Rady network is tightly connected to California's innovation economy. Companies hire our students with the expectation that they are ready to take on the challenges of industries which require constant change, growth, and innovative thinking. The Rady School pushes students to think outside the box and to what is 'next'. Not only is the curriculum designed this way, but all of the staff, faculty, alumni and students in our programs have an innovation-driven mindset that creates the unique Rady School community."
Even for those that enroll in either the Rady FlexWeekend or FlexEvening program and want to transfer to the other, the change is relatively seamless. "To transfer from one program to another," Bryant says, "the student must work with Student Services and Admissions to make sure they meet the minimum standards for each program. However, it is possible to take elective courses with other cohorts which does give individuals the opportunity to move in and out of the various programs."
---
About the Author