Pick Your City: Should You Get an MBA in Charlotte or Atlanta?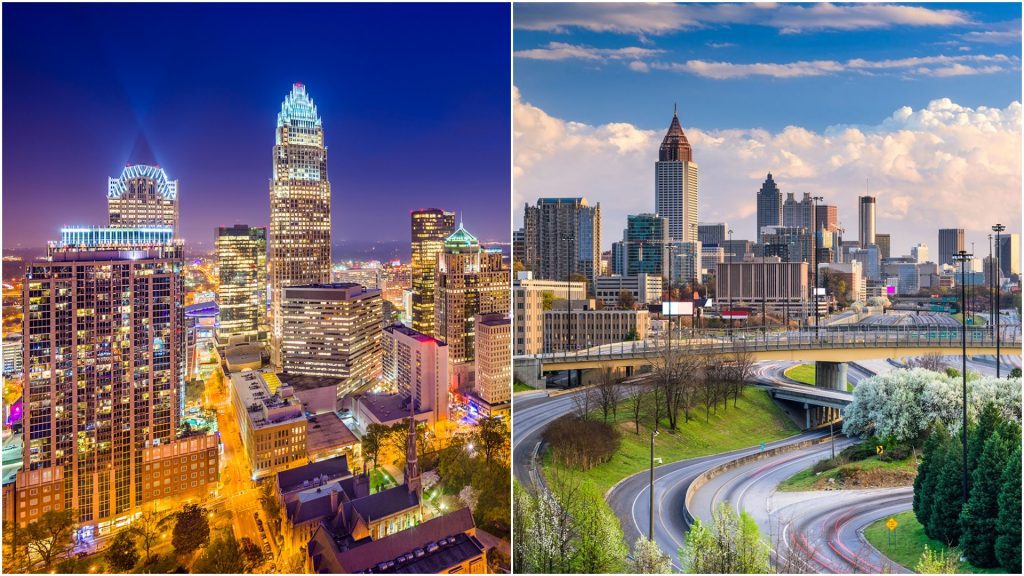 Where should you go to school in the Southeastern U.S.? There are many different options, so it depends on what you're looking for. To make the best choice, you need to compare the cost of living of each city, the MBA programs available, the job opportunities, and the benefits of each area.
To help you out, our "Pick Your City" series breaks down two similar locations to help you make the best decision for you. In this article, we're comparing Charlotte, NC and Atlanta, GA to see what each offers.
Charlotte vs Atlanta: Cost of Living
According to BestPlaces, for affordability, you'd be best choosing Charlotte, NC. Atlanta is 8.2 percent more expensive overall, mostly due to housing which costs 19.8 percent more—$261,700 in Atlanta vs. $218,400 in Charlotte. This is how some of the specifics of cost of living break down:
Median income: $58,202 in Charlotte vs. $51,701 in Atlanta.
Unemployment rate: 7 percent in Charlotte vs. 4.2 percent in Atlanta.
Future job growth: 2 percent in Charlotte vs. 46.8 percent in Atlanta.
Average Rent: $1,406 in Charlotte vs. $1,603 in Atlanta.
Charlotte vs Atlanta: Culture
What about the culture of each city, which one best fits your lifestyle? Charlotte is the most populous city in North Carolina, which means you get to enjoy all the amenities of a big metro area—the sixteenth largest in the U.S. It's also fast-growing metro area, ranked first for growth between 2004 and 2014. Atlanta is also the most populous city in its state of Georgia. However, that winds up being half the size of Charlotte—although its though still a large metro area. It's the specifics of culture that change up to two cities.
The Charlotte Lifestyle
Charlotte is a major center for the U.S. motorsports industry. It houses multiple NASCAR offices and is home to the Charlotte Motor Speedway. In fact, 75 percent of the NASCAR industry's race teams, employees, and drivers are based here.
The city is also home to many annual festivals and events: Charlotte Pride draws 150,000 revelers each year; the annual CIAA Basketball Tournament draws in over 100,00 alumni and fans; and the Yiasou Greek Festival is an award-winning event that's been around since 1978.
Charlotte offers a little bit of something for everyone. Downtown is filled with antique shops, eccentric restaurants, beautiful parks, museums, and lots of activities. There's also a serious love of art and must in the city with gallery crawls, live concerts, and more.
The Atlanta Lifestyle
Atlanta has a dynamic but distinctly Southern culture. It's home to a large population of migrants from all around the U.S. as well many new immigrants, making it a multi-cultural hub in the Southeast. Thus, it's considered a cosmopolitan city with quirky neighborhoods and a wonderful cultural fabric.
Atlanta is also very focused on the arts. It is one of the few cities in the U.S. with permanent, professional, and resident companies for opera, ballet, orchestral music, and theater. Which means there are always great concerts, shows, exhibitions, and Broadway acts to enjoy at the Woodruff Arts Center, The Fox Theater, or the Alliance Theater.
Atlanta is also a popular tourist destination, attracting 35 million visitors per year. The Georgia Aquarium, the world's largest indoor aquarium, is one of the main attractions, but so is Martin Luther King Jr.'s childhood home. There's also the Atlanta Botanical Garden, the National Center for Civil and Human Rights, and the World of Coca-Cola.
Charlotte vs Atlanta: Job Opportunities
Charlotte is a major U.S. financial center. It has the second-most banking assets after New York City. In fact, the nation's second largest financial institution, Bank of America, calls the city home. Charlotte is also the regional headquarters of Wells Fargo, Microsoft's east coast headquarters, and it's a home for Honeywell. And in 2017, Forbes ranked Charlotte second on its list of "The Cities Creating the Most Tech Jobs."
Other top employers for the Charlotte area, include:
Duke Energy
Lowe's Inc
Sonic Automotive
Nucor
Sealed Air
Coca-Cola Bottling C.
SPX
Domtar
LendingTree
Atlanta's metropolitan area is home to the tenth-largest economy in the country, and among the top 20 in the world. The city is also headquarters to many well-known corporations such as The Coca-Cola Company, Home Depot, Delta Airlines, AT&T Mobility, Chick-fil-A, and UPS. In fact, more than 65 percent of Fortune 1000 companies conduct business in the area. Media, transportation and logistics, information and technology, film and television are all big industries in the area.
Top employers in Atlanta, include:
Piedmont Healthcare
Publix Super Markets
The Kroger Co.
Cox Enterprises
Southern Company
State Farm
SunTrust Bank
WellStar Health Systems
Charlotte vs Atlanta: MBA Programs
Both Charlotte and Atlanta are home to some well-known business schools with quality MBA programs. We'll take a quick look at the top three programs in each location.
Charlotte MBA Programs
University of North Carolina Kenan-Flagler Business School: Though technically located in Chapel Hill (2.5 hours away), the Kenan-Flagler Business School is a top-rated institution with a Charlotte campus. Its full-time MBA program is ranked in the top 30 in the world by The Economist, Forbes, Bloomberg, and U.S. News & World Report. And students can choose between the full-time MBA, Executive MBA, and online MBA.
Queen's University of Charlotte McColl School of Business: The McColl School offers a flexible MBA program that's a hybrid of on-campus and online courses. Students can graduate in as few as two years or stretch it out longer to fit their schedule.
University of South Carolina Darla Moore School of Business: Located in Columbia, SC, just two hours outside of Charlotte, the Darla Moore School offers a full-time and professional MBA. Students can choose between the one-year MBA and the two-year international MBA, which is ranked as the best international business school program in the United States by U.S. News & World Report.
Atlanta MBA Programs
Emory University's Goizueta Business School: Goizueta offers a full-time, evening, and Executive MBA option. Ranked as one of the top 30 MBA programs in the world by The Economist, Forbes, Bloomberg, and U.S. News & World Report, it's a prestigious business school offering an MBA program with 20 different concentrations.
Mercer University's Eugene Q. Stetson School of Business and Economics: The Stetson School has a full-time, evening, online, and professional MBA option. Students in the full-time program can graduate in as little as ten to twelve months after completing 36 or 45 credit hours, depending on if you need the Business Foundations Module.
University of Georgia Terry College of Business: The Terry College offers a full-time MBA, professional MBA, and Executive MBA option. Ranked in the top 50 by the U.S. News & World Report, Forbes, and The Economist, it's a well-known program encompassing concentrations in nine areas.
About the Author