Register for the 2019 Forté MBA Forums for Women
Registration is open for the 2019 Forté MBA Forums.  Designed for women considering an MBA, the Forums provide an ideal opportunity to learn more about the value of an MBA from admissions reps, alumnae, and current students at top business schools. Open to all women—career changers, college students planning the future, or career professionals looking to go to the next level—the events provide a distinct MBA advantage.
About the Forté MBA Forums
The MBA Forums are FREE and held in 11 cities across the U.S. and Europe. The events are a chance for women to build their peer support network and meet other successful businesswomen from a diverse range of industries. The MBA Forums offers exclusive insights into the MBA admissions process.
"The Forté Forum event provided the exact insights we were looking for," said Madeline Keulen, Forté MBA Forum attendee and 2019 HBS alum. "Most of the schools I was interested in had representatives at the event who could speak to the specifics of their programs, and panels of alumni enhanced the richness of the experience through their personal stories of why they chose to pursue an MBA. I have a much better sense of where I'd fit best."
2019 Event Dates and Locations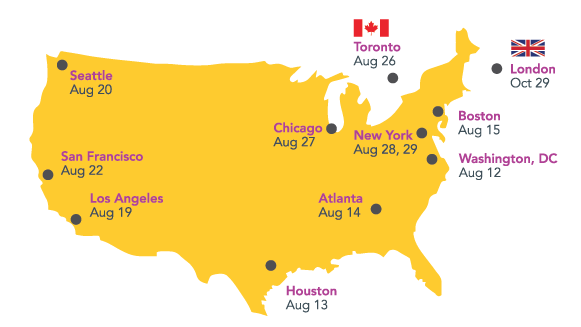 August 12, Washington, D.C.
August 13, Houston, TX
August 14,  Atlanta, GA
August 15,  Boston, MA
August 19,  Los Angeles, CA
August 20, Seattle, WA
August 22, San Francisco, CA
August 26, Toronto, Canada
August 27, Chicago, IL
August 28, New York City, NY
October 29, London, England
Sample Event Format
6–8:15 p.m. – Registration and School Fair
Connect with admissions at top business schools
Learn more about the admissions process
Find the right school for you
Networking reception
7–8 p.m. – MBA Alumnae Panel
Get advice and hear stories from top MBA women in a range of industries and at various career stages. Learn what motivated them to earn their MBA and the successes and challenges they've faced.
8:15–9 p.m. – Admissions Panel
Enjoy a panel of seasoned MBA admissions professionals from top programs. Learn more about admissions requirements, researching schools, applications, and financing.
Visit the site to see more details about locations and to register!
About the Author