Top MBA Recruiters: Invesco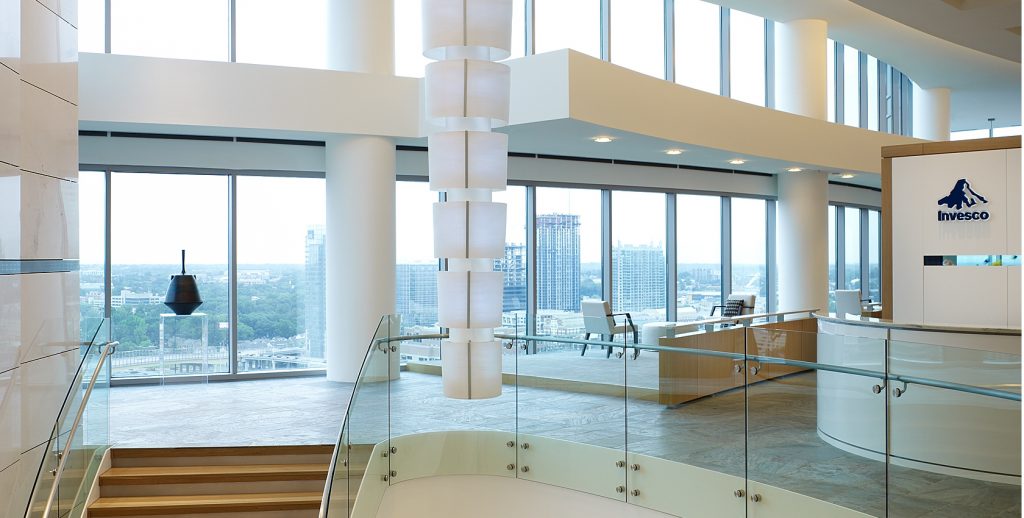 Founded in Atlanta in 1978, investment management firm Invesco has become a global leader in the field, with offices in 25 countries and over $11 billion in managed funds for its clients.
The firm, as of a July 2019, features around 8,000 employees. U.S. offices, in addition to the Atlanta headquarters, include Chicago, Dallas, Austin, Newport Beach, CA, Los Altos CA, Portland OR, Boston, and New York City.
MBAs with various levels of career experience contribute to the large talent pool from which Invesco hires. Here, we'll break down the firm's recruitment and hiring process, salary, and an overview of company culture.
Landing an Invesco Career
Invesco, like most global asset management firms of its size, has an in-house recruitment team that seeks graduate level students throughout the year. With an Early Career program for those just starting after their MBA studies, Invesco prides itself on grooming 'future asset management leaders.' Analyst roles are the most prevalent for recently graduated hires, and MBAs who possess previous work experience are obviously considered for commensurate positions.
An early career Properties Analyst in the Atlanta office says:
"What I like most about working at Invesco is the opportunities I've been given in my job. I'm a recent grad; at other companies I was just there and didn't have a ton to do. Once I started my job at Invesco, I've had challenging assignments and so many interesting projects to work on – it's really helped develop my skills and prepared me for my next role."
The company's website offers a talent network  which enables applicants to obtain optimal job matches for their backgrounds. It prides itself upon honoring their applicants' individual areas of expertise; each new hire is asked questions regarding the division in which they believe they would function best. MBAs are sought in all divisions, but a large number are hired in Finance & Accounting, Quantitative Analytics, Investment Services & Operations, Marketing & Product Management, and Sales.
Paysa reports that the most valued skills as Invesco are related to investments, with 39 percent of hires possessing this type of background. This is followed by experience in mutual funds (29 percent of hires); general management (29 percent), and asset management (27 percent).
As for interviews, Glassdoor data shows that 66 percent surveyed reported a positive experience. Around 39 percent of those who interviewed applied online, 19 percent were interviewed via referral, and 28 percent were recruited either on a campus or from another employer.
Invesco Career Compensation
New York City Invesco employees typically see the highest annual salaries ($132,000), according to Paysa. Boston follows in second ($129,000), then San Francisco ($126,000), Atlanta ($116,000), and Dallas-Fort Worth ($105,000). The overall base salary average at Invesco is $102,661. This includes a base salary of $70,000 in the 25th percentile and $125,000 in the 25th percentile.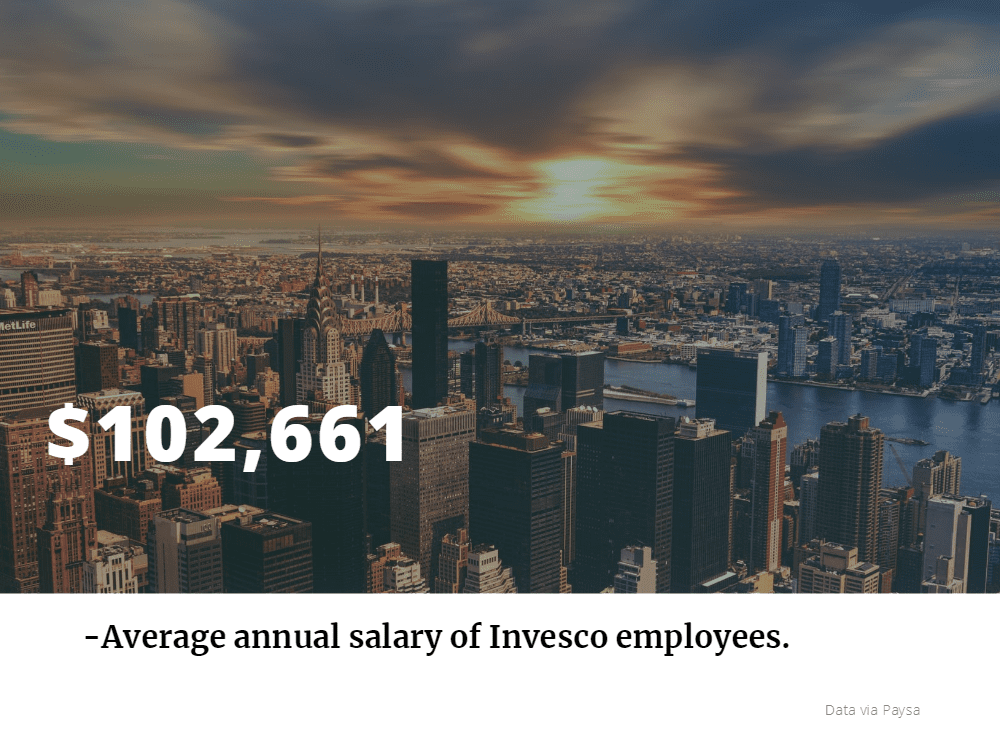 Accountants in various departments start out closer to the lower percentile. Fund accountants, along with those that manage corporate accounts, make an average of $54,000 and a range of $48,000-68,000. Senior accountants bump up to a range of $62,000-73,000. Analysts working in equities average $95,000 on average, while financial reporting analysts bring in an average of $80,000. Portfolio administrators typically earn around $60,000.
Averages for management roles at Invesco include the following:
Director – $109,000
Program Manager – $119,000
Project Lead – $108,000.
As for marketing roles, business analysts make $107,000 on average, Senior Business Analysts earn $116,000, and Marketing Managers earn $73,000, on average.
Invesco is in the top 300 highest paid finance companies according to Paysa, at 280th.
Life at Invesco
A July 2019 Indeed review on Invesco states, "Depending on the department, Invesco is a great company to work for. Some areas allow employees to work remote a few days a week and Friday's and Monday's are generally casual dress days. The work life balance is good in most departments and the benefits are okay. The health plan is way too expensive but it covers a lot. Most employees throughout the company are driven, intelligent and work hard because they really take pride in what they do and in the company as a whole."
Another employee reports "great benefits and development opportunities," and a veteran employee noted, "I worked at Invesco for 18 years so there were a lot of changes … Early morning and close of day were very busy. I had an excellent supervisor who was very supportive and made work a lot easier. Best company I ever worked for."
The company boasts a "diverse and inclusive culture," though it is reported to be made up of a 52 percent white, male identifying workforce. About 31 percent of employees are female identifying, while 20 percent did not disclose gender. Around 36 percent did not disclose ethnicity, but those who did were 7 percent Asian, 4 percent LatinX, and 1 percent African descent.
Invesco makes an effort to involve employees in charitable organizations, with volunteer events and giving opportunities. The company also prides itself on responsible investment, as stated in its 2018 Corporate Social Responsibility Report. The company offers competitive health coverage, parental leave, compensation for education and certifications, retirement planning and income protection. Like many of its peers, Invesco also offers compensation for gym memberships and wellness programs.
About the Author