Detroit MBA Programs That Don't Require the GMAT or GRE

Below is a list of Detroit MBA programs that do not require the GMAT or GRE. More information on the GMAT and GRE can be found in our MetroMBA No GMAT and GRE Guide and a complete list of MBA programs in the Detroit region on our Detroit Metro MBA page.  Detroit is known for its automotive industry, including top employers such as the Ford Motor Company, General Motors, and Chrysler.  In addition to the automotive industry, there is also a strong healthcare industry, which includes Henry Ford Health System, St. John Health System, Trinity Health, and Beaumont Hospitals.
Please note that many of these programs are executive MBA programs, which typically cater to applicants with many years of professional experience. Click on a program profile below to see if you meet the eligibility requirements for Detroit MBA programs that do not require the GMAT or GRE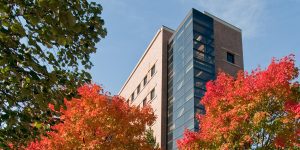 Select Michigan State Eli Broad College of Business full-time MBA applicants may not be required to submit GMAT/GRE scores. However, most applicants are required to do so. However, Executive MBA applicants at the business school do not have to submit any graduate test scores.
It is important to note that due to the impact of COVID-19 on MBA and MS admissions, more Detroit MBA programs don't require the GMAT or GRE.  In addition, more schools are also expanding their GMAT/GRE waiver to accommodate applicants.