May 10, 2017

Online-centered content on MetroMBA is brought to you exclusively by our partner MBA@Syracuse, the #10 ranked online MBA in the world from Syracuse University. GMAT waivers available. Click here to learn more.
Applying for and pursuing an MBA degree can be an overwhelming process—one that begins long before your first day of classes. Even if you've narrowed down a metro and business school, most schools offer a number of diverse MBA options, offering students the chance to choose the MBA program that fits best into their life.
Most business schools acknowledge that their students have busy professional lives outside of school, and provide options such as part-time or Online MBAs to ensure that they needn't put their careers on hold while they pursue their degree. Still, with online degree programs a somewhat new offering in education, many prospective students wonder if they might miss something by not pursuing the traditional MBA in the classroom.
Choosing to pursue an MBA online or in a classroom setting may come down to many factors, from cost to career path to individual learning style. Nevertheless, figuring out which one is just right for you is not always a straightforward task. Here, we compare the various benefits of each program to help you decide which style is right for you:
An Online MBA Or Full-Time MBA: What Should You Pursue?
The Full-Time MBA
While there are many benefits to the online MBA—discussed below—many students still choose to earn a traditional full-time MBA in the classroom. There may be a number of reasons why a student would choose this option, most which deal with their particular learning style. For one, pursuing an online MBA takes a great deal of self-motivation and discipline, especially without the structure of a classroom to keep students on course when it comes to deadlines and effort. If a student knows that they struggle with time management and self-discipline, a traditional MBA may be the better choice for them as the classroom setting provides an inherent structure to the program that an online MBA often lacks.
Online classes also typically require a high level of class participation, to ensure that students at home don't lose focus and stay engaged. Prospective students who are less likely to be engaged in a classroom may find it even more difficult to keep up in a setting where they are more distanced from their classmates or faculty. A traditional MBA may be better for students who need the direct and immediate response that a classroom setting can provide.
Finally, while employer perception of online MBAs has been changing in recent years, there are still many critics of online degrees, and in the past data has shown graduates of online degrees may not increase their salaries as significantly post-MBA as full-time students. Though this has changed in recent years, many students still have concerns about online education and its perception by employers. A recent LearningHouse study found that 27 percent of online students voiced concerns about employer's perceptions of online study. The same number named their biggest concern as issues of motivation and attentiveness. If you think concerns such as these might interfere with an effective learning process, opting for a full-time traditional degree may allay any anxiety about the online approach.
The Online MBA
If the common concerns of perception and motivation aren't on your mind, you may want to consider the many benefits of earning an online MBA—chief among them is the flexibility that goes along with an online program. Students pursuing online degrees don't need to put their careers on hold as they pursue an advanced education, and maintaining a career and school simultaneously demonstrates a level of commitment that can be very appealing to prospective employers. And while the cost of some online degrees are often similar to their in-classroom counterpart, the addition of two years of lost salary with a full-time degree can make the total cost far greater than a degree online. Another benefit is the fact that many online MBA programs do not require students to take the GMAT or GRE, which can save a tremendous amount of time, money, and anxiety for those who struggle with test-taking.
While some issues of perception may remain, a U.S. News & World Report study showed roughly 71.4 percent of academic leaders saw online learning as comparable or even superior to traditional classes when it comes to the skills and knowledge students obtain. The other thirty percent should pay attention to the numbers coming out from many programs throughout the country. At the Southeast Missouri State University, for example, the AACSB accredited online MBA produces job acceptance rates of 98 percent for students within just one year of graduation.
The Online MBA is designed to be flexible on all levels, even the amount of overall time it will take to complete the degree. While full-time MBA programs traditionally take two years to complete, many Online MBAs can be completed in as little as 16-months. Students with a busier schedule may choose to extend the amount of time they need to complete the degree.
Which One is Right for You?
Deciding which type of degree is best for you is a personal decision that involves a multitude of intersecting factors. Regardless of which path you choose, employers need for MBAs doesn't look like it's decreasing any time soon—in 2016 roughly 88 percent of corporate recruiters said they planned to hire MBA grads, an increase of 8 percent from the prior year. The need for well-educated business leaders is always increasing, and choosing the best way to effectively and affordably earn your degree is not just a benefit for the student, but for the business community at large.
Online-centered content on MetroMBA is brought to you exclusively by our partner MBA@Syracuse, the #10 ranked online MBA in the world from Syracuse University. GMAT waivers available. Click here to learn more.
Mar 27, 2017

Today's economy is more globalized than ever, so to prepare the next wave of business leaders to take on the new challenges this economy can create, more top business schools are offering international or global MBA programs. Students enrolled in international or global MBA programs master global issues through specialized courses and study abroad experiences. Students pursuing these degrees also are likely to search for and find jobs in international business or at multinational corporations. Continue reading…
Mar 14, 2017

The schools making up the top 10 in this year's U.S. News & World Report ranking of the nation's best MBA programs—released today—were exactly the same as last year. That said, there are a smattering of surprises in terms of how top schools rose and fell relative to one another—and in movement among schools outside of the top 15.
At quick glance, here are this year's top 10, in order of their 2018 rank (2017 rank in parentheses):
1 Harvard Business School (1)
1 University of Pennsylvania's Wharton School (4)
3 University of Chicago Booth School of Business (2, tie)
4 Stanford Graduate School of Business (2, tie)
4 MIT Sloan School of Management (5, tie)
4 Northwestern's Kellogg School of Management (4, tie)
7 UC Berkeley Haas School of Business (7)
8 Dartmouth's Tuck School of Business (8, tie)
9 Yale School of Management (8, tie)
9 Columbia Business School (10)
With today's release, students, alumni and administrators at Harvard Business School (HBS) can toast their school's third consecutive showing at the top of the list. But the University of Pennsylvania's Wharton School has even more cause for celebration, having tied HBS for first this year. It's only the second time in 28 years it has claimed the No. 1 spot. It's also an important rebound for the Philadelphia school, which fell to fourth last year as it was surpassed for the first time ever by the University of Chicago Booth School of Business.
Chicago Booth isn't letting up, though. It took third place this year after tying Stanford for No. 2 last year. After never having cracked the top three before, Booth's now done it two years in a row.
Perhaps the biggest news among the top 10—and the farthest fall from grace—was Stanford Graduate School of Business (GSB)'s slide into a three-way tie for fourth place with MIT Sloan School of Management and Northwestern's Kellogg School of Business. Stanford has never before not clocked in at least third or above in the U.S. News ranking.
Rounding out the top 10 were Haas, Tuck, Yale and Columbia—very similar to last year except that Yale slipped slightly, from a tie at eighth with Tuck to a tie this year at ninth with Columbia. It's a slight gain for CBS, meanwhile, which last year was 10th, behind Tuck and Yale in a tie for eighth.
7 Key Takeaways from the 2018 U.S. News MBA Ranking
We've sifted through the data and compiled a summary of things worth taking notice of this year:
1) Wharton Is the Year's Big Winner
Wharton has traditionally been considered part of the "holy trinity" of schools, behind only HBS and Stanford in many people's eyes. That made last year's fourth-place finish behind Chicago Booth a real blow.
This year, the school fought back—seizing a shared claim to first place for only its second time ever. Strong employment and pay figures—85.6 percent of graduates employed at graduation and the highest reported average salary of all schools, $155,058—helped significantly.
"This is excellent news for Wharton—especially after last year's showing in the U.S. News ranking and, more broadly speaking, in light of the constant (and not always positive) media attention the school has garnered due to controversial alum, President Trump," says Graham Richmond, Clear Admit's co-founder. "While many will quip about employment figures and how they favor the likes of HBS and Wharton vs. Stanford, the key—from Wharton's perspective—is being squarely back in the 'trinity,'" adds Richmond.
2) Booth Stakes Its Claim in the Top Three
Last year, Chicago Booth tied Stanford for second place—its first time ever outranking Wharton and also the first time the Chicago school had secured a top-three spot in the history of the U.S. News rankings.
Making it into the top three for a second year in a row helps dispel any notions of last year being a fluke. A climbing GMAT average (726) and high employment numbers (84.9 percent employed at graduation) have played a part in its rise.
3) Methodology Disadvantages Stanford
Because U.S. News' methodology relies on "grades" from corporate recruiters and other employment stats that favor larger firms over startups or entrepreneurial pursuits, schools with large numbers of students going into tech startups or entrepreneurship—such as Stanford—are essentially penalized. Stanford may be further hurt—at least in terms of the U.S. News list—by the fact that its graduates are confident enough that they'll land a plum job that they can be a little choosier about which offers they accept. Indeed, only 62.8 percent of its MBAs were employed by graduation—as compared to 85.8 percent at Wharton, 84.9 percent at Chicago Booth and 79.3 percent at HBS.
Of course, Stanford came out ahead in terms of average GMAT/GRE scores (737), average undergraduate GPA (3.73) and overall student selectivity. With an acceptance rate of just 6 percent, it was by far the most selective school of all those ranked, with HBS accepting 10.6 percent, Wharton, 19.6 percent, and Chicago Booth, 23.6 percent. But these factors are given less weight than peer assessments and corporate recruiter survey scores as U.S. News crunches its data.
4) Yale SOM Defends Its Position in the Top 10
This year marks the third time since 2013 that Yale School of Management (SOM) has ranked in the top 10, giving the school an increasingly legitimate claim to membership in this elite club. In this most recent ranking, the New Haven school tied for No. 9 with CBS. Last year it tied at eighth with Tuck—a five-spot jump over the previous year.
Yale has been making improvements on several fronts. In 2011, the school hired Dean Edward Snyder—the very same dean who sat at the helm of Chicago Booth during its meteoric rankings rise in the early 2000s. Yale has also been poaching high-profile faculty from other schools over the last decade, including Andrew Metrick, professor of finance, and Anjani Jain, current assistant dean, both formerly Wharton faculty.
Add to that the opening of glittery new facilities in 2014 and the school's traditional strength and reputation as a leader in the non-profit and corporate responsibility areas—currently in vogue with millennials—and the school's continued top-10 showing makes sense.
5) Columbia Regains a Spot, Sort of
CBS is battling to maintain its top-10 claim, and its tie this year with Yale for ninth is theoretically an improvement over its 10th place finish last year. But it's still down from the No. 8 spot it successfully defended from 2012 through 2016. Contributing factors could include the rising cost of living in New York and declining interest among applicants in the financial sector—but that's just conjecture.
As we noted last year, CBS is one of only a few schools in the top 10 that haven't recently unveiled a new building or substantially expanded their facilities, which could be a liability. Construction is underway for an impressive new Manhattanville campus, but its projected completion date has been pushed off from the original 2018.
Yale's moving into—and remaining in—the top 10 has also exerted downward pressure on CBS.
6) NYU Stern Gets Its Scores in on Time, Bounces Back from 20 to 12
Last year's biggest shock was NYU Stern's plummet from No. 11 to No. 20. But as U.S. News noted at the time, the reason for Stern's sharp decline was the fact that it didn't get its GMAT/GRE scores in on time. When it did get the scores in, U.S. News refused to recalculate the rankings.
The drop of nine spots on the list did seem harsh—and pretty implausible. Indeed, this year's No. 12 showing seems much more legit for the traditionally top-15 school—suggesting it got its scores in on time this year.
Again, Clear Admit's Graham Richmond weighs in: "Last year's NYU Stern/U.S. News rankings fiasco did not paint U.S. News in the best of lights. It felt like a petty slap on the wrist aimed at Stern and served to raise questions about the validity of the rankings, which were arguably no longer accurate where a key school was concerned. While it is nice to see things seemingly back to 'normal' this year, the issue highlighted the perils of a straight ordinal ranking that some suspect can be tweaked to sell magazines, rather than a tiered ranking that represents the true matriculation behavior we see among applicants seeking an MBA."
7) Movers and Shakers Elsewhere in the Ranking
Of course, there are many business schools beyond the top 10. U.S. News ranked 131 schools in total. Further down in the rankings you see some more precipitous gains and losses. On the plus side, Arizona State University's W. P. Carey School of Business and USC's Marshall School of Business both cracked the top 25. Carey jumped 10 places to 25th, from 35th last year. Marshall moved up seven spots to come in just ahead of Carey at 24th.
The University of Virginia's Darden School of Business slipped three spots to 14th, it's second consecutive year of decline. Vanderbilt's Owen School of Management also took a hit, dropping from 22nd to tie with Carey at 25th. Falling out of the top 25 altogether was Rice University's Jones Graduate School of Business, which dropped to No. 29. This, despite its 11-spot leap to eighth place in Bloomberg BusinessWeek's November 2016 ranking.
This article has been edited and republished with permissions from Clear Admit.
Dec 19, 2016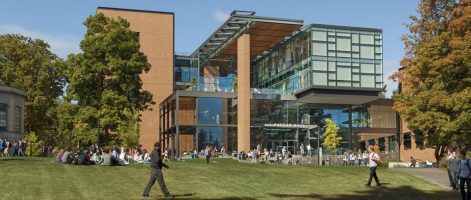 How do you choose an MBA program? You might look at faculty, research, course work and alumni just to name a few. But what about job placement? Why attend an MBA program and spend all that time and money if you can't improve your job situation afterward? Well, there's great news for MBAs at University of Washington's Foster School of Business. BusinessWeek recently named Foster as the number one school in job placement for the 'Top 20 Full-Time MBAs in the U.S.' Continue reading…
Dec 14, 2016

The full-time MBA program at the Rice University – Jones Graduate School of Business was recently named the 8th best program in the country for 2016 by Bloomberg BusinessWeek, a position which will have implications far and wide for the school and those involved with it.
Dec 12, 2016

Even though it's located in the shadow of New York City and on the opposite coast as San Francisco, Philadelphia is still a great city to plant entrepreneurial roots. With plenty of top-notch business schools in or around the City of Brotherly Love, MBAs in the region have every opportunity to reach start-up success.
In the Philadelphia metro, a number of business schools have dedicated research and resource centers made specifically for students wanting to learn more about entrepreneurship. How do Philly business schools support their budding entrepreneurs? Check out the list below to learn more.