UCLA Anderson Hosts Star Alumni Bill Gross and Larry Fink Talk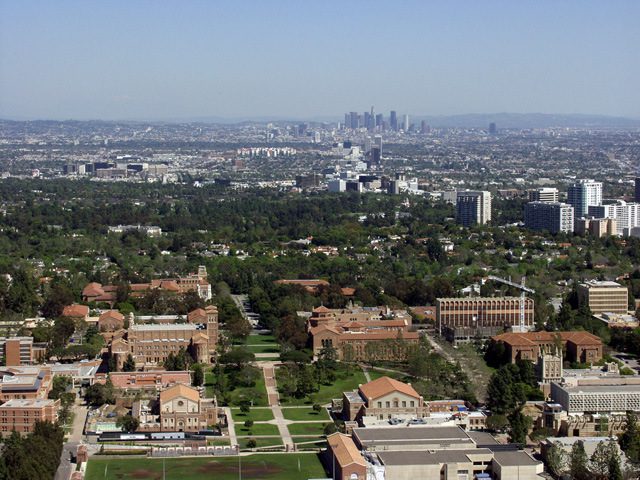 UCLA Anderson alumni Bill Gross, founder and co-chief investment officer of PIMCO, and Larry Fink, chairman and chief executive of BlackRock Inc., discussed national and international issues at an Anderson event at the Beverly Hilton Hotel in Beverly Hills, CA, on October 3, 2013. Over the course of the exclusive hour-long event moderated by CNBC's Brian Sullivan, Gross and Fink touched on global economic and financial markets, the nation's education crisis, and the demands of future economics.
Gross co-founded Pacific Investment Management Company (PIMCO) and currently manages its Total Return fund, the world's largest mutual fund and is responsible for nearly $2 trillion worldwide. According to Gross, he continues to apply many of the principles on spreading risk and calculating odds he learned as a blackjack pro to his investment decisions.
Equally impressive is Fink, who founded BlackRock in 1988 and has made client-centric solutions and innovation the cornerstones of his leadership since then. Once a small fixed income boutique, BlackRock is now a global asset manager with more than 9,000 employees in 27 countries.
When the conversation turned to the possibility of a partial US default, Fink asserted, "The United States is the standard bearer of the world. People look to the United States as a country that lives by principles, and just the notion and just the conversation of a potential default is just unacceptable."
"Really, there's no possibility of debt default," Gross agreed.
"We heard from two industry icons who expressed confidence in the U.S.'s resource-rich economy, as well as in the financial resilience of large banks today," said dean of UCLA Anderson School of Management Judy Olian.  "It's obvious why Bill and Larry, who are a source of pride to the Anderson school, continue to shape financial markets around the world."
About the Author